UEFA's chief refereeing officer Roberto Rosetti has responded to criticism over the use of VAR in Manchester City's win over Schalke and says that accuracy is more important than speed when making decisions.
Two VAR reviews led to penalties being awarded during Wednesday's Champions League match, which City won 3-2 thanks to Raheem Sterling's 90th-minute winner.
Both instances occurred during a period of approximately ten minutes in which a technical issue experienced by the VAR technical supplier impacted the ability to deliver replay images to the pitch-side referee review area.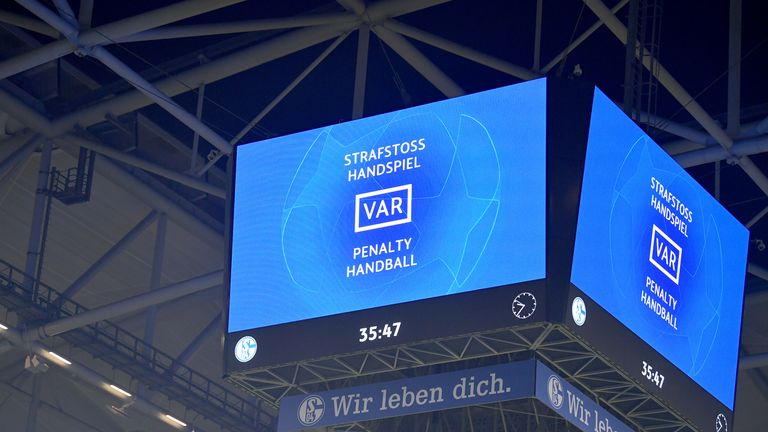 Commenting on these two decisions, Rosetti said: "I am pleased that even without the possibility for the referee to review the incidents with his own eyes, the excellent cooperation of the team of officials led to correct decisions being made.

"It must also be underlined that - and as is described in the VAR protocol - accuracy is always in principle more important than speed when reaching a decision.
"Clearly, last night's technical issues had a big impact on the time taken to reach decisions, but we are fully aware that reducing the time factor is key to the success of VAR and we are doing our utmost to make reviews as quick and efficient as possible.

"However, what we ultimately want is correct decisions in such match-changing situations and this is what we got yesterday."
In regards to the first decision, the inability to access replays at the pitch-side review area led to a delay in reaching the correct decision to award a penalty for a handball offence, while the VAR verbally described the situation to the referee to allow him to make a final decision, and for the referee to then provide an explanation to the two team captains to clarify the circumstances regarding the pitch-side review area and the decision-making process

The second decision was also correctly made on the basis of the Laws of the Game (Law 11 - Offside) which stipulates: "if a player in an offside position is moving towards the ball with the intention of playing the ball and is fouled before playing or attempting to play the ball, or challenging an opponent for the ball, the foul is penalised as it has occurred before the offside offence".