Man City boss Pep Guardiola says Chelsea transfer ban won't affect Carabao Cup final
Last Updated: 22/02/19 4:57pm
Manchester City boss Pep Guardiola says Chelsea's prospective transfer ban will not impact Sunday's Carabao Cup final.
Guardiola also thinks City's 6-0 defeat of Chelsea earlier this month will give the Blues extra motivation for Sunday's Wembley showpiece.
Chelsea have been banned from signing players for two transfer windows after being found guilty of breaching rules about signing minors by FIFA - a decision they are appealing.
Asked how he thought a potential ban might impact Chelsea in the coming years, Guardiola said: "In the future, I don't know.
"In terms of the game, it will not have any impact.
"Their players and their manager will be focused on winning the game."
Asked if the FIFA decision should lead to wider concerns about the recruitment of young players, Guardiola was tight-lipped, adding: "I am not concerned with the reasons why they are banned.
"I cannot speak about that, because I am not the right guy to talk about that.
"I know it has changed a lot since I was a football player.
"All the teams buy young players and a lot of people buy our young players, but I don't know what happened there."
The City manager preferred to focus on Sunday's game - and why the 6-0 destruction of Chelsea at the Etihad earlier this month makes him wary of the Londoners.
"They are incredible, professional players and they are proud," said Guardiola. "They will give extra.
"At that moment, I was so happy to win 6-0, but now I would have preferred not to.
"In the game against us - you may not believe me - but they did incredible things.
"The first two goals were a mistake and when that happens it's tough for the manager."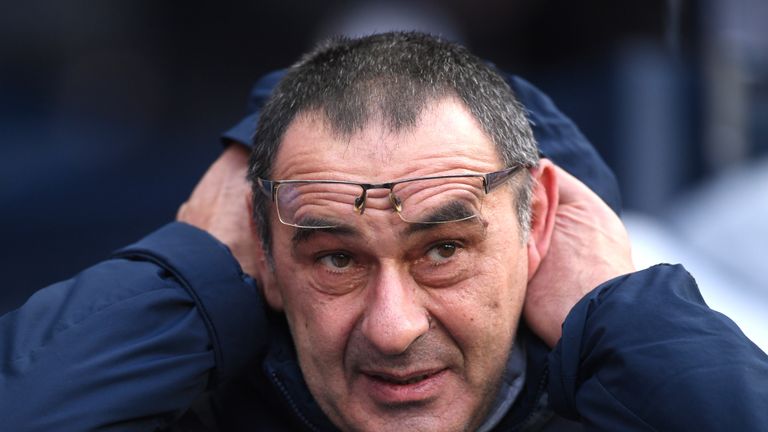 Chelsea head coach Maurizio Sarri has come under pressure following a dip in results.
But some of his supporters have compared his predicament to Guardiola's first, slightly underwhelming season at City, which was followed by a record-breaking Premier League title-winning campaign.
However, Guardiola said: "In my first year the club never doubted me, I was never in a position in the media where the club were going to sack me.
"I was surprised that when (former Chelsea boss Antonio) Conte won the title, then lost one or two games, and people said he is going to be sacked.
"When we lost to them and then beat them here, I said that my opinion about Sarri is that his teams are always at a high standard."