Man City won't watch Liverpool vs Man Utd before Carabao Cup final, says Pep Guardiola
Watch Manchester United vs Liverpool on Super Sunday on Sky Sports Premier League; Chelsea vs Manchester City live on Sky Sports Football this Sunday from 3.30pm
Last Updated: 22/02/19 4:28pm
Manchester City's players will be too busy changing their underpants in preparation for the Carabao Cup final against Chelsea to watch title rivals Liverpool take on Manchester United, according to Pep Guardiola.
The City squad will be on their way to Wembley as the match at Old Trafford gets underway at 2.05pm, with Liverpool hoping to return to the top of the table.
Guardiola admitted on Friday that defending their Carabao Cup crown is not at the top of his priority list, but insists he will remain focused on the final.
"During that game, we will be in the stadium preparing, changing socks, pants and t-shirts so we will be ready to play the game," Guardiola said.
"We don't have time to watch that game."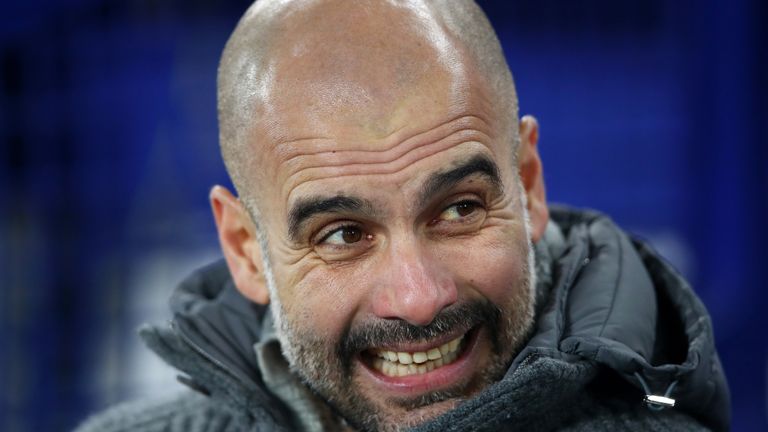 City face a Chelsea side whose head coach Maurizio Sarri remains under pressure following a dip in results, including their 6-0 thrashing at the Etihad earlier this month, and Guardiola is wary of a response from the Londoners.
"I don't like to play the same team in a short period of time when you have beaten them before," Guardiola said.
"They [Chelsea] are incredibly professional players, they are proud and bright and will do extra.
"We are going to play the type of game you have to play in a final and try to win the title."
Guardiola could hand 20-year-old goalkeeper Aro Muric a starting role at Wembley, after the Kosovo international impressed in the earlier rounds of the competition.
"We will see," Guardiola said. "I will think about it. He has been an important player to get us to where we are.
"In the Leicester game he was important during the penalties.
"When he plays, he plays really good. We trust him and that is why he is the second keeper."