Manchester City's treble shows their dominance and it will not stop now
Manchester City complete domestic treble with FA Cup win
Last Updated: 19/05/19 3:38pm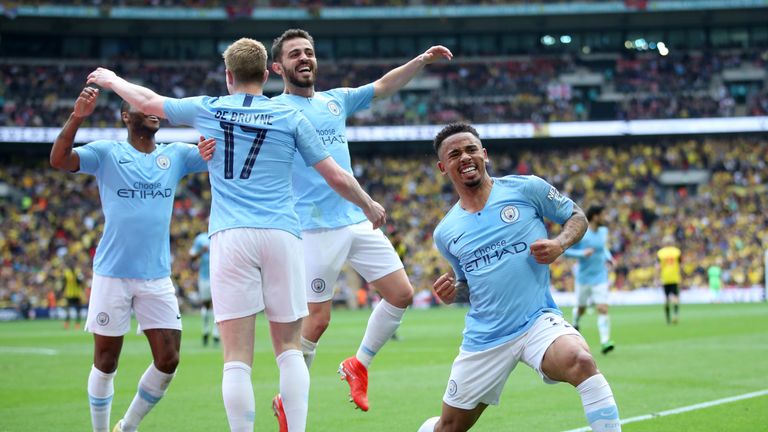 Manchester City thrashed Watford in the FA Cup final to complete an historic domestic treble and there is no reason to think their dominance is going to come to an end soon, writes Adam Bate from Wembley.
Pep Guardiola had claimed such is the height advantage enjoyed by teams such as Watford his side have little choice but to go to church and pray every time they face a set piece. The problem for opponents is the rest of the game. And there was no mercy on show from Manchester City at Wembley.
Watford were not even that bad, but City are that good.
In the first half, it was a slow strangulation even if the pace of the passing was anything but slow. In the second half, as Javi Gracia's team felt compelled to push for a goal of their own, they were exposed to City's ruthless counter-attack. When it was over, it was 6-0. The biggest FA Cup final win since 1903.
It was brutal stuff.
Watford could cling to the chance they had when the score was still goalless after 10 minutes, although Gracia appeared faintly embarrassed to bring it up afterwards given that six goals separated the sides by the end.
City were relentless. They pushed and they probed and the clock ticked ever more slowly for Watford's under siege defenders. Attacks were sustained and back they came again and again. The advantage was only two goals at the interval but Guardiola introduced Kevin De Bruyne and that was that.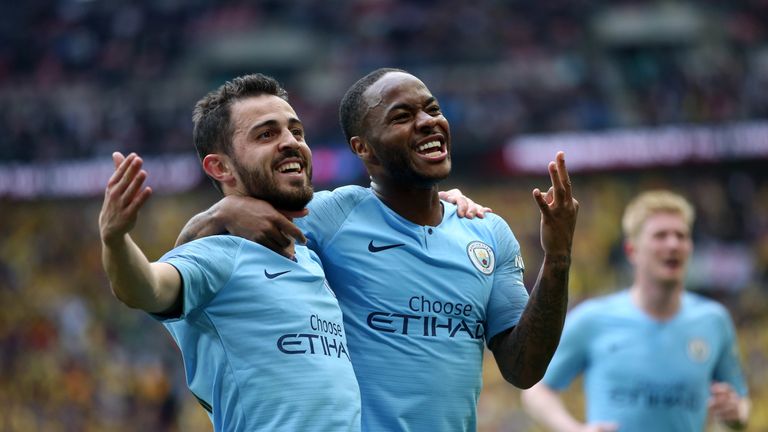 Has English football ever witnessed a team as good as this one? It is difficult to imagine that it has. City have won five of the six main domestic trophies on offer over the past two seasons and, with this win, have secured men's football's first treble since the League Cup was introduced some 58 years ago.
Guardiola's City have fused the best bits of the best teams. They have stars young and old, the right blend in the squad. They have the talent on and off the pitch. They have ideas and they have the money. They can win by possession or by punishing opponents on the counter-attack.
City finished the Premier League with two fewer points than last term but with more trophies and it's clear they have improved, particularly against teams like Watford who defend deep against them. They can pick that lock now. "I have the sense that we keep doing it better, better," said Guardiola.
City can get better
The really alarming thing for City's opponents is that the appetite to improve remains too. Guardiola's whole demeanour suggests that this is not over. "Fresh, I am not," he said afterwards, but nor is he sated. The desire for more is obvious and it's what's driving this team onwards and upwards.
Guardiola had his head in hands in the first half when Oleksandr Zinchenko misplaced a pass and he had forceful words for Kyle Walker too when clearly unhappy with the full-back's decision-making. At least the City coach could be satisfied by Raheem Sterling's stunning performance, right? Wrong.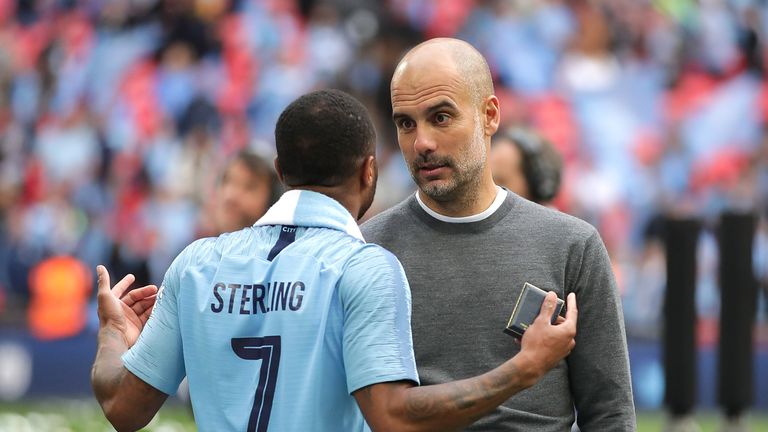 "In the first half, he didn't play good," said Guardiola. "He lost balls. He made actions to play quicker and didn't pass the ball when he should have passed the ball. When I am talking about what can improve, it's that."
Guardiola had already made clear just how much this team could yet grow. "Individual actions, individual movements," he explained, when asked what could get better. "During the game there are a lot of mistakes and some of the mistakes are repeat, repeat. In some positions, some players have to improve."
It is easy to see how it could happen too.
Liverpool will be wondering how they might cope without Virgil van Dijk but with Manchester City, the equivalent question need not be asked. Fernandinho and De Bruyne missed key periods of the campaign, the latter even acknowledging recently it has "not been the most fun season" for him.
He certainly enjoyed himself at Wembley, earning the man-of-the-match award despite not getting onto the pitch until the 55th minute. De Bruyne showed calm to slot home the third goal and awareness to pick out Gabriel Jesus for the fourth. If he can stay fit next season then why can't City get even better?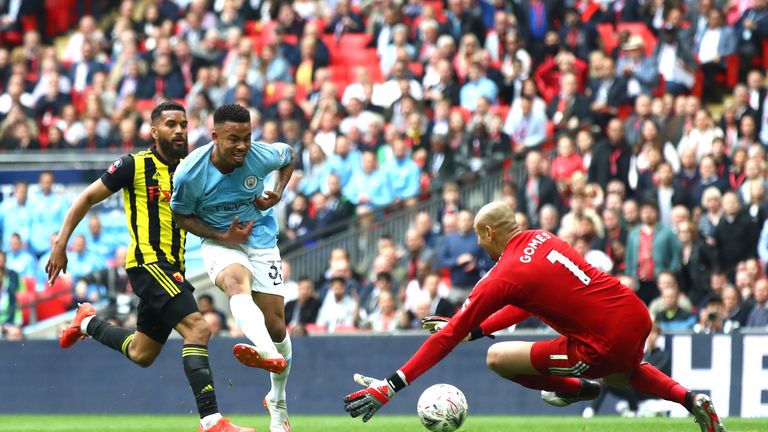 Here they did not even need Sergio Aguero, the club's all-time record scorer. He was among the unused substitutes while Guardiola entrusted the centre-forward role to Jesus, who duly delivered two goals and two assists. The Brazilian has scored more in the cups than the league this season.
When Sterling was asked on the pitch after the Brighton game, what it was that made Guardiola so good, it was interesting his first thought was of the competition for places. Jesus's impressive impact in this cup final spoke volumes for the culture at the club and the depth of the squad.
The peripheral figures have been needed - a treble triumph like this cannot be achieved by a team, only by a squad - but when those peripheral figures are De Bruyne, Jesus, and club record signing Riyad Mahrez, it is truly frightening.
What can stop them?
What could derail their progress? The investigations over financial fair play, that saw City referred to the club financial control body adjudicatory chamber, make for an uncomfortable backdrop to this success - and Guardiola clearly did not appreciate the line of questioning in the press conference afterwards.
He was combative. "We are not guilty," he said. "Prove it. I listen to the chairman and the CEO and they gave me their arguments for why they are under investigation and I trust them. Then when they tell me they were fair and they did it absolutely following the rules, I am sorry, I trust them."
No doubt, City's supporters would echo that sentiment. Many have been mobilised by the sense nobody is enjoying this quite as much as they are. It's a view fuelled by Guardiola himself who suggested this week City are not getting the credit that would have come Liverpool's way.
Whatever the view on the veracity of that statement, if City's opponents are hoping to ride out the storm and wait for the club's standards slip, it is a wait that is likely to be in vain. In that respect, Guardiola was not paying mere lip service to his rivals when he claimed that Liverpool had done City a favour.
"We cannot forget we won the Premier League by one point from Liverpool so we are not far away and can relax," he reiterated afterwards. If City were going to be too casual then it was likely to be this season having won the title by 19 points in the previous season. Now they know they cannot ease off.
Era of dominance looms?
It is customary after titles are won to speculate about an era of dominance and float the notion a dynasty is being built but it would be more of a shock if City failed to make good on that now. Guardiola won three league titles in a row at both Barcelona and Bayern Munich. He is odds-on to do it with City.
Incredibly, Guardiola would be only the second coach in the history of English football to achieve that feat of three consecutive title wins after Sir Alex Ferguson, who spent 27 years at Old Trafford. It is a phenomenal achievement, but it's one City are already normalising.
"People say how beautiful it is but we have to win again and again and again and the players have to feel that," said Guardiola of the title win. "It was incredible but for the first day from next season we start from zero."
It's the attitude of a perfectionist. The attitude of a coach and club that show no sign of relenting.