Joe Hart is new to battling towards the bottom of the league and is not used to the added pressure that is being put on him, according to David Moyes.
West Ham are still looking for their first win under their new manager and Moyes will have to do without the on-loan Hart who is ineligible for the trip to his parent club Manchester City on Sunday, live on Sky Sports.


The Hammers' poor form continued with a 4-0 defeat to Everton on Wednesday and Moyes admits that his side's poor defending means that Hart is having to get used to facing more shots from the opposition.
"Let's be honest, he knows he is going to get plenty of work here at the moment, with the way we're defending," said Moyes. "He's getting that just now which means he will be under more pressure than perhaps he has been used to.
"He's done really well in some of the games so far. We've needed him for his leadership, his organisation. He's a man for us in the dressing room. These things are also important.
"He's someone who is always out trying to help the team."
Hart was at fault for the most notable moment during the midweek defeat at Goodison Park after gifting the ball to Wayne Rooney who scored from inside his own half with the England 'keeper stranded.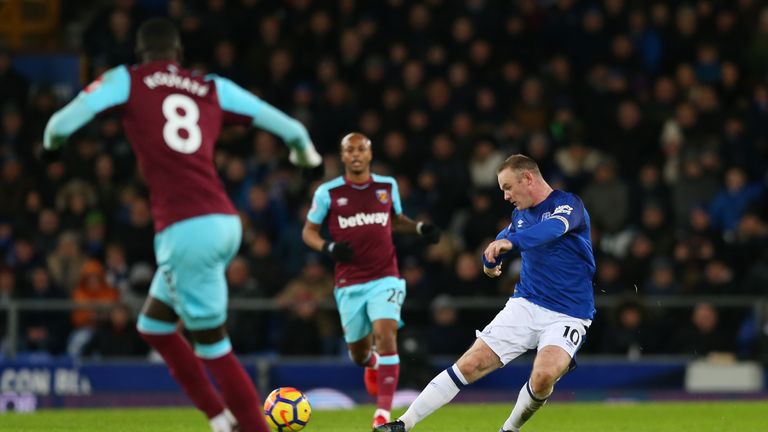 Reflecting on the mistake, Moyes admitted his disappointment but insisted he is pleased with his 'keeper's overall form.
"I think Joe's some done some really good things," said Moyes. "He made a brilliant save against Watford down to his right.
"I was disappointed the other night. I told him his kick (which led to Rooney completing his hat trick) was poor. It should have either gone into the stand or away somewhere else.
"I think there's been mixed bits from Joe. I couldn't turn around and say that it has all been great. If you can get the jersey then you have always got a chance."
Hart's form will be under close scrutiny from Gareth Southgate ahead of next summer's World Cup, with the England manager admitting that the 30-year-old facing tough competition for the number one spot, but that Hart remains his first-choice for time being.