Gareth Southgate admits Joe Hart remains England number one amid battle for starting spot
By Sky Sports News
Last Updated: 01/12/17 1:39pm
Gareth Southgate has said that Joe Hart remains England's number one goalkeeper but has acknowledged the West Ham stopper faces severe competition for the starting jersey at the 2018 World Cup.
England qualified for the World Cup in Russia with an unbeaten record and impressed during the November international break to record two goalless drawd against heavyweight nations Germany and Brazil.
Hart is battling with Premier League counterparts Jordan Pickford and Jack Butland for the spot in England's line-up and Southgate has said as a coach he is "never settled" on selection, with England's former World Cup winner Gordon Banks arguing the case for Butland.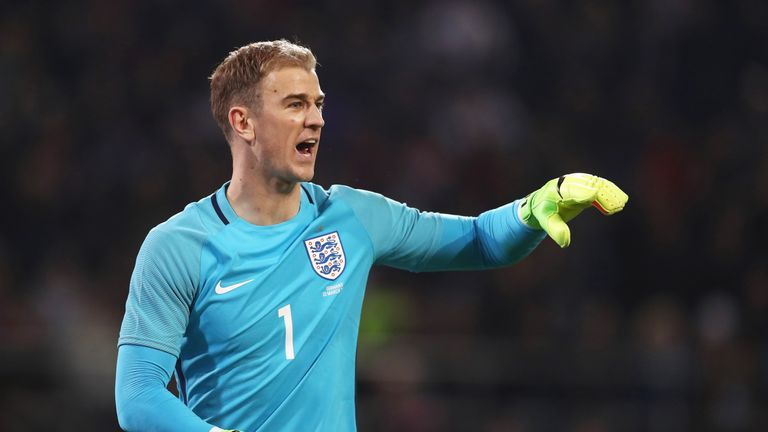 "Gordon obviously is a Stoke man so I would expect him to back Jack but we have some very good goalkeepers," Southgate said.
"We have really good competition for places. Joe has been our number one through the qualifying campaign and has performed really well.
"We had the best defensive record in Europe. We have also come off the back of two nil-nils against Brazil and Germany so in terms of our defence and our goalkeepers they have had as good performances as anybody in Europe up to this point.
"Equally we know there is great competition for places. Three types of goalkeeper in as many ways - in terms of their experiences and styles. Plus we have the likes of Fraser Forster and Tom Heaton, who is out injured, and there are other young goalkeepers coming through.
"You are never settled as a coach. You are always looking at who is in form and we are still six months to the finals so it is great not only in goal but other position on the pitch we have got great competition.
"If we play tomorrow, I think Joe Hart would be our number one. I said that before the last game and he had a very good performance against Brazil. Equally, as I keep having to say to him, we are six months away and he has got to maintain form and make sure [of that] in the lead up to the World Cup."
Meanwhile, Southgate admitted he is positive about the future for his youthful England squad as they build towards next summer's finals and said the public are "excited" by what the side can achieve.
When asked what Southgate was most pleased about with England's squad make-up, he said: "The fact that so much is ahead of them. At the moment very few of them have won anything. Most of them are at an age where I think we are one of the three youngest squads to have qualified.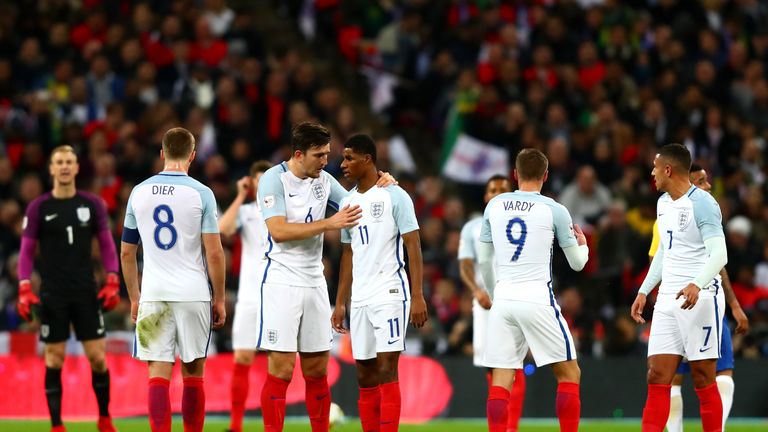 "I am sure we will be one of the youngest squads to come. We don't have huge experience, yet, of big matches across the group. We have some players who do so that is all going to come over the next few years.
"The potential, hunger, enthusiasm and energy of the squad, particularly what we found last month, not only excited us as a group of staff and excited the public. That has created a nice feel and we have got to build on that now."
Meanwhile, the England manager does not believe former captain Wayne Rooney will return to the England fold following his international retirement in August.
Southgate said: "We spoke to him (Rooney) at the beginning of the season about being involved in the group but he had made his decision it was time for him to retire and allow others the opportunity to take over. That is his decision really."