David Moyes worried on West Ham transfers over fan trouble
Public needed in police appeal to identify 15 people in connection with the trouble at the London Stadium
By Shona Duthie
Last Updated: 31/03/18 8:48am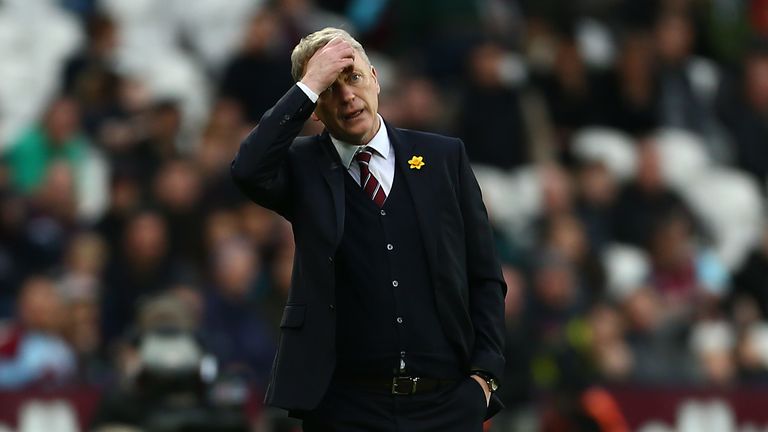 David Moyes fears top players will be put off joining West Ham if there is any more crowd trouble at the London Stadium.
The 3-0 defeat at Burnley three weeks ago was marred by pitch invasions, objects thrown and angry protests against the club's board.
Joint-owners David Gold and David Sullivan eventually had to leave their seats for their own safety, with Sullivan struck by a coin.
Moyes believes his players are now better prepared should there be any more problems in Saturday's Premier League match at home against relegation rivals Southampton.
He said: "I want this club to appeal to really good international players. I want them to say 'I want to join West Ham United'.
"I don't think what happened against Burnley is going to make those players want to join us. I'm saying we've got to show why top players should want to come here.
"If you're a player, you want to come to a club where the supporters are right behind the team. You don't want to come somewhere where they're not.
"So I wanted to reassure our players by saying if anything happens again here's how we should react and what we should do.
"It's important we don't capitulate if we go 1-0 down, although against Burnley there were mitigating circumstances."
West Ham have added extra security around the stadium in a bid to avoid more trouble which will cost the London taxpayer £60k, according to Sky sources.
There will be a higher police presence at the ground with more stewards after it was left to Hammers captain Mark Noble to deal with the first pitch invader.
"The bigger thing was I think the guy was on the pitch that long. Standing there. Nobody took him off. Who was going to do it? Were we all going to just stand there and wait?" Moyes added.
"We were waiting for somebody to run on and wrestle him. We've seen it so many times before. So, Mark was probably feeling the same as us. We are waiting too long here, why is nothing happening?
"But hopefully that has all been addressed now."
On Friday, Metropolitan Police released a statement appealing to the public to help identify 15 people they wish to speak to in connection with the trouble at the London Stadium.
Officers have released images of 14 men and one woman they need to trace. For more information visit here.