West Ham must finish in the top half this season, according to Sir Trevor Brooking.
The club have a new manager in Manuel Pellegrini and he's spent nearly £100 million so far this summer.
West Ham last finished in the top half of the table in 2016 and haven't manage to break into the top six since 1998/1999 when they came fifth.
Brooking told Sky Sports News that while challenging the 'big six' clubs might be unrealistic at this stage, being in the Premier League top ten at the end of the season is a must.
"We've been looking over our shoulders in the wrong way the last couple of seasons and so we need to get into that top half.
"The top six are really tough to break down but I think this year with the money spent, you're trying to give the manager the ability to be mid table, top half but then identify where he needs to strengthen the squad if they want to kick on.
"The challenge of the top six is a tough one - you've got clubs like Everton and Leicester and West Ham need to be around them this season."
Pellegrini has brought in seven new signings so far, including Brazilian midfielder Felipe Anderson for a club-record fee of £42m. But it's one of the free transfers, Jack Wilshere, who Brooking thinks could be key to a successful season.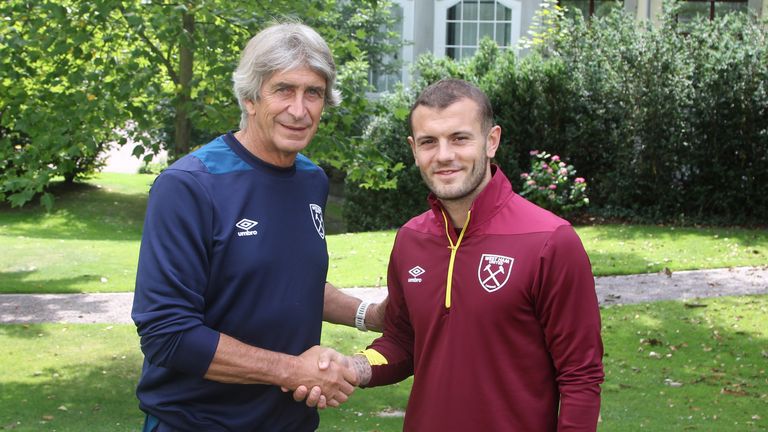 Wilshere was released by Arsenal in June and has signed a three-year deal at West Ham - the club he grew up supporting. Brooking says it's time for Wilshere to fulfil his potential.
"The player I'm quite excited about is Jack (Wilshere)," he said.
"He's a talented player, a creative midfielder - West Ham need someone like that to see a pass.
"At 26 - for me the next 5 or 6 years were my best - you've got your confidence in your ability.
"And if I was him I'd want to prove to everyone that he can be as good as we know he can be and so for me his presence, if he plays well will be a big plus."
West Ham's first game of the 2018/19 Premier League season is at Liverpool on August 12, live on Sky Sports.