West Ham goalkeeper Lukasz Fabianski calls for patience after losing start
Hammers lost 2-1 against Bournemouth at the London Stadium on Saturday
Last Updated: 20/08/18 9:55am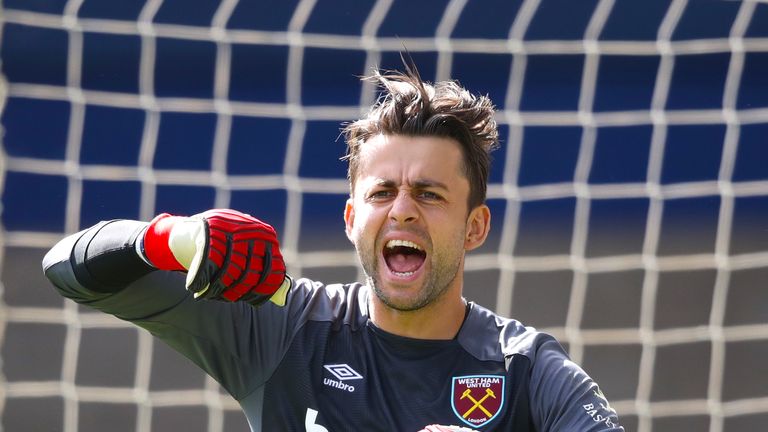 West Ham goalkeeper Lukasz Fabianski has called for patience after beginning the Premier League season with back-to-back defeats.
The Hammers let a one-goal lead slip at home to Bournemouth on Saturday, with the 2-1 loss leaving them 19th in the table.
Next up for West Ham is a trip to Arsenal and Fabianski, who was one of nine summer signings, asked supporters to keep behind the time.
"We have to keep looking forward and keep working with this group of players because obviously there are big changes and it always takes time to gel," Fabianski told the club's website.
Oxford commits to Hammers cause
"Hopefully it will happen sooner rather than later."
Fabianski says West Ham need to show more composure and balance when in possession but is confident things "will click soon".
"From my perspective, every time we had the ball in possession, we just wanted to go straight forward and maybe we have to be more balanced in some situations and take our time a little bit with playing our football and keeping possession, rather than just trying to get it forward," he said.
"Maybe that's what [Manuel Pellegrini] meant when he said [we didn't trust ourselves], that when we get possession we need to score.
Pellegrini: Players lack trust
"If we relax a bit more and take care of the ball a bit better, then we will benefit.
"We are a new group of players and it will take time, but hopefully it will click soon.
"I hope the fans will understand the situation and I think they do. It's important that they are supportive in every single game and keep believing in the team, because this group of players really has something quite good in terms of quality and, with a little more work, we will see the effects on the pitch."