Marko Arnautovic's West Ham future in Manuel Pellegrini's hands
By Sky Sports News
Last Updated: 18/01/19 5:26pm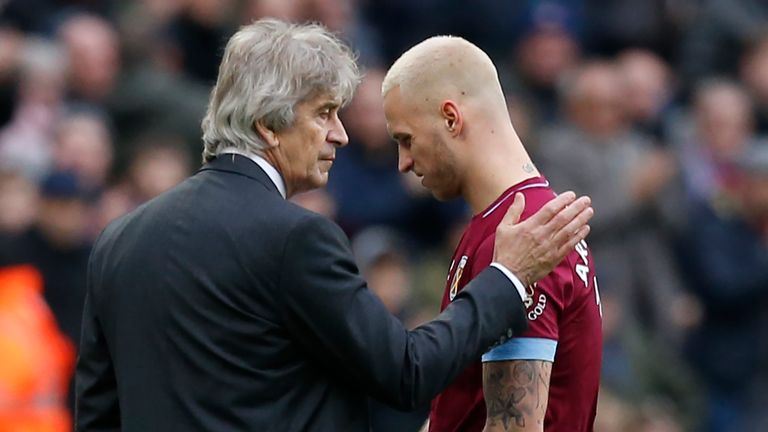 Marko Arnautovic's future at West Ham has been placed solely in Manuel Pellegrini's hands, Sky Sports News understands.
Pellegrini is yet to decide what to do with the Austria striker, who has been widely linked with a move to China, but he is not expected to be involved in their Premier League clash at Bournemouth on Saturday.
West Ham have already rejected a £35m bid, believed to be from Chinese Super League club Shanghai SIPG, for Arnautovic who only joined the club at the start of the 2017/18 season from Stoke City.
The club had previously stated Arnautovic, who has scored seven Premier League goals this season, was simply not for sale, but Sky Sports News has been told that stance has softened a little.
Brother Danijel, who also acts as his representative, said Arnautovic would remain 100 per cent committed to the Hammers' cause, albeit at the same time revealing he wanted to leave for China.
Arnautovic appeared to wave goodbye to West Ham fans when he was subbed during their 1-0 win over Arsenal last weekend.
Pellegrini dropped a heavy hint that he would like to keep the 29-year-old on Thursday when he said: "If I say the player must stay, the player will stay.
"I don't have any problem with the club. In all the months I've been working here I never had any problems with the owners about that.
"So they are not forcing me to sell Marko Arnautovic. But I think as a manager the best thing is to take the solution that is best for the player and the club, both together.
"If they agree, we don't have any problem to change.
"I am not telling the club about it. If it's a good deal for both parties we will arrange to be without Marko. But the club doesn't want to sell him."