Aleksandar Mitrovic knows exactly what type of striker he is.
The Serbian showed in fits and bursts what he was capable of at Newcastle, but finally at Fulham it looks like he has found the team to unlock his potential.
"The way I play here is the way I want to play," he told Sky Sports ahead of the Sky Bet Championship play-off final on Saturday.
"I always looked at how [Alan] Shearer and [Didier] Drogba played, it was almost magic the way they used their body to score goals. Even now I watch some of their goals on YouTube to try and learn from them.
"But it depends on the shape of the team and how they play. It's perfect for me here and the gaffer uses me in the best way he can."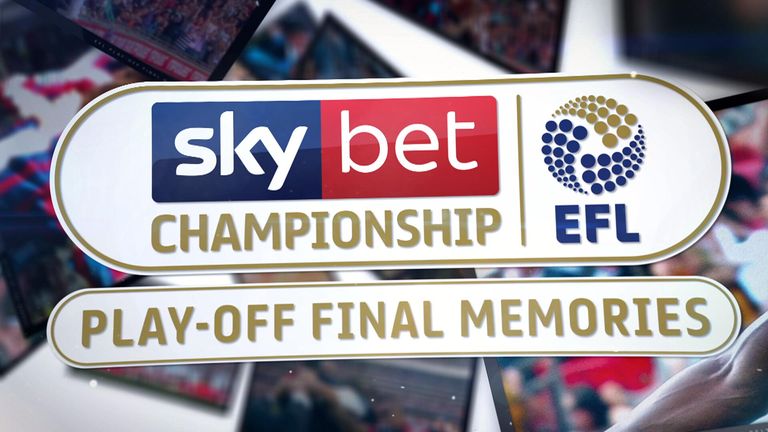 Mitrovic found himself on the periphery at Newcastle this season and, desperate for some football ahead of the World Cup, he was close to sealing a move back to Anderlecht in January.
That switch fell through, though, and at the 11th hour Slavisa Jokanovic came calling to lure his compatriot to Craven Cottage. Mitrovic hasn't looked back since.
"[Deadline Day] was a really long one for me," he said. "I texted [Jokanovic] and we had a chat the day before and I told him I'd finished everything with Anderlecht and he should find another striker. Then at 10pm when the deal broke down I tried to text him and he answered. We had to get it sorted in about 15 minutes, it was really stressful.
"I played at Anderlecht before and I knew the people and staff there so when the deal [collapsed] I was a bit disappointed. But now when I look back I think it's worked out perfectly for me. I needed the game time and to be on the pitch to score goals. I feel good and I haven't been in better shape in my career."
Jokanovic has clearly been a huge influence on Mitrovic during his short stay in London. The 23-year-old striker admits it's been a positive for him to have a fellow Serbian who understands him and his game.
"The gaffer is tough he never shows love!" joked Mitrovic. "But he has helped me a lot and he gave me my confidence back. I know he trusts my abilities and I need to feel that from my manager.
"He trusts the whole team and that's the reason why we play good football. He's also Serbian like me and it's always nice to have someone you can speak to, not just about football but all the other stuff in life as well."
Mitrovic didn't score in either leg of the semi-final against Derby but he was man of the match at Craven Cottage and played a huge role in driving Fulham to victory.
The striker, who has scored 12 times in 17 games during his loan spell, admits that his competitive streak may have held him back in the past and given him a reputation as a bit of a hothead.
"I just want to win, it doesn't matter what it takes," he said. "I don't like to lose and all Serbians are pretty much the same. I don't even like to lose when I'm playing video games with my brother and when I do lose I get really mad. I just want to have that winning feeling every week and I think the gaffer is the same.
"But I think I'm worse than him. He has a bit more experience and knows how to calm down. I get mad really fast! I had some problems in the past when I made some stupid mistakes and got some stupid cards, but I learned a lot from this and I know now how to calm myself down.
"Since I came to England I think I've settled and made my body a lot stronger. Now I think I've learned how to use my strength in the right way."


Mitrovic has clearly found a bit of a home at Fulham but the play-off final will be his final game. A return to Newcastle, at least temporarily, will be his next move. After that? He doesn't know.
"I don't think about the future," he said. "I've loved my time here and I don't know what will happen after. Right now I'm just focused on Saturday and then the World Cup."
Don't miss the Sky Bet Championship play-off final between Fulham and Aston Villa on Saturday, live on Sky Sports Football and Main Event from 4pm