Frank Lampard says the 'Spygate' controversy that overshadowed Derby's last meeting with Leeds in January is now irrelevant.
Ahead of the first leg of their Championship semi-final on Saturday at Pride Park, live on Sky Sports Football, the Rams boss stressed that his players would not be thinking about anything other than the task in hand.
A Leeds employee was removed from Derby's training ground ahead of their league meeting in, which Leeds won 2-0, before Marcelo Bielsa gave a bizarre press conference detailing the extent of his spying on all Championship opponents.


Before the first meeting of the two sides since then, Lampard said: "That doesn't matter at all going into this game for us.
"It certainly won't do for my players and I presume it won't for their players because when they get out there they're professionals.
"We're all desperate to try and reach Wembley so an old story should have no bearing on how they perform.
"If it does then we're being caught up, myself and those players, in things that don't matter.
"What matters is how we prepare and how we go up against Leeds."
Lampard reiterated his comments after Derby's defeat at Elland Road in January, saying the 'Spygate' incident had no bearing whatsoever on the outcome.
The Englishman admitted that his side had simply been outplayed on that occasion, something he is keenly aware of going into the play-offs, where he believes his side are the underdogs.
"We focus on ourselves and we mustn't forget the fact they've beaten us twice," said Lampard. "We mustn't forget the fact that they finished points above us in the league and we finished points behind Leeds for a reason. They beat us twice.
"The early one in the season, I think it was a difficult one for us because we were trying to make some changes and it was early and they punished us for it and played really well.
"And then at Leeds away, they were too good for us on the day so I think we're underdogs.
"That's a challenge that we'll have to accept and take on."
Leeds left Pride Park with a 4-1 victory back in November, but Bielsa's side suffered a downturn in fortunes towards the end of the league campaign, winning just two of their last six games and missing out on automatic promotion to the Premier League.
Derby finished strongly, edging into the play-offs ahead of Middlesbrough, thanks to avoiding defeat in their final six games, but Lampard said that form is irrelevant when it comes to knockout football.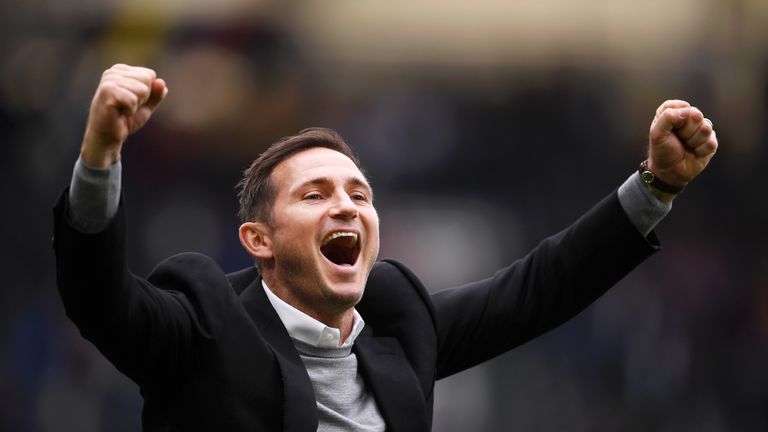 "Year on year it's different," said Lampard. "I think it's different and it's easy to pick out a year or so where a team of momentum gets in there and goes on to win it.
"It happens in different ways, every year will be different.
"I'm not concerned about that at all when people talk about form and the fact that we should be on a high and they've lost some games recently, I'm not taking that into account, I'm worried about what we do.
"If we've got any chance to get to Wembley we're going to have two really tough games no matter what way you look at it."