Derby boss Frank Lampard described referee Craig Pawson's decision to overturn a penalty awarded to his side in their 1-0 play-off defeat against Leeds as 'like human VAR'.
Inside the final 15 minutes of the Championship play-off semi-final first leg, Rams full-back Jayden Bogle went to ground under the challenge of winger Jack Harrison, with Pawson immediately pointing to the spot.
But amid incensed appeals from Leeds, the referee overturned his decision moments after consulting with linesman Eddie Smart and instead awarded a free-kick in favour of Marcelo Bielsa's men.
It was a moment that could have, quite clearly, changed the course of the game and speaking to Sky Sports after the final whistle at Pride Park, Derby boss Frank Lampard aired his frustrations at the conclusion the officials reached.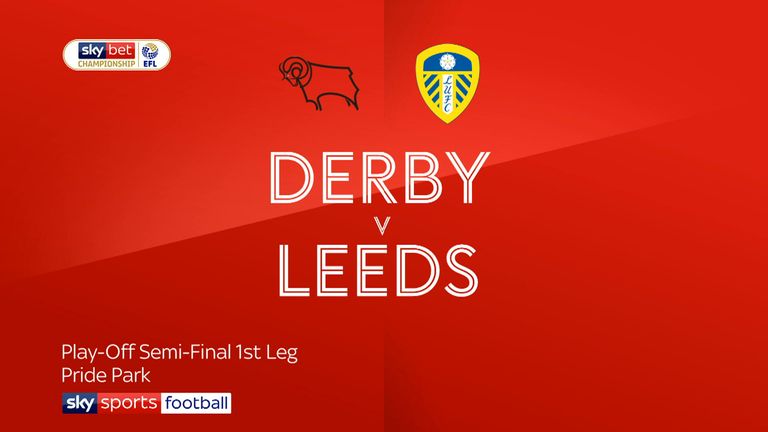 He said: "I'm not sure if it's a penalty - I think it's one of those you can get or not get. The referee gave it, but the linesman has decided it was clear enough to not be a penalty. It's like human VAR, but with the actual VAR, the only way they turn decisions, as you hear from the rules, is if it's a clear and obvious challenge. It wasn't - I can't understand it.
"I'm not standing here and saying it was a clear penalty; I've looked at it and it's probably right in the middle. Bogle has got his leg across, there's not huge contact, but enough that he's in front of him before he gets there.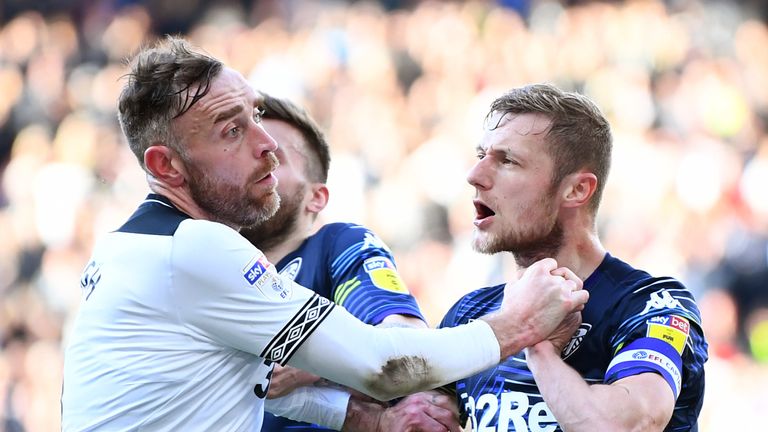 "But for the linesman to decide by himself and for the referee to accept that decision, making him completely wrong, is really difficult to understand. The linesman will say he thought it wasn't [clear], but the referee gave it, so work that one out."
There was little to separate the two sides for large parts of the clash, yet Leeds managed to edge themselves 10 minutes after the break when Kemar Roofe tucked home following Jack Harrison's cross.


The Rams failed to register a shot on target throughout the 90 minutes and, naturally, Lampard felt there was room for improvement ahead of Wednesday's second leg, which is live on Sky Sports Football.
He added: "I don't think we did enough. I thought, in the early parts of the game, we were good, created a couple of chances and we were positive. When I spoke before the game, I said that Leeds were favourites because of where they are in the league and because they are experienced.
"Their team has been building for a few years, they have players that have been here in this league for years and, for the majority of our players, it's their first proper season in this league. First full season for [Fikayo] Tomori, [Mason] Mount, [Harry] Wilson, for Duane Holmes.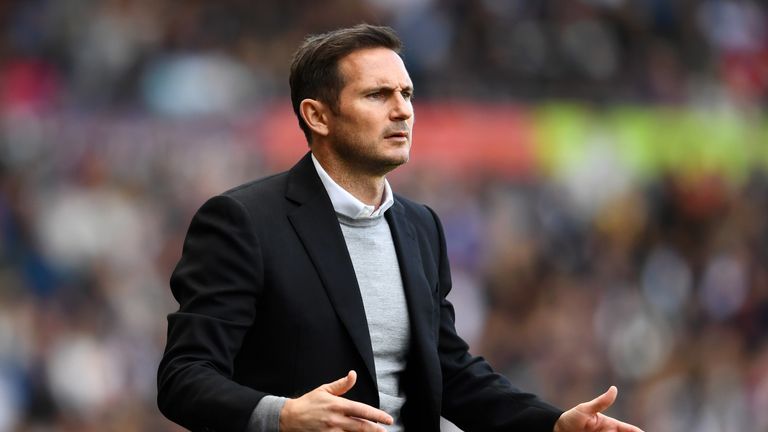 "I think, on the day, we were erratic on the ball, made some poor decisions and when you give the ball to a team like Leeds, it's hard to get out. They are lessons for us to learn. The game is not over, for sure, but we obviously weren't at our best today. No matter what the celebrations are out there, it's half time.
"Of course they are the favourites and more so because of that result, but we're still in it. Five games ago we were five points off the play-off positions and the lads have accepted that challenge and got into the play-offs. It's now up to us to show the true team that we are."