Wolves will go for it in 2019, says Nuno Espirito Santo
Wolves face Man City live on Sky Sports Premier League from 7pm on Monday
Last Updated: 14/01/19 8:25am
"Control your present - it is the best way to prepare for the future."
There is no point talking to Nuno Espirito Santo about aims and targets. Wolverhampton Wanderers have made a significant impact on their return to the Premier League this season. The head coach is preparing his team to face champions Manchester City on Monday night, after taking a well-earned point from their encounter with Pep Guardiola's side earlier this season at Molineux.
In just over a year and a half, Nuno has transformed the side from Championship also-rans to one comfortably competing in the top half of the Premier League. Where they can go from here is not something he believes is important.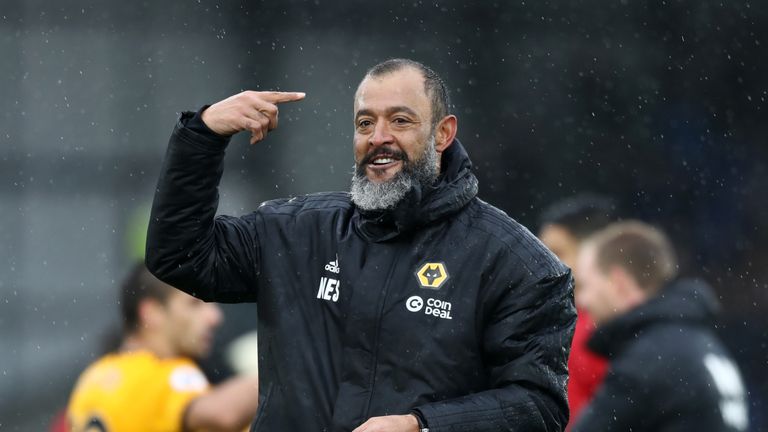 "I never did it, thinking how far we can go, or what we can achieve," Nuno insists. "It doesn't make sense changing our approach now. It's day by day.
"There is no doubt what moves the club. It is the team, so this is what I must be really focused on, not thinking about anything else and not thinking about the future. Knowing that, if we can maintain the same levels of discipline, commitment and focus, 2019 can be good. So let's go for it."
After taking the scalp of a much-changed Liverpool side in the FA Cup third round last Monday at Molineux, Wolves have now made their mark on all the top six sides in the country. Bridging the gap in resources and quality has been a significant achievement. Nuno believes their success has been down to many factors within the game, but his players have shown one particular quality that has helped them on each occasion.
"One of the things you have to realise is that you have to run more," he explains. "You have to be prepared mentally to know that when you play the best teams in the world, you have to prepare yourselves that you are going to spend less time with the ball. That will require more of you, so preparing for that is basic.
"After that, compete. Let your character, your routines and your habits control your thoughts. The way you train, you try to play. This is how we think, we are saying that every moment of your training session is going to help you in the competition."
The scalp that earned the most plaudits came during the Christmas period, when Wolves went to Wembley and beat a Tottenham side that had just moved up to second in the Premier League. The 3-1 victory was achieved with three late goals after going one down in the first half.
"It was a very good performance," says Nuno. "During the first half, Tottenham were very strong, they controlled the game and they had chances, but we managed to stay in the game being very compact.
If we can maintain the same levels of discipline, commitment and focus, 2019 can be good. So let's go for it.
Nuno
"And when we had the chance, we took advantage of those moments, and we ended up controlling the game. The game is a long process; so many minutes that can change. So if you stay in the game, you are able to make things happen and it shows that you are improving."
The players have adapted to the division as smoothly as they did to the change in approach when Nuno first took charge just over 18 months ago.
"We have been proving to ourselves that when we work as a unit, we are very strong," he says. "We have trusted each other since day one. There is only one philosophy here: as a group, we can achieve things. Individually, no one can do it."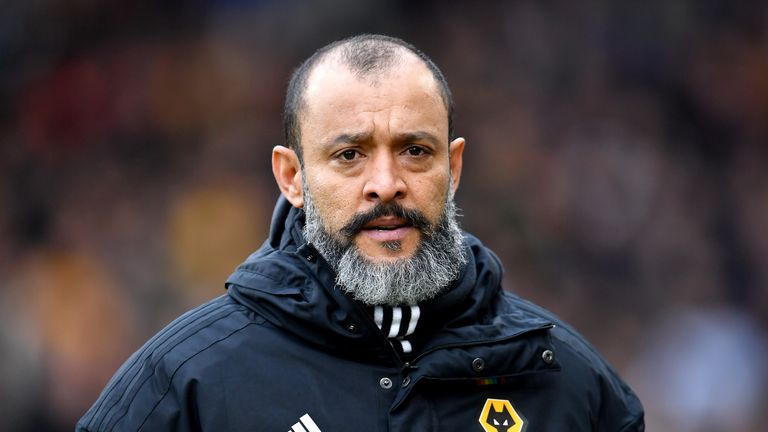 Wolves have a clear identity on the pitch. The breadth of their play is a key component of that. Matt Doherty and Jonny hug the flanks whenever possible, giving the team the option of using as much space as possible. Long diagonal switches drag opponents into a shape they are uncomfortable with. Analysing his team and opponents from a high, wide camera position behind the goal is something Nuno finds beneficial.
"I think because you can see it all," he explains. "Being a former goalkeeper, the way I see the game, it helps me realise the space, the movement, the distance between the players. I can really look and analyse it. The reality is on the side as well, but I also spend so much time on the bench already."
Supporters have been educated in a style of play that was completely unfamiliar in comparison to what had gone before. When Nuno arrived at Molineux just over 18 months ago, there was little fanfare or appetite for another managerial change amongst the fans. He became the fourth head coach employed by owners Fosun in less than a year.
Now, in the stands, he has become the most revered Wolves manager in the last 50 years. By delivering a Championship title won with style and panache, then ensuring the club became a top-half Premier League competitor during the last six months, Nuno has quickly earned a respect that borders on the devotional.
For his part, the head coach enjoys the opportunity to celebrate the good times with supporters, as he did on the Wembley pitch after that win over Spurs.
"It's natural. Sometimes you might even be accused of celebrating a game like it was the World Cup final," he adds. "It is the World Cup final for us. Every week, every day of our lives, we prepare to compete and play against very strong opponents. Of course, you have to celebrate. And who are the better people to celebrate together with than our fans?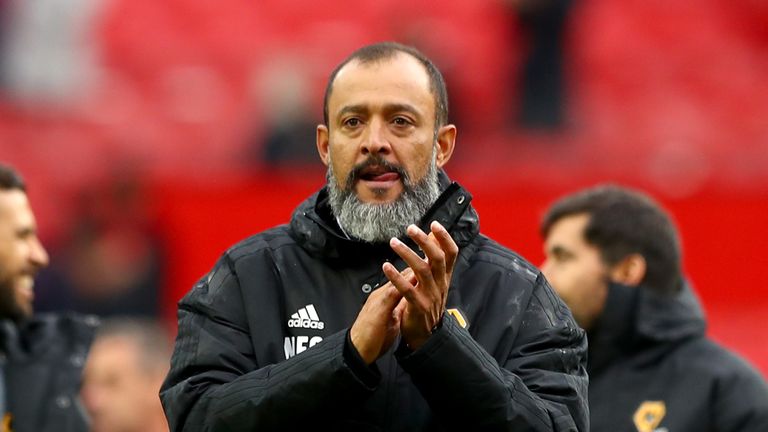 Since day one, there is only one philosophy here: as a group, we can achieve things. Individually, no one can do it.
Nuno
"This is what we work for. We work for them to be happy, to be proud when they see the shirts on the pitch. We have to celebrate together. At the same time, we suffer together, we are disappointed together. But when you have a moment of joy, when you score, when you win a game, let your happiness take care of you and control your instincts."
Live in the moment. Nuno will have it no other way.