Southampton can upset Chelsea, says Mark Hughes
Southampton host Chelsea on Renault Super Sunday, live on Sky Sports Premier League
Last Updated: 07/10/18 6:46am
Southampton manager Mark Hughes thinks his side will go "very close" to beating Chelsea if they play their cards right on Sunday.
Maurizio Sarri's Chelsea visit St Mary's live on Sky Sports Premier League, hoping to bounce back to the top of the table ahead of Liverpool's clash with Manchester City.
But Hughes, a former Chelsea player, believes his side will not have it as easy and the Saints will cause problems to what he considers potential title contenders.
"We all think we're in a good situation in terms of performance," he said. "Clearly if we perform well, ask questions of a very good Chelsea team at home, and ride our luck - then I think we'll go very very close to beating them.
"We'll always ask questions of good oppositions because we are a good team. A lot of these guys have played together for a long time so they have an understanding of each other as individuals, team-mates and persons, and that's important.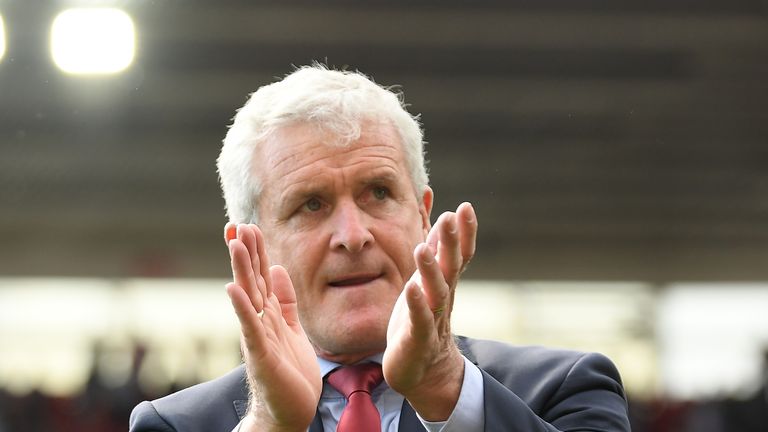 "The character we showed at the back end of last year is still very much within the team, and it will sustain us and make sure that we're successful."
Chelsea star Eden Hazard heads into the weekend as the Premier League's top scorer with six goals in seven appearances, including the opener in their draw against Liverpool last weekend.
Hughes recognises the Belgian is among the best players in the world and he is wary of his form coming into the clash.
"He is playing at exceptionally high standard, [Lionel] Messi didn't do bad the other week as well!" he said.
"Maybe he has another step before he can get to that level, but clearly he's got the potential to be the type of player that makes the difference every time he steps on the field.
"He's got that stardust that all the top players have, even if they are not functioning as a team collectively then you know that in one second he can change the game, even if as the opposition team you've done everything correctly.
"Hopefully [Chelsea] won't be as good at converting chances as Eden Hazard is at the moment because of the form he's in."
Southampton host Chelsea in the first game of Renault Super Sunday with live coverage starting on Sky Sports Football at 1pm.