Of those aware of Nathan Jones before he was appointed as Stoke manager last month, few would have begrudged him the chance to succeed at a higher level, such was the magnitude of his toils at former club Luton.
Having learned his trade on the south coast under a host of managers at former club Brighton, Jones was handed the reigns at Kenilworth Road in January 2016, replacing John Still, who had been sacked eight days before Christmas.
He guided the Hatters to the Sky Bet League Two play-offs in 2017, while last season oversaw the promotion-clinching campaign that restored the club to Sky Bet League One for the first time since the 2007/08 season.
Yet this week, the 45-year-old reportedly received death threats, forcing Hertfordshire Police to step in to investigate claims of 'malicious communications'.
"I don't condone it and I don't think it's right," he told Sky Sports, ahead of his side's clash with Sky Bet Championship high-flyers West Brom on Saturday, live on Sky Sports Football.


"I can handle these things, but for people like my fiancée, it's tough on them when they see that. I've been called everything under the sun as a footballer, as a manager and you have to develop a thick skin.
"I understand people have frustrations, I really do, because they bought into everything we did on the journey and some people take a parting of ways a little harder than others. I just hope that one day they sit down in a quiet place and actually realise what we did at the club.
"The players bought into everything. I loved my time at the club and no manager has ever, ever, ever worked harder than me for that football club. We pretty much changed the culture, the environment, recruitment and I was proud of our work.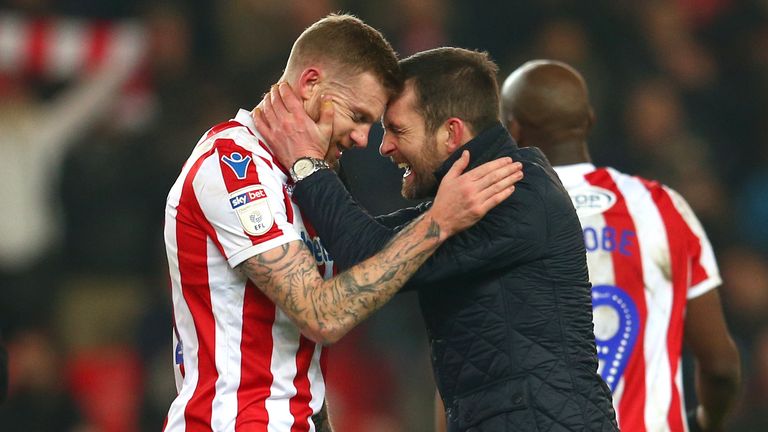 It's the latest obstacle that's come after a difficult start to life in charge of the Potters. In his first month in charge, the Potters have lost four of the five games they've played, including being dumped out of the FA Cup by Shrewsbury in the third-round replay.
Jones, though, appears cautiously optimistic at the prospect of what Stoke could possibly achieve in the final 16 games, but he remains focused on replicating the successful culture he created at Luton to build for the future.
"Results-wise, it could've been better and probably should have been better, really, in terms of chances we've had in games and opportunities," he continued.
"But it's been a positive month. It may not look like that but it's been a positive month. We've evaluated the squad, we've implemented a lot of new things in terms of the environment, how we train and our system and so on.
"There's a number of changes there without saying, "Right, the biggest one is that we've gone from this to this." It's not, because the previous manager [Gary Rowett] has a wonderful track record in the Championship, so I didn't want to try to emulate anything, I want to instil what we do and that's basically why I'm here.
"If we can turn things round pretty quickly in terms of getting the confidence and getting on a run, then there's still 16 games and 48 points to play for, which is a lot. We'll see where we go but we'll need to turn the corner pretty quickly."
Many had earmarked Stoke as early favourites for an immediate return to the top flight, such was the strength of their squad, yet that's been far from the truth, with Jones' side sitting 15th, nine points outside the top six.
Fellow relegated side West Brom have prospered under Darren Moore, however, with a title shot still a tangible target for the Baggies, something Jones attributes to being a pitfall of having been an established Premier League side for the best part of a decade.
He added: "Stoke were in the Premier League for 10 years before that so they've only been signing Premier League players; trying to get some real talent, maybe from abroad, to stay in the Premier League. Suddenly, your recruitment process becomes different, the league becomes different, people's mentality becomes different.
"West Brom have got a lot of players who actually have played in the Premier League, but came through the Championship, have been in the Championship recently and have got promoted out of it. They are probably a bit more conducive for the level, with real Premier League quality.
"It's a tough league, there's no god-given right for you to get promoted at the first attempt, as Norwich found out last year and as others have found out in recent years. We've got to make sure the work we do now is all geared towards becoming a top Championship side that eventually will take you into the Premier League."