Emiliano Sala disappearance has made Neil Warnock consider retirement
"It's very traumatic... I've never experienced anything like this," says Cardiff boss
By Rory O'Callaghan
Last Updated: 28/01/19 7:41pm
Cardiff boss Neil Warnock says he has considered retirement after experiencing the most difficult week of his career following Emiliano Sala's disappearance.
Sala and his pilot David Ibbotson were travelling from Nantes to Cardiff on January 21 when their plane disappeared from radar near the Channel Islands.
An extensive public search operation was officially ended on Thursday after rescuers found no trace of the missing plane.
However, a private search operation was launched on Monday after a GoFundMe page raised more than €300,000 following an appeal from Sala's sister, Romina.
Warnock says he understands the family's need for closure and admits the last week has been the most testing period of his professional career.
"I've been in football management now 40 years, I think it's by far the most difficult week in my career, by an absolute mile," he said. "It's traumatic. Even now, I can't get my head around the situation.
"When I look at Romina and the family, etc. I think it's such a difficult time. I keep looking at my own children and thinking what I would be doing now as well. So it's very traumatic. My sympathies are with them."
Warnock added: "It's been a sombre mood all week. From a personal point of view, I've never experienced anything like it and it's been amazing the knock on with the players in training as well. So it's unknown territory.
"Things like this just don't happen, or you don't think they happen. It's probably hit me harder than anybody else because I've met the lad and talked to him for the last six or eight weeks on numerous occasions and I know how much he was looking forward to this."
When asked if he considered stepping down from his role, Warnock said: "I think nearly 24 hours a day in the last week, that would be true to say.
"Even as I sit here now, I think that would be [true]. There are more important things. It takes something like this to make you realise."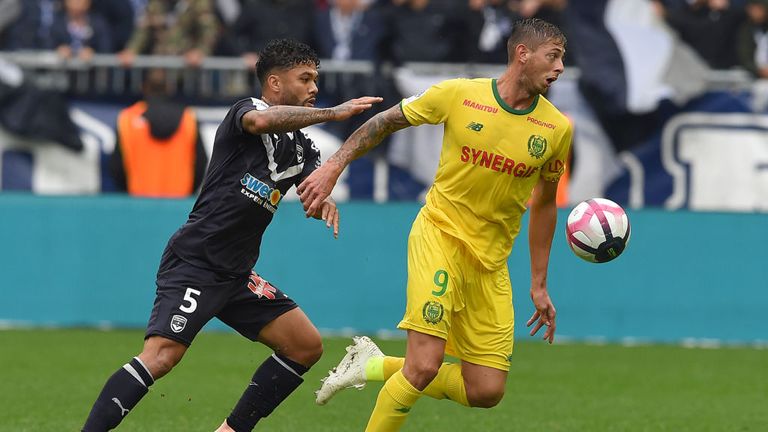 Cardiff travel to face Arsenal on Tuesday in their first match since Sala's disappearance and Warnock believes the game will come as a welcome distraction for his players, if not himself.
"In an ideal world, I don't think I would have liked another game at all, how I feel at the minute. I think football is important but it does open up a lot more when tragedy like this happens," he said.
"I do think from the players' point of view that they need some sort of distraction now. It has been so doom and gloom and down and sorrowful.
"The place is so sombre all the way round the club. We almost need some sort of a game to get firing again, to get something out the system."
Warnock revealed Sala turned down the opportunity to watch his new team-mates play Newcastle on January 19 in order to travel back to France to bid farewell to former club Nantes.
"I do keep thinking back, I said to him 'Why don't you come up to Newcastle and watch the lads play tomorrow?'," said Warnock.
"Not asking yourself 'Should I have made him come?', because it's alright after the event. But he wanted to go back and see his team-mates and family and get his belongings for the following week.
"I thanked him and off he went."