Roy Hodgson backs Steve Parish over Crystal Palace contingency plan
By James Dale
Last Updated: 01/03/18 2:59pm
Crystal Palace chairman Steve Parish is "sensible" to have a contingency plan for relegation, says manager Roy Hodgson.
Parish said his comments had been taken out of context when it was reported he told the Sport Industry Breakfast Club he was "planning for the Championship" in a response to questions over whether it was a risk to invest in a new stadium without their Premier League status secure.
Palace are currently outside of the relegation zone only by goal difference ahead of the visit of Manchester United, live on Monday Night Football.
Hodgson believes Parish is right to prepare for every eventuality.
"He was saying what anybody would have to say if they were serious about running their football club and their business," said Hodgson.
"You can't definitely plan ahead on the basis you will be in one league or the other. You have to take into account all the contingencies and that seems to be what he has done.
"I know very well that Steve Parish as a chairman - every bit as much as me, my players and my staff - is 100 per cent focused on doing everything we possibly can to stay in the league."
Parish said his job was to ensure Palace's long-term goals were achieved under any circumstances, and Hodgson insisted the chairman's comments will not impact the players - who Parish frequently interacts with.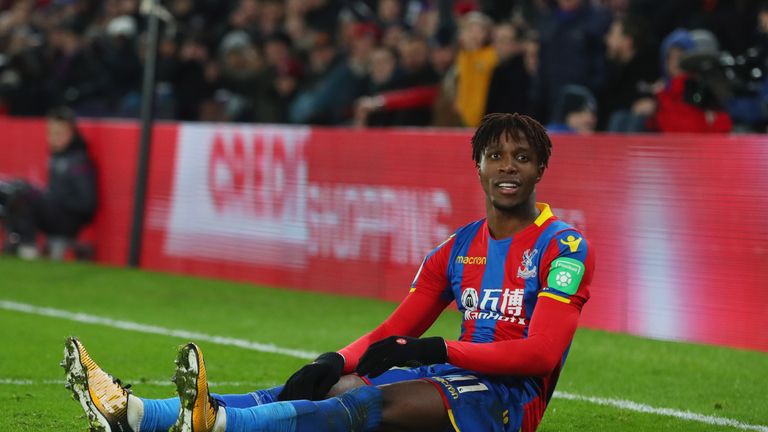 Palace will have to continue without Wilfried Zaha when they take on his former club, United, on Monday.
The club have failed to earn a Premier League point in any of the eight games Zaha has missed this season.
"He's ahead of schedule," said Hodgson. "The medical staff are quite surprised by how quickly he's recovered from a serious injury but still a while before he can return.
"Every team is dependent on its star players, especially the ones in those forward areas who are going to create chances, score goals."