Sean Dyche does not expect Burnley's record signing Chris Wood to be burdened by his £15m fee as he thinks such sums are inconsequential to players in today's market.
The Clarets broke their transfer record for the fourth time in a year when buying Wood from Sky Bet Championship club Leeds in a deal that has cost the Premier League side £15m.
However, Dyche has no concerns over the impact it will have on Wood in a summer where Neymar's world-record £200m switch to Paris Saint-Germain raised the bar for eye-watering fees.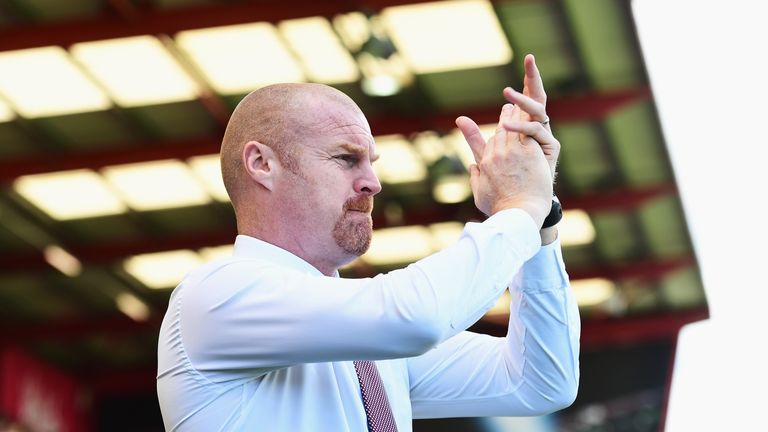 "Fees can swerve your judgement but it's not about that with these players now," Dyche said. "Fees are irrelevant. They're crazy. Fees are all over the place. It's more about the players.
"I'm more interested in the players. You remember when people used to ask, 'Is it hard carrying that price tag around?' That doesn't exist anymore, because everyone's got a massive price tag.
"Ten years ago people used to say, 'He's signed for a record fee, it must be really hard'.
"Every player has a record fee now. You ring about any player and they go, '£20m'. Everyone is £20m. So everyone's got a price tag on their head.
"Those days have gone. I think it's changed. I really mean it. Someone was saying that it's the fifth time we've broken our record [in Dyche's time at the club]. It doesn't really make a story now.
"The psychology for players has changed. They can just get playing now.
"Neymar bagged a couple the other night, didn't he? He went for a couple of quid."
Burnley have had a succession of successful strikers in recent years, from Jay Rodriguez through to Charlie Austin, Danny Ings, Andre Gray and Sam Vokes.
Dyche revealed he is excited about adding Wood to his current group and revealed his all-round ability was one of his biggest attractions.
"It's his ability to score different types of goals," Dyche added. "I think that's always an effective weapon. He can score long strikes, headers, he can nick one, bundle one, that's a good thing for a striker.
"He's played up there a lot on his own and has done that well as well. I think he adds to the blend of strikers.
"I like our group of strikers here and I've liked all of them since I've been here, they've all been effective in different ways."