Sean Dyche says he is not paying attention to the rumours linking him with Everton as he brings up five years at Burnley on Monday Night Football.
Burnley welcome Newcastle to Turf Moor on Monday, live on Sky Sports Premier League, with the Clarets having enjoyed a bright start to the season.
As a result, Dyche has been mooted as a possible replacement for Ronald Koeman at Goodison Park, with former England defender Matthew Upson among those to talk up the Burnley boss' credentials, while opposing manager Rafa Benitez says he has the experience to succeed at any Premier League club.


However, Dyche insists he ignores the praise being directed his way, saying it only takes three games to lose that credibility.
"It's the yin and the yang. You get praise, but you lose three games and then you're getting slaughtered," Dyche told Sky Sports.
"I don't mean that in a precious way, it's just a fact, that's how quickly the shift occurs. You have managers out there who may have a tough streak, it doesn't make them a bad manager. They're just going through a tough spell.
"That can happen. So I don't read much in the media, I know what I've said so I don't keep checking up on things.
"There have been some nice things said recently, some nice links, but the fact is I'm still here and still working hard."
The match against Newcastle will mark five years for Dyche at Burnley, a spell which has seen the club promoted twice and suffer relegation once.
And while Dyche does not believe it has taken five years for him to gain recognition, he admits it's becoming difficult for British managers to prove their worth when compared to bosses abroad who may have impressed in just one season.
"There has been pockets of it [praise] along the way, some recognition of different parts of my five years here, whether it be promotion, or then going down only to come up again as champions," Dyche added.
"Then there's last season in the Premier League and staying up. It's getting harder for English and British managers to gain that credibility, I do think that. It's a longer-term plan.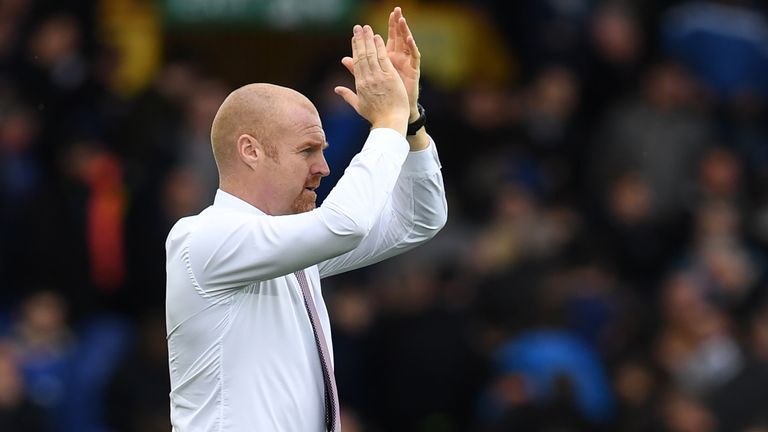 "Some of the foreign coaches from having one season at a given club in a given division are probably deemed to have more depth to them, like tacticians.
"So the English/British managers have to prove more from what they do, prove that they actually know what they're doing.
"But I think there's a lot of really good English and British managers out there. I really do. Eddie [Howe] has done a fantastic job, Tony [Pulis], Mark Hughes, they just keep going and going and going.
"It's very difficult in the Premier League to keep going all the time, and they do. A lot of the challenge is just to have the ability to stay in there and keep doing a good job at these clubs. It's a difficult task."