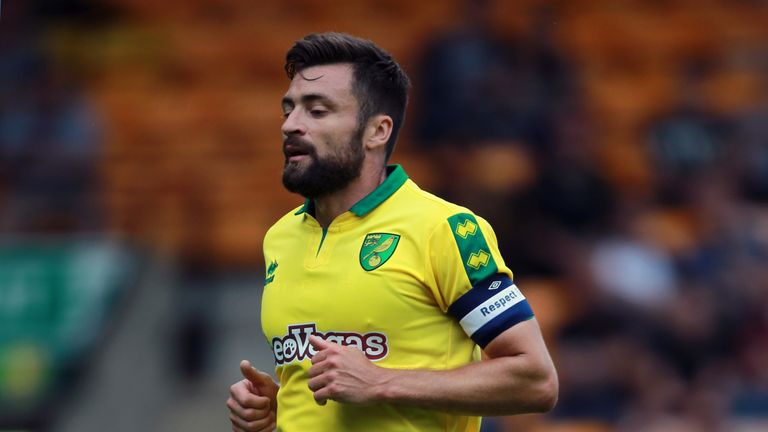 Defender Russell Martin's contract with Norwich City has been terminated by mutual consent.
The 32-year-old centre-half has made 309 appearances for the Canaries since first joining the club on loan from Peterborough United in November 2009 and captained the side in the 2015 Championship play-off final win over Middlesbrough.
Over the past 18 months, however, Martin has lost his place in the starting line-up, with captain Grant Hanley, Timm Klose and Christoph Zimmermann all ahead of him in the pecking order at centre-half.
He spent part of last season on loan at Glasgow Rangers and feels the time is now right to move on in search of regular football elsewhere.
Martin, who trained with the U23s this summer, said: "It's not been easy for anyone, this situation I've been in. I'm a football player and I really want to play football.
"I wish I was just comfortable sitting there and picking up my wages at the end of the month, but it's not what I'm about.
"I'm desperate to play football again. I really appreciate the fact that the club and I have agreed to do it, basically because it means I'm free to go and play football somewhere and start again. I still feel there's a few years left in me yet.
"It's not been an easy decision at all to end my attachment with this football club. Everyone knows how I feel about it, but it's come about and as I said, I appreciate the way the club has dealt with it and me. I guess it is time to move on.
"I've been honoured and privileged to play for this football club. I've loved it. The last year hasn't been ideal and it hasn't ended as how I would have wanted it to.
"But I'll always care for this football club and the people involved with it. For me and my family, it's been a huge part of my life. It will always be my football club now."
Norwich said in a statement: "Everyone at Norwich City would like to thank Russell for his huge contribution to the club on and off the pitch and wish him all the very best for the future.
"The club will be inviting Russ back for a league game in the future to make a presentation to him and give him and the fans the chance to say goodbye."