Brendan Rodgers lauds Pep Guardiola as a 'pioneer' of management
Watch Manchester City vs Leicester on Sky Sports Premier League from 7pm (kick-off 8pm) on Monday
By Mathieu Wood
Last Updated: 02/05/19 11:38am
Brendan Rodgers has lauded the achievements of Pep Guardiola, describing the Manchester City boss as a "genius" and "pioneer" who has transformed the approach to football.
Guardiola is on the verge of a domestic treble as City aim to defend the Premier League title for the first time with Leicester their penultimate obstacle of the season on Monday, live on Sky Sports.
Rodgers has impressed since taking charge of Leicester in February, winning five of his eight games in charge so far, and admits his "phenomenal" counterpart has taken coaching to new levels.
Asked whether this City side, who lead Liverpool by one point, will go down as the best Premier League side in a generation, Rodgers said: "Over time we will see that.
"But there is no doubt last year and this year the level of their game is at the very highest. It is a top-class team with a coach who for me is a real pioneer of the modern game.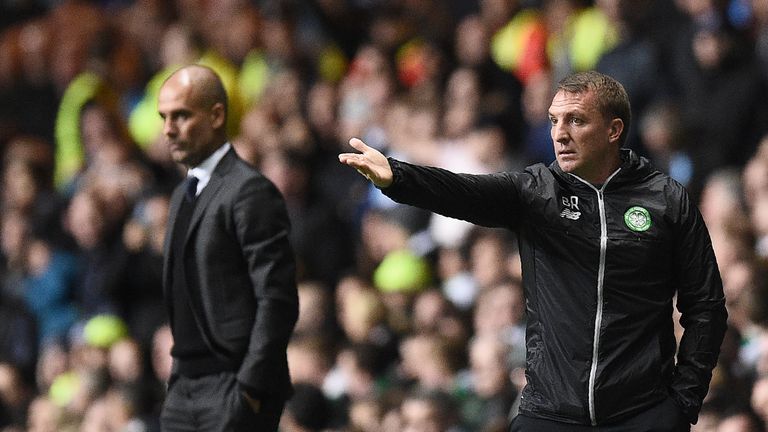 "A genius really in terms of some of the innovations he has put in place since he has been a coach. You look at how he has worked.
"At Barcelona they have a model and he has obviously worked with top players there, played there under (Johan) Cruyff so understands fully the philosophy.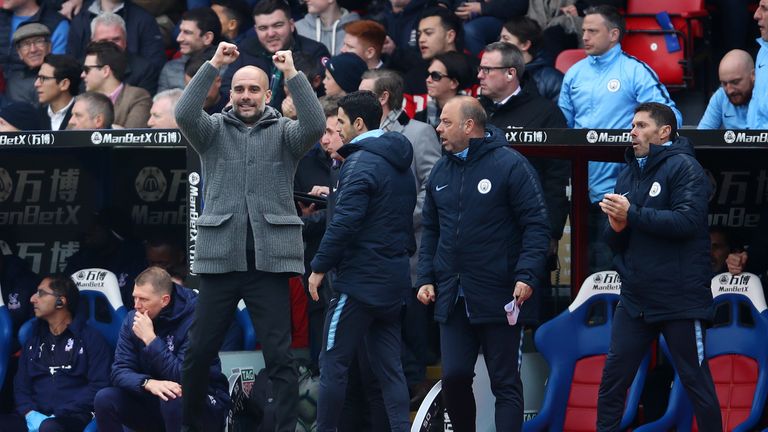 "It is a top class team with a coach who for me is a real pioneer of the modern game"
Brendan Rodgers on Manchester City and Pep Guardiola
"But to take that to Bayern Munich and to introduce full backs coming back in on the inside and the tactical innovations he produced there which were incredible.
"To come into the Premier League and most people saying he might not be able to play that way. Of course Pep in the first season needed the players to make that work but then after that they have been absolutely incredible. Brilliant team.
"He is a phenomenal coach and he has produced a wonderful team over these last few years."
Leicester will aim to derail City's title bid but the former Liverpool manager says the match does not provide any extra source of motivation - even if it would mean hero status for Rodgers on the red side of Merseyside.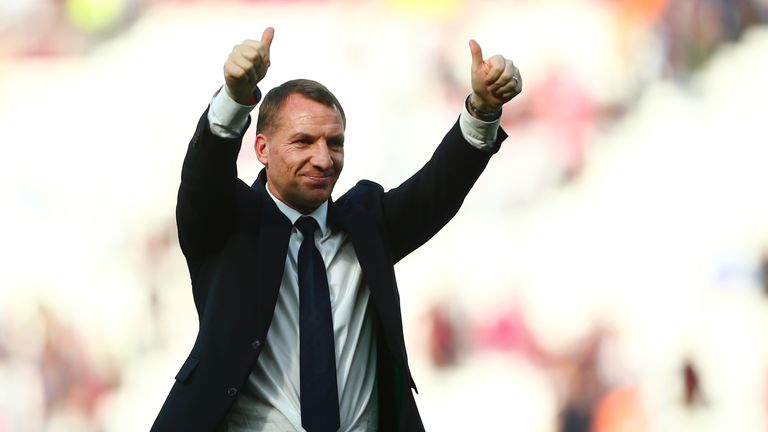 "I am employed by Leicester. People compare Liverpool now to then (2013-14). There is no comparison really," he said.
"Liverpool back then when I was there were at a different stage of their development. We went from eighth to second within a couple of years and nearly won the title.
"This is now the next game. It is exciting to be involved and be able to affect it but my thoughts are purely for Leicester, my team and helping us grow."
How Rodgers has fared since taking charge
| | | |
| --- | --- | --- |
| Watford | 2-1 | Leicester |
| Leicester | 3-1 | Fulham |
| Burnley | 1-2 | Leicester |
| Leicester | 2-0 | Bournemouth |
| Huddersfield | 1-4 | Leicester |
| Leicester | 0-1 | Newcastle |
| West Ham | 2-2 | Leicester |
| Leicester | 3-0 | Arsenal |
Okazaki will be remembered as a Foxes legend
Shinji Okazaka announced earlier this week he will leave the Foxes at the end of the season and Rodgers says the Japanese forward will be forever remembered by the club's supporters.
"He leaves a champion, as a legend in the club's history," he added on the third anniversary of the Foxes' remarkable title-winning season.
"I have spoken to him on it a number of weeks back and at this stage of his career he was wanting to have an opportunity to maybe play in Europe somewhere, with the opportunity to play as a striker.
"But his contribution at this club has been immense. He played a part in the great history here at Leicester City. There are a few more games to go and he wants to finish the club finish as strong as possible."
Rodgers: I don't fear Tielemans competition
Rodgers admits Okazaki's departure is an example that the club are heading into a new era, but is excited by the group of young players he has at his disposal, including in-form on-loan Monaco midfielder Youri Tielemans.
Asked whether he feared competition from Europe's biggest clubs for his signing, Rodgers said: "I don't fear that. He came here in January because he wasn't getting game time.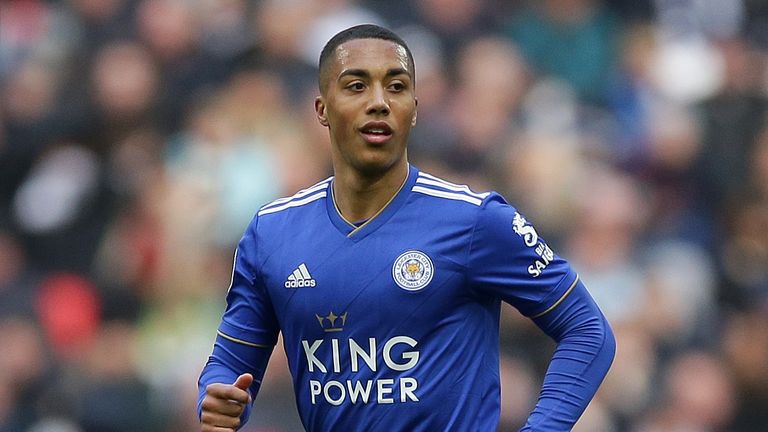 "I think what Leicester have shown him is the opportunity that is here for any player, and in particular a young player. He has come here at 21 years of age and really adapted very well.
"He is a very clever footballer with big experience for such a young player. What he has is efficiency in his game. He creates goals and he scores goals.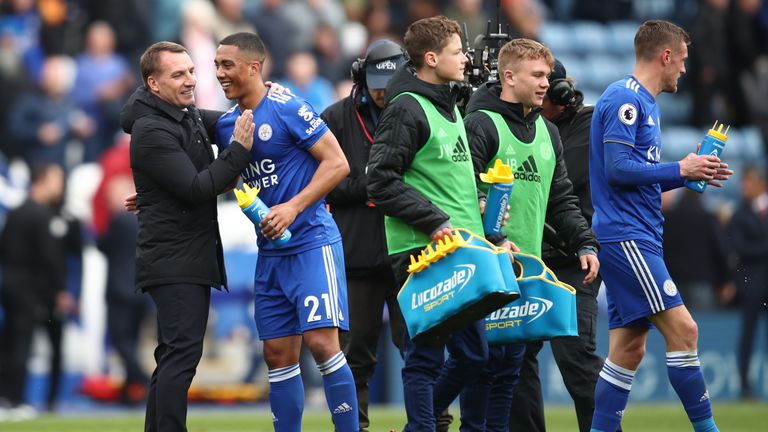 "He still has a lot of development to make but he has shown in the time is that he is a very good young player.
"He has got a wonderful platform and base here to continue that development if there is something that is agreed between the clubs. But in the meantime he just continues to work well and see out the season strongly."