Joey Barton discusses first steps in management, giving up playing, and the success of Steven Gerrard and Frank Lampard
Fleetwood face Walsall on Saturday, live on Sky Sports Football from 11.30am.
Last Updated: 17/11/18 12:17pm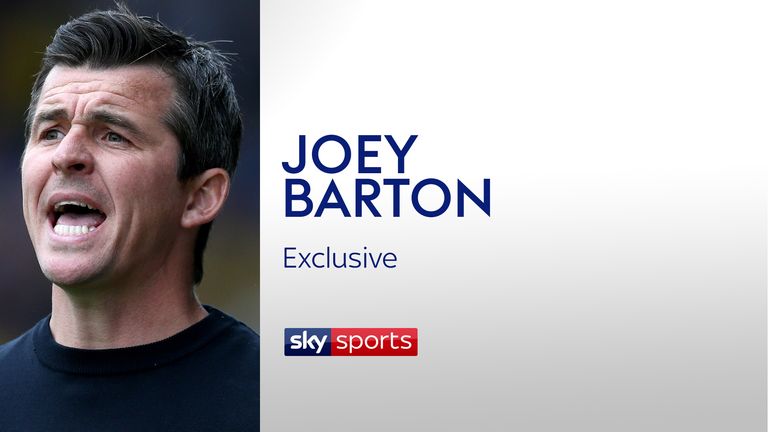 Joey Barton may only have officially retired from playing in the summer, but his planned first steps into management have been years in the making.
Not that all the preparation has helped him much so far at Fleetwood.
"For me it has been a case of years of thinking, planning and anticipating what you were going to do coming to fruition," he told Sky Sports. "And then all those best-laid plans going right out the window!
"Everything you think you'll face you do and then more, but it has been really enjoyable and every day is a real learning experience.
"I don't think anything can ever prepare you for it. It's a role that varies from club to club and you can have all manner of things going on in any given day. You really have to think about the ramifications of any decision or any interaction."
It has been a solid enough start to life at Highbury for the rookie manager. The club sit 12th in the League One table heading into their clash with Walsall on Saturday lunchtime, which is live on Sky Sports Football.
There have been the highs of 5-0 and 4-0 wins at Scunthorpe and Doncaster respectively, although their form has tailed off a little in the last few weeks. But for Barton, it is all part of the learning curve.
"Getting the job was a case of timing and opportunity," Barton said. "Fleetwood were changing managers and wanted to speak with me, and I couldn't refuse that opportunity.
"It has been a bit of a baptism of fire because I didn't really know much about the level and there were a lot of grounds I hadn't visited before this season. But it's the perfect breeding ground for me and a place where I know I can fulfil my potential.
"It's enough out of the spotlight to be able to make mistakes and learn from them, while also not getting too much praise when you do really get it right."
Barton entered management in the same summer as two other former English midfielders in Steven Gerrard and Frank Lampard, who are enjoying bright starts at Rangers and Derby respectively. And he is glad to see players from his generation choosing the coaching and management route.
"You just knew they would get those kinds of jobs because they were such incredible players and they earned them through the respect they have," said Barton. "You want those people at your football club.
"It was slightly different for me because I was fighting against a little bit of a chequered past, shall we say! And I knew I had to navigate that. But for me there was no problem with that because I knew I wanted to do this job and I want to do it for the next 30-odd years, if I'm fortunate enough to last that long.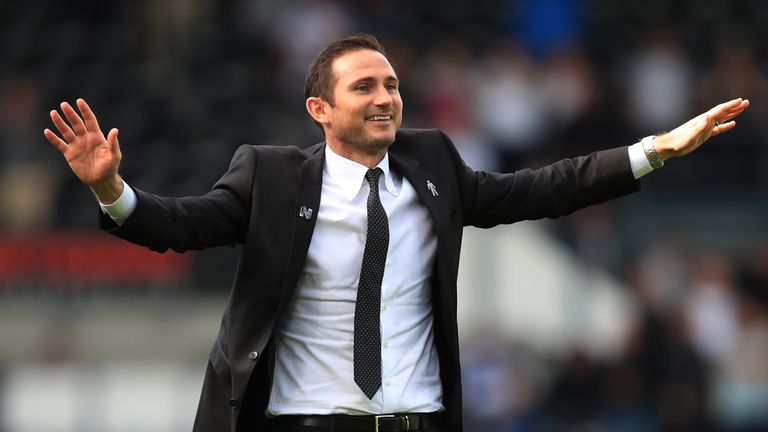 "You have to take confidence from how well everyone has done, and not only the lads who have played in the same era as me but other new managers who have also done really well. It shows there are a nucleus of good, young British coaches out there who are willing to get their hands dirty and maybe not always sit in the TV studios like they used to! They're putting their necks on the line.
"I'm as aware as anybody that it is a results business and Steven and Frank will be as well. That's the nature of this industry and you can't sign up for it if you don't expect that. Sometimes it can get tough and you need to dig deep and trust your character to get through those moments.
"You have to be prepared to roll your sleeves up. Steven and Frank were both phenomenal players who faced lots of adversity and no doubt that will stand them in good stead, because they have both made fantastic starts."
The difference between Barton and Gerrard and Lampard was that the latter two saw their playing careers come to a natural conclusion, while the "chequered past" that Barton refers to brought an end to his.
He admits it was difficult to give it up at first, but he knew it was the right thing to do if he wanted to make a success of management.
"I definitely thought about it long and hard, but you get to the realisation that you have had your career and it is a chance for someone else to have a go," he said.
"When you have been playing at a certain level it is tough to get back to that and stay there. Then where do you go if you can't? I weighed all those things up.
"I've wanted to coach since I can remember and I realised if you want to become the best at this then you have to knock playing on the head.
"The way it ended wasn't ideal but I can live with it. I have seen much better players than me going out with a whimper. While I probably would have done that had I not been given the ban by the FA, I'm glad it didn't happen to me.
"I was playing for a club I loved playing for in Burnley and I went out at the top level playing against Manchester United and Paul Pogba on the TV. It's not a bad way to end your career."