Renato Sanches will recover from poor form at Swansea, says Paul Clement
Last Updated: 30/11/17 5:34pm
Paul Clement has vowed to continue backing "struggling" Renato Sanches, who has failed to shine since joining Swansea on loan from Bayern Munich.
The midfielder was still a teenager when he played for Portugal, against France, in the final of the 2016 European Championship.
He then moved from Benfica to Bayern, and then onto south Wales after struggling to break into the first team, but has struggled at the Liberty Stadium.
But Swans boss Clement says he still has every faith in the 20-year-old and expects him to come good "sooner rather than later".
Clement admitted: "Renato is struggling for confidence and form. We still have a lot of belief in him. I know, and European football knows, that he is a really good talent.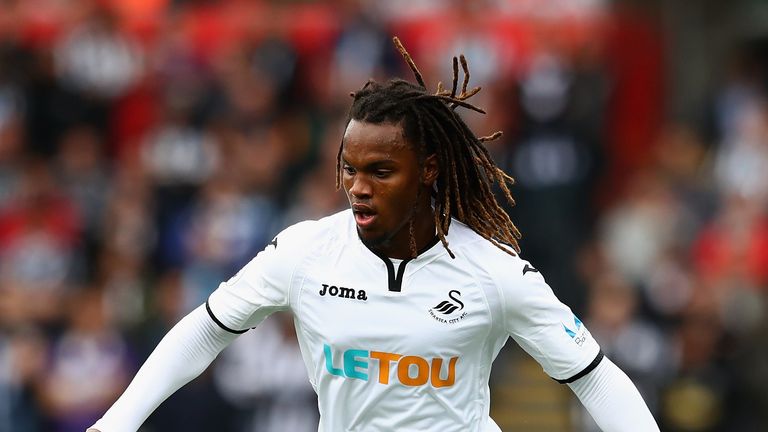 "But he hasn't played anywhere near his potential and we're working hard with him.
"He didn't play regular minutes at Bayern. So he's gone from a very high point of winning the Euros with Portugal, to a very low point.
"Although difficult, it is a good experience for him in his career and will only make him stronger.
"And I'm sure, sooner rather than later, we'll see him come through this period. But I'll keep backing him - like all our players."
Clement stressed that he is under no obligation to give Sanches, or any player, first-team football, adding: "There's no pressure to play him from Bayern.
"When we brought him here, it was because he needed experience and needed to play regularly.
"But he falls under the same remit as all our players. They will get more opportunities to play if they're performing.
"But there's nothing to say I have to play him. It's all on merit."
Ahead of the January transfer window, Clement believes Swansea need to bolster their options up front.
He went on: "When you see our goal scoring record, and our ability to create chances, we need to strengthen in the forward positions.
"How many players? We'll see. But our recruitment department is working behind the scenes to identify the players we want to bring here.
"But players who are realistic. One or two would help."
Clement also played down the possibility of Liverpool forward Dominic Solanke joining the club, adding: "I can't see Liverpool wanting to do anything with. He's doing very well at his club."