Huddersfield manager David Wagner says the club are now free to give Arsene Wenger a fitting farewell after securing Premier League survival.
Wenger will bring the curtain down on 22 years as Arsenal manager at the John Smith's Stadium on Sunday.
After guaranteeing their stay in the Premier League with a 1-1 draw at Chelsea, Wagner said Huddersfield could now focus on giving the league's longest-serving boss a proper goodbye.
"I can't imagine that this can happen again, so this only shows he has done something extraordinary," Wagner said.
"Words don't describe enough how big this achievement is which he has done for his football club and football in this country.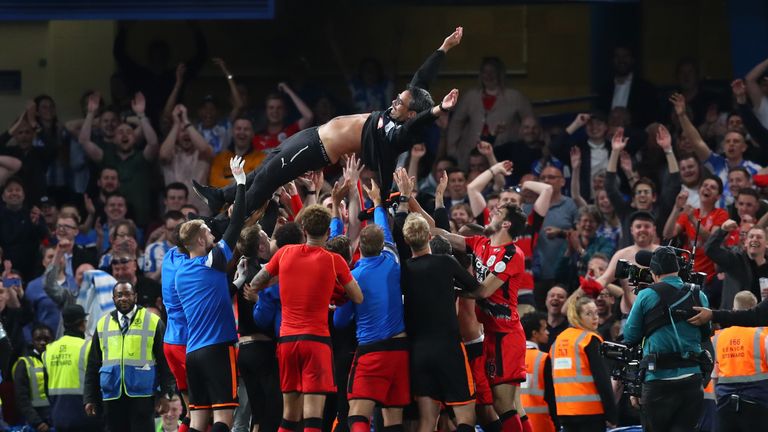 "I'm so happy that we are able to host him in his last Premier League game after 22 years, that we are able to host him in these circumstances, we really can give him all the honour and all the attention he deserves.
"This is possible after our last result on Wednesday and we as a football club will do it. We have the biggest respect for what he has done and we're happy we play our last game against him.
"We, the players and the staff will give him a guard of honour and the club, for sure, has a present for him as well."
Wagner gave the players 48 hours off following the 1-1 draw with Chelsea and the party started immediately after the final whistle at Stamford Bridge.
"If somebody deserved to celebrate like maybe they've never done before it was this football club," he said.
"We enjoyed it and enjoyed ourselves as well. Of course it was an atmosphere of relief of happiness.
"Staying up is an unbelievable achievement for this football club and I'm so delighted that I have been a part of it."
Wagner has one year left on his contract but remains relaxed about planned discussions with chairman Dean Hoyle at the end of the season.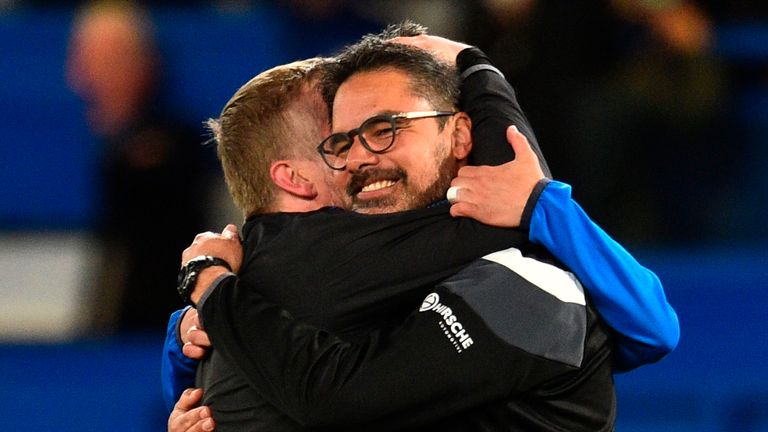 "It will be a discussion between Dean and me and we will take it from there," he said. "For you it sounds exciting but for us it's business as usual.
"I like everything we have done here so far and I'm still under contract. I think we will have to discuss a lot of things.
"Huddersfield Town has shown that you should never think you're not able to make steps, you always have to try and do it. I think we can make further steps but how big and how quick nobody knows.
"This club is ambitious and it has space to improve, and this football club likes to improve."