Lyon president Jean-Michel Aulas worried about Lyon's trip to Istanbul to face Besiktas
By Mathieu Wood
Last Updated: 14/04/17 1:03pm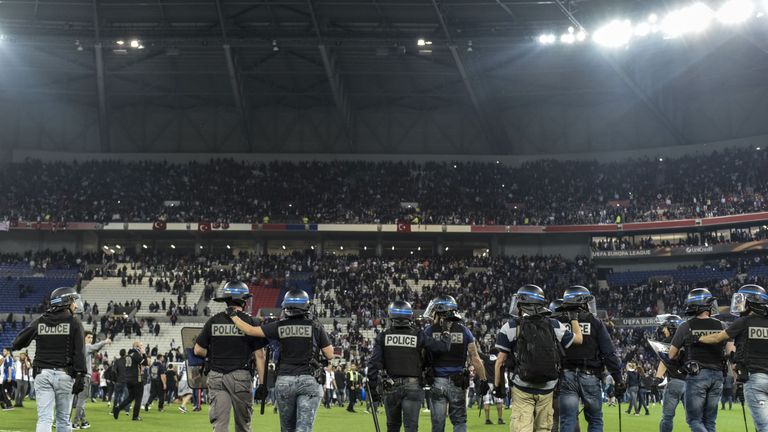 Lyon president Jean-Michel Aulas has expressed concern over next week's trip to Istanbul after Thursday's Europa League tie against Besiktas was marred by violence and a pitch invasion.
Police have reported the arrest of a dozen Lyon and Besiktas fans with five police officers and two supporters suffering minor injuries after fighting broke out inside Lyon's Parc OL before kick-off.
The start of the high-risk quarter-final first leg in France was delayed by 45 minutes as officials attempted to clear the pitch of large numbers of Lyon fans.
According to an AFP reporter, Lyon supporters poured onto the pitch as they attempted to shield themselves from firecrackers and other projectiles coming from the stands.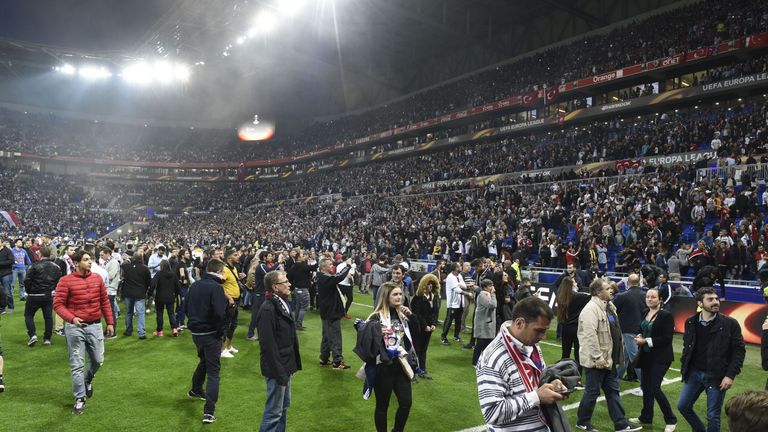 "Twelve arrests from both sets of fans were made," a police spokesman said.
"Thrown objects slightly injured two fans who were taken to hospital," a local authority spokesperson added.
Authorities had categorised the match as maximum risk with 1,000 stewards drafted in for the encounter held in France's third biggest city.
Lyon president Aulas called for calm inside the stadium via a loudspeaker in the immediate aftermath of the events. When tensions finally subsided the match went ahead with Lyon winning 2-1.
Afterwards Aulas told French television station W9 of his unease over next week's second leg in Istanbul.
"I hope UEFA will take all the necessary measures," he said.
"It seems difficult to travel to Besiktas. When you see how this fury spilled over on all sides we are very afraid."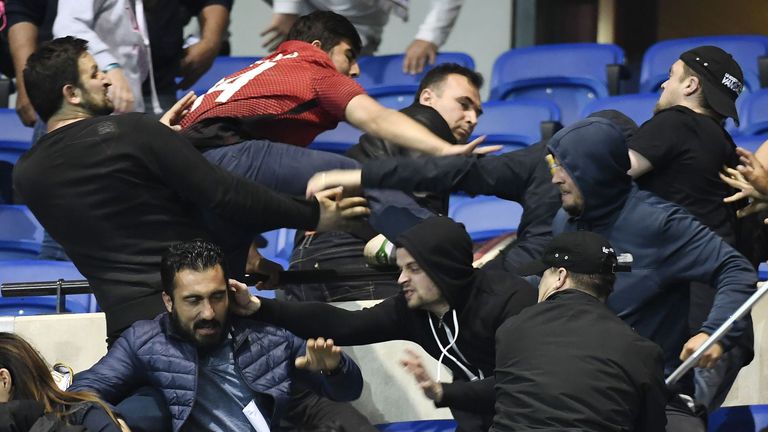 Thursday's disturbing scenes from Lyon came on a black week for European club football after the Borussia Dortmund team bus was attacked with explosives on Tuesday just before their Champions League game at home to Monaco which led to UEFA demanding a re-evaluation of the security measures "wherever necessary".
Turkish pro-government media were blaming French fans for Thursday night's trouble.
"The Lyon hooligans attacked children," said the Yeni Safal daily newspaper, with a picture which showed a French fan waving a crutch in the direction of a child.
Sabah, another pro-government daily website, claimed: "Lyon hooligans attacked the Turkish fans, including women and children and afterwards the Besiktas fans responded."
But Aulas countered, arguing that his side's supporters were forced into taking dramatic action for their own safety.
"With the intense fireworks, severe injuries and homemade bombs exploding around them our fans had only one option, to take refuge on the pitch," he suggested.
"I've heard some people ask 'but how could a pitch be invaded?' Well thankfully, if they hadn't invaded the pitch, they would have been trapped by Turkish fans who had turned up in strength, some without tickets."
On next week's scheduled second leg, he added: "I don't know what needs to be done, play behind closed doors or elsewhere but it will be too dangerous for us to play this match with the same fans that were here tonight."