Real Madrid face Barcelona at the Bernabeu in El Clasico on Saturday - live on Sky Sports 2 HD - and history is on the side of the hosts.
Real have won 71 of the 170 league encounters with Barcelona since 1929, compared to Barcelona's 67 victories.
The club from the capital also hold the record for the longest winning streak, after winning six encounters back-to-back between September 1962 and February 1965.


However, since 1973 Real's dominance has been on the wane.
Los Blancos had 43 wins to Barca's 28 at that point but the Catalan club have since won 39 Clasicos to Real's 28.
Barca almost matched the longest winning streak in 2011, too. However, an 82nd-minute penalty from Cristiano Ronaldo earned Real a draw and ended Barca's five-game winning streak.
Goals
The two teams have scored 546 goals in La Liga meetings since 1929 - 3.2 per game on average - with both teams netting 99 goals away from home.
However, Real also win the historic contest for goals scored, with 179 home goals - 10 more than their rivals.
The highest-scoring Clasicos came in February 1935 and January 1943 - when Real beat Barca 8-2 and the pair drew 5-5, respectively.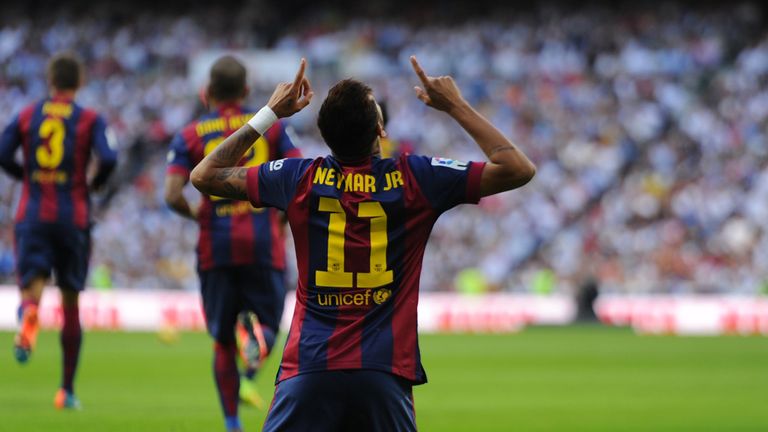 The fixture also has a recent history of early goals - the last four Clasicos at the Bernabeu have all seen a goal within seven minutes.
Real's Karim Benzema scored after 23 seconds in December 2011, and after six minutes in March 2013. Barcelona's Andres Iniesta opened the scoring after seven minutes in October 2013, while Neymar was on target after four minutes last season.
When it comes to goals and prestige, El Clasico's history is rich. But Saturday's clash could break new ground, too. For the first time the world's five most expensive players could be on the field together. Real Madrid's Gareth Bale, Ronaldo and James Rodriguez, along with Barca's Neymar and Luis Suarez cost a combined £367m.
Watch Real Madrid v Barcelona live on Sky Sports 2 HD from 5pm on Saturday.