With El Clasico on the horizon, Sky Sports looks back at one of the fixture's most memorable moments through the eyes of those that were there...
Luis Figo had been sensational for Barcelona. In the age of Lionel Messi and Cristiano Ronaldo, it's easy to downplay his achievements, but alongside Patrick Kluivert and Rivaldo he was unstoppable around the turn of the century.
He was hugely popular too. One Nou Camp official suggested Figo meant more to Barcelona than home-grown hero Pep Guardiola. But after a stunning individual campaign in the 1999/2000 season, he jetted off to Euro 2000 against a backdrop of uncertainty.
Barcelona and Real Madrid were both staging presidential elections that summer, and it was the dawn of the Galactico era in the Spanish capital.
Promises were made, Figo's name cropped up, and worryingly for Barca fans, there was talk of a pre-contract agreement with wealthy civil engineer, and Real Madrid presidential hopeful, Florentino Perez.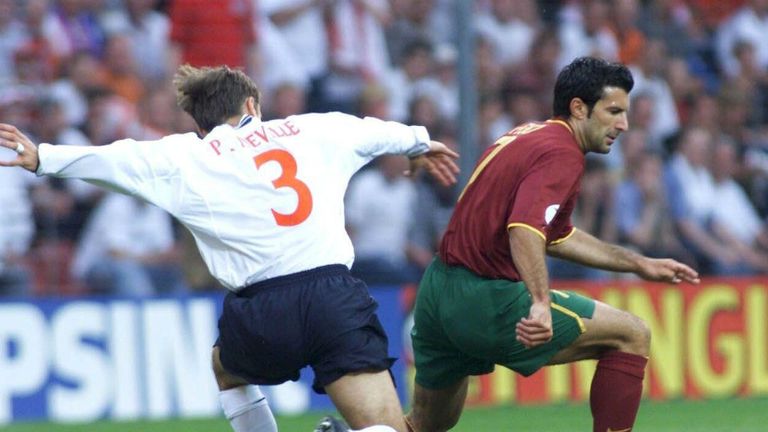 In July 2000, shortly after Portugal were eliminated in the semi-finals, Figo addressed the rumours, reassuring fans that "whatever is said about other clubs, Luis Figo has a contract with Barcelona."
But the speculation would not subside. The pre-contract agreement with Perez was thought to have been a tactic designed to put pressure on Barcelona to improve his contract. At that time, no one expected Perez to be successful in his effort to unseat incumbent Lorenzo Sanz.
But sitting Barcelona president Josep Lluis Nunez was playing hardball over new deals for star men Figo and Rivaldo, telling the pair they would need to rethink their demands should he win the election.
This article consists of quotes taken from various sources and publications, both from the time and more recently - everyone quoted in this piece is identified by the positions they held or clubs they played for during the early 2000s.
President Nunez: "We can't afford to create an effect whereby all players want to do the same… other players have left the Nou Camp for Real Madrid before and that didn't matter."
Enter Josep Maria Minguella. The former translator and football coach had worked his way through the corridors of power at the Nou Camp, facilitating Figo's move from Sporting Lisbon to Barca in 1995. He would go on to work as a transfer advisor to the Catalan club before unsuccessfully running for president himself.
Minguella: "Figo couldn't acknowledge this agreement because it was a conditional contract. If Florentino didn't win the election, Figo was still a Barca player. He couldn't acknowledge the agreement with Florentino because he would have been killed in Barcelona [if Perez then lost]."


In this unpredictable climate, the campaign for Barca's presidency heated up, and would ultimately centre on the candidates' insistence that the Portugal star would not be allowed to leave. They had a plan.
Presidential candidate Joan Gaspart: "To the Barca fans, I have a strategy that I am not going to reveal. But it will keep Figo at Barcelona."
Lluis Bassat, a presidential rival: "No way are we going to let him leave Barcelona."
With his offer on the table, though, Perez seemingly had other ideas.
Minguella: "Jose Veiga [Figo's agent] talked to the presidential candidates for Barcelona, Gaspart and Bassat, as well as the outgoing president, Nunez. Veiga told them, 'We have this offer from Perez. If you improve Figo's contract with Barcelona, he is not going to sign with Real Madrid.'
"But in the end, it was a firm offer with money from Florentino against a future promise from Gaspart. They took Florentino's offer. And in accepting Florentino's offer, they always kept in mind the belief that Florentino wasn't going to win."
Perez made his appeal to the Real Madrid electorate, and he was confident. He told the club's 80,000 members registered to vote that he would pay their membership fees the following year if he failed to sign Figo.
El Pais journalist Diego Torres: "The pledge he made to Real Madrid's fans was intoxicating. This promise fulfilled all the superpower fantasies of Madridistas. Will he destroy Barcelona with a single cheque? They didn't care for Lorenzo Sanz and his European Cups."
Figo: "I was at Euro 2000 in Holland and things were going fine. However, the possibility of one of the candidates to the Real presidency - it was Perez - signing me emerged, and I spoke to president Nunez about that offer."
On July 16, 2000, Figo woke to news that would have profound implications for his future - Perez had won the election. Things moved quickly. The following week, Gaspart became Barca president, but by then it was too late. Figo was gone. The deal was done to take him to their arch rivals for £37.2m, a world record fee.
Perez's agreement with Veiga reportedly included a clause whereby if Perez won but Figo dropped out of the move, the player would have paid Real Madrid a "penalty" of 5bn pesetas (£18.75m). With Perez as president, Figo had no option but to leave Barca.
Figo: "I did not want to quit Barcelona at the time, I just wanted them to acknowledge my quality. He [Nunez] was just saying he would wait for someone to pay my buy-out clause. The Barcelona presidential candidate, Gaspart, wanted me to continue, but I did not trust the promises he had made me. Finally, Perez won the elections at Real and I assumed the responsibility of finalising what Veiga had agreed weeks before.
"I flew to Lisbon the day after the elections, and I went to Veiga's office. When I arrived and entered the room, there were about 10 people sitting around a table, all trying to convince me to sign on that moment. That's when I called my wife and told her, 'That's it, I am joining Real Madrid'. I did not return to Barcelona."
Perez's pitch worked. The signing, greeted like an eighth European Cup, was fittingly celebrated in the trophy room at the Bernabeu.
Gaspart, on behalf of a betrayed Barca fanbase, was livid and launched a furious attack, vowing to make those responsible pay.
President Gaspart: "The document [they] signed was completely immoral. Figo gave me the impression that he wanted to do two things - make more money and stay with Barcelona. He thinks money can do everything in this life." 
Sky Sports' Spanish football expert Guillem​ Balague: "Once Figo went, he even had to close down his Japanese restaurant in Barcelona. He was a persona non grata."
Figo moved on, and Perez delighted in his rival's misfortune. Real Madrid, without a La Liga title since 1997, had poked their neighbour in the eye. The world's best player would put them back on top.
Figo: "Myself and Perez arrived at Real together, united by the same project."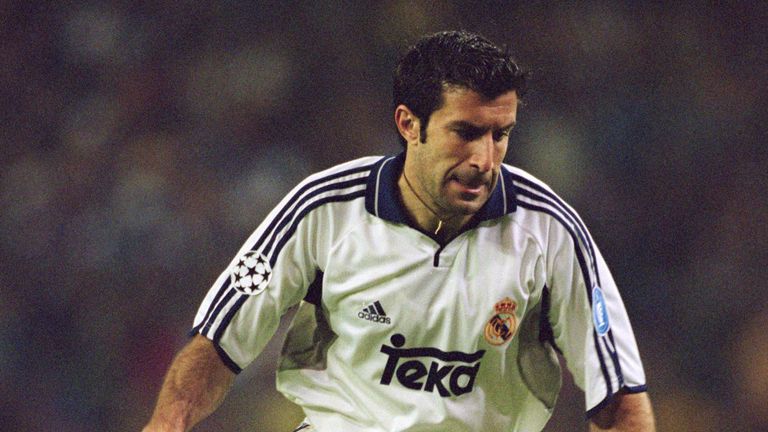 Balague: "It was really felt like a betrayal. Guardiola talked about it, it was the hardest thing because not only were they friends, but Pep, like all Barca fans, felt that Figo represented Barcelona. To go to Madrid, it was really, really hard."
Francesc Arnau, a goalkeeper for Barca between 1996 and 2001: "He surprised us all. There had been a lot of silence. But it was just the way football is; that's the way life is. One goes, another comes to replace him."
Future Madrid president Ramon Calderon worked as a director under Perez for six years and admitted his boss's election was a shock even to those inside the camp.
Calderon: "It was a surprise Florentino won [the election], there were two or three days with a lot of confusion."
Barca fan Albert Yarza: "Our reaction was incredulity, rage and disappointment because he was a star for Barca, a reference point for the club. Everybody loved him, but he played dirty. He lied to the people of Barca."
Three months later, the first Clasico rolled around. The atmosphere was sure to be toxic, Figo the latest on a short list of players to have crossed the divide. Newspapers apologised in advance for the vitriol to come…
Figo's return: Barcelona 2 Real Madrid 0 (October 21, 2000)
On the morning of the match, Alfredo Abian, deputy editor of the Catalan newspaper La Vanguardia, wrote an editorial titled, "Que Figo nos perdone". Translation: "Figo, forgive us."
The Real Madrid star was met on the runway of Barcelona airport by armed guards and hurried onto a coach.
Figo: "I felt as if in the skin of a murderer."
Team-mate Steve McManaman: "I sat next to him on the plane but no way was I going to sit next to him on the bus."
Francisco Pavon played in Real Madrid's defence that day. He recalls the coach ride into the stadium before kick-off…
Pavon: "The police made a special passage for the bus as we entered the Nou Camp, 25 metres on each side. Still, fans threw glass bottles, stones, everything. They broke windowpanes, but the windows were double-glazed. We sheltered in the middle of the bus. It was like a cartoon: 'Look another missile is coming!' I remember on one side they threw a bottle, but the bus turned and the bottle hit someone on the other side of the bus. I remember walking back to the dressing room, and some of the players, Fernando Hierro and Carles Puyol, were saying it was a disgrace, somebody had to calm the fans down.
Figo typically took corners for his team from the left but not this time - far better for the Portugal international to stay well clear of the pitch edge. Adding to the sense of drama, six or seven riot police formed a protective wall around the flag during each corner kick, just in case Figo ventured short. The missiles still rained down.
Barca defender Carles Puyol: "Figo would have had the crowd on his mind because they were certainly in his face. I had only purpose in that game - to stop Figo."
President Perez: "The atmosphere got to us all."
Madrid defender Iván Campo: "That night was incredible. I've never heard anything like it. But Luis didn't deserve that. He'd given his all for Barcelona. It was built up before: 'A traitor's coming', the media said. That night hurt him, you could see. His head was bowed and he was thinking: 'Wow, I was here last season ...' But my lasting emotion was admiration: you've got balls."
The atmosphere was calmed by Barca's impressive performance, they went ahead early through Luis Enrique before Simao doubled their lead 10 minutes from the end. 2-0 to the home side, Figo, quiet throughout, was humbled on his return.
But frustration grew in Catalonia as Madrid improved and Barca stagnated - Vicente Del Bosque's side won the league at a canter, with a sorry Barca side 17 points off the pace. Figo was named the 2001 World Player of the Year, and Barca fans were angry. But, when Figo missed the 1-1 draw in Barcelona in March 2002, they were made to wait eight more months for his return. 
Payback was coming at the Nou Camp, and it was coming on November 23, 2002.
The pig's head: Barcelona 0-0 Real Madrid (November 23, 2002)
Marca's front page on Thursday before the game: "Take them, Luis".
This time, Figo would be on corner kick duty.
Real sporting director Jorge Valdano: "To do otherwise would be to act abnormally."
Figo: "I was worried that some madman might lose his head that night."
Balague: "I was at the Nou Camp, and the atmosphere was as it's been described - it was unbelievable. It was the noise of a jet taking off, which you'd never heard in Spanish stadiums before or since."
Figo: "It was a significant game for me, as it made me much more mature. I was probably the only player in the world who had 100,000 people together just against him. But my build-up for that match was exactly the same as it always was. My only concern was to play football and do my part. I was a bit worried that I could be harmed, because you never know if there's some crazy guy who will do something stupid."
The game itself was awful. Barca had lost the previous week to Deportivo La Coruna, while Real Madrid were struggling badly. The Galacticos had won just three of their previous 13 matches, and the pressure was mounting on Vicente Del Bosque. That evening Figo was isolated without Zinedine Zidane and Ronaldo, and the away side looked short on quality in the most hostile of atmospheres.
Balague: "The problem with Figo was many used his departure to explain why Barcelona weren't winning - so Barca saw themselves as victims again. Johan Cruyff had tried to beat them, and actually it took a few years for them to get rid of this sense of victimisation, so it was felt incredibly deeply."
Assistant referee Benjamin Pliego Sanchez: "It was a tough game, not because they played hard, but because what took place in the Nou Camp was not normal.
Balague: "It's not true that it was hyped up by the media, we were covering the game for Sky and it was truly an unbelievable experience."
When Figo jogged across to take a corner in the 72nd minute, debris rained down. In among the coins and bottles settled a suckling pig's head, a cochinillo. The game was delayed for 12 minutes as referee Luis Medina Cantalejo and his assistants tried to restore order.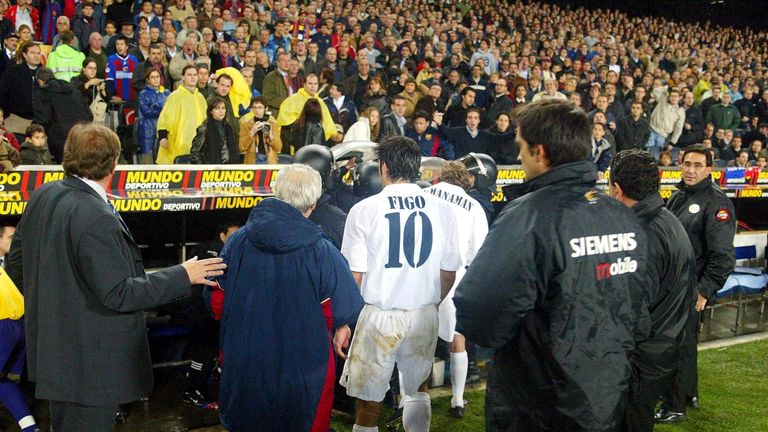 Real Madrid's Michel Salgado: "By the second or third corner, I turned to Figo and said: 'Forget it, mate. You're on your own'. I used to offer Luís the chance to take the short corner, drawing up close to him near the touchline, but not this time. Missiles were raining down from the stands: coins, a knife, a glass whisky bottle. Johnnie Walker, I think. Or J&B. Best to keep away. Short corners? No thanks."
Benjamin Pliego Sanchez: "The danger was apparent to those who were there, so we decided to suspend the match for a few minutes to see if tempers calmed. For 10 minutes we were talking to the two captains and delegates and thought it was best to get back onto the pitch. That was a decision of Luis Medina Cantalejo. Only the main referee is the one to decide. [But] I've never seen anything like it."
The fall-out began immediately after the game ended, a 0-0 draw incidentally, and Figo was apparently to blame.
Minguella, possibly with tongue-firmly-in-cheek, said he could provide conclusive proof that Barça fans were not responsible for the pig's head: "We don't even eat cochinillo in Barcelona".
Barcelona boss Louis van Gaal: "Figo provoked the fans. He walked over to the corner really slowly, picked up the bottle slowly, went back to the corner... and all this consciously and deliberately, without the referee doing anything to stop it."
Barca director Joan Ignasi Brugueras: "Figo had been provoking our fans for two years."
Barca midfielder Xavi Hernández: "He could have helped more by not taking the corners."
Figo: "[I was] surprised - after all, Van Gaal never said anything when he was my manager for two years. And I saved him more than once."
President Gaspart: "We were not the villains here. You can't come to a stadium and provoke in such an ostentatious manner."
The Spanish football authorities didn't buy Barca's protestation, and the club was punished. President of the league's committee, Fernando Sequeira, confirmed action shortly after.
Sequeira: "The declaration that forced us to act against the president of Barcelona was: 'You can't come to a stadium and provoke in such an ostentatious manner', referring to the attitude of Figo when he went to take a corner."
Barcelona were originally instructed to close the Nou Camp for two games, a punishment that was later reduced to a 4,000 euros fine.
Valdano: "What happened that night was not worthy of Spanish football. There were difficult moments out there and we just have to be grateful that the match could be finished. Figo taking corners is not a provocation."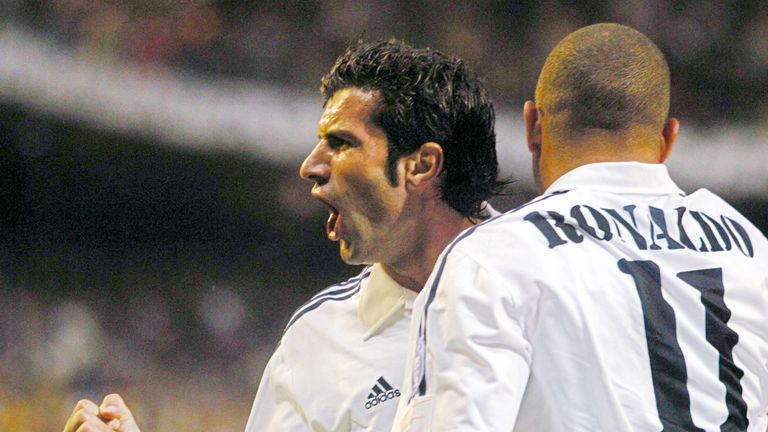 Marca dubbed it the "derby of shame", while AS led on "Bronx Nou" and El Periodico de Catalunya declared "every corner a Vietnam".
The pro-Barça sports dailies El Mundo Deportivo and Sport inevitably gave a very different version of events: Sport led on "Figo is a provoker" - the man who "poisoned the derby".
Perez's first Galactico had helped a star-studded cast to a 2002 Champions League and two league titles before the partnership soured three years later. By the end, having been the centre-piece of his election campaign, Figo felt abandoned by the man that signed him. In 2005, he moved to Inter Milan.
Figo: "Perez said we had entered the Bernabeu together and that we would leave together as well. But, I left on my own. I believed what he said, but Perez did not keep his word, he did not respect our pact."