Is Arthur Melo shaping up to be Barcelona's new Xavi?
By James Walker-Roberts
Last Updated: 20/11/18 2:49pm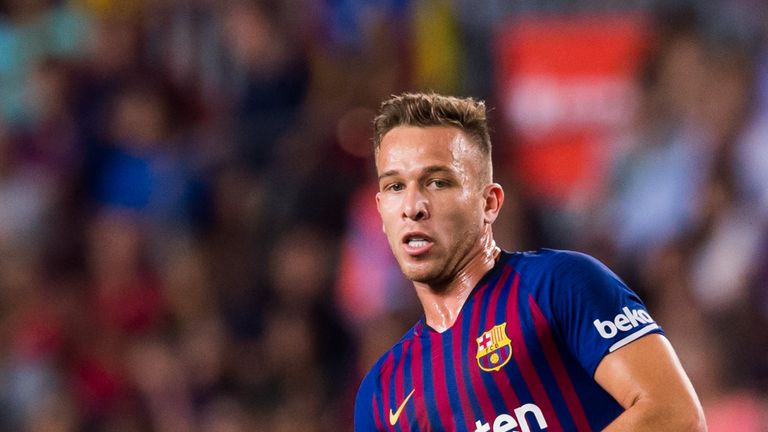 After moving to Europe in the summer, Arthur Melo looks to have a bright future for Barcelona and Brazil. James Walker-Roberts looks at his early impact for club and country and potential for the years ahead...
Arthur Melo is only three months into his Barcelona career. He's only made six starts in La Liga and three in the Champions League. Yet the early signs are encouraging.
Arthur was signed in the summer after a lengthy pursuit by Barcelona. Handed the No 8 shirt on his arrival, it was hoped that he might help ease the loss of its former incumbent, Andres Iniesta.
It is a shirt that could weigh heavy on a 22-year-old, especially one who only established himself as a regular for Gremio in 2017.
But Arthur's experience at the Porto Alegre club includes playing in the Copa Libertadores final - where he won the man-of-the-match award in the second leg despite only playing 50 minutes - and the Club World Cup - where Gremio lost to Real Madrid in the final. He's already no stranger to the big occasion, and in 2017 he was voted the third best South American player of the year by El Pais of Uruguay.
His head coach at Gremio, Renato Portaluppi, described Arthur as a player with a "Brazilian style and at the same time a European style…a strong player who protects the ball well".
Brazil head coach Tite reveals more about Arthur's game when he says he has "the ability to make a pass for the passer… he makes transition happen." Sound familiar?
Barcelona have had two of the best passers of the last decade in Iniesta and Xavi, and their departures have left the club with sizeable holes to fill.
Arthur is a player in the same mould as Xavi. He's almost the same height, he's a similar build, and he plays in the same way. He protects the ball, passes it, uses it wisely, sets the play up for others to get assists or score goals. As he says himself, he is an "organiser" of play.
Against Valencia in October, Arthur attempted 142 passes, which was the most by a player in an away game in La Liga since 2014. The player on that occasion was Xavi.
In La Liga this season Arthur has the third best passing accuracy of any player. In the Champions League he ranks sixth among outfield players to have played at least three games.
"Arthur was born to play for Barcelona," wrote Marca journalist Jaime Rincon after Arthur impressed in a 2-0 win over Inter Milan. "At times, in conjunction with Sergio Busquets, if it's not too audacious to say, the Brazilian looked like Xavi. His touch is fast but sensible, he overcomes defensive lines and pulls opposing players this way and that."
Arthur's integration at Barcelona has been steady. He was limited to substitute appearances for the first month of the season before making his first start on September 23. He played 58 minutes of that match and he is still yet to complete a full 90 minutes for Barcelona.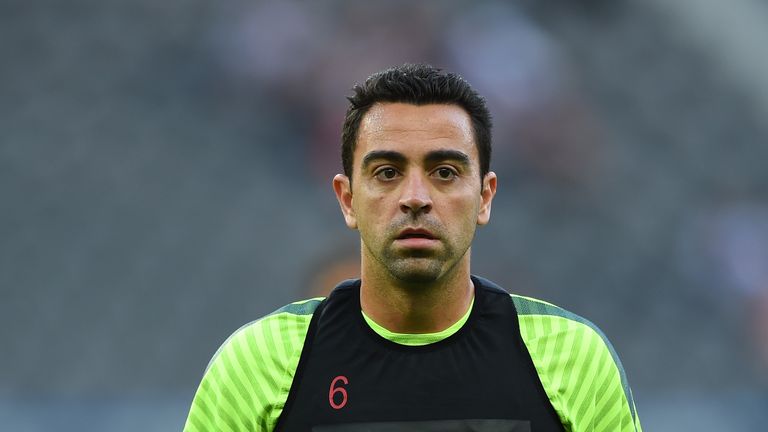 He has the Barca DNA. You can already tell by the way he plays, how he conducts the ball, the way he thinks, how he makes his turns, he is a very quick thinker
Xavi on Arthur Melo
His play is not eye-catching - he's only provided one assist this season and hasn't scored - but he impresses with the accuracy of his passing, his tempo-setting play and his protection of the ball.
Even Xavi himself has said that Arthur has "Barca in his DNA".
"He has all the qualities needed to be a success and if he's given games, I think we're looking at a player that can mark an era at Barcelona," Xavi said. "In Barcelona you have players who always have to set the trend and play in that particular style, that's why you always have to sign the players who are adapted to that specific game philosophy.
"Signing a player like Arthur was a major hit for the club, he has the Barca DNA. You can already tell by the way he plays, how he conducts the ball, the way he thinks, how he makes his turns, he is a very quick thinker."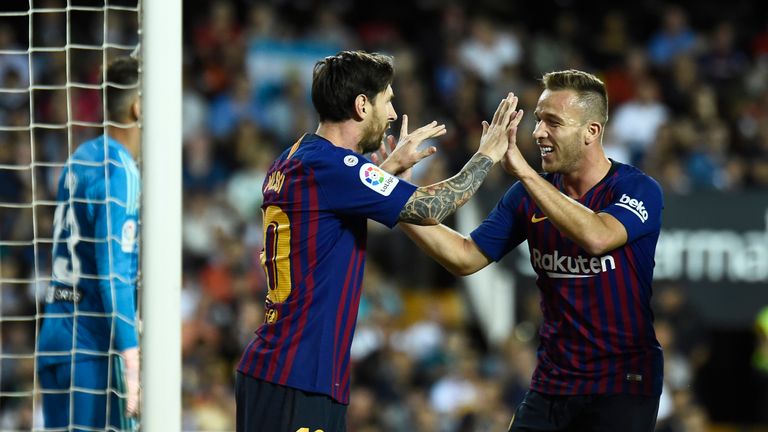 Arthur's integration at Barcelona has been similar to how he has been handled by Brazil. He was called up for qualifiers a year ago but didn't play. He was on the standby list for the World Cup but wasn't called up. He eventually made his debut in September as a substitute against USA before making his first start a few days later against El Salvador.
Like Barcelona, Brazil have been in need of a player like Arthur.
At the World Cup their most regular midfield pairing was Casemiro and Paulinho. While Casemiro offers defensive qualities, Arthur provides much more in midfield than Paulinho.
Plus, Tite has talked about the importance of bringing through a new generation.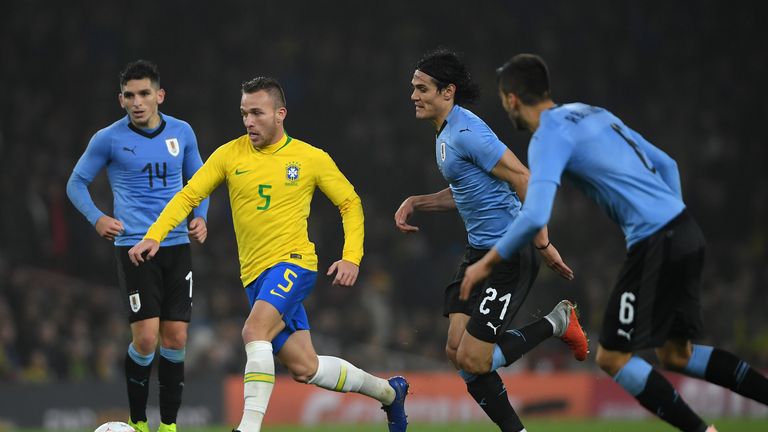 "It's time to take a look at these players," he said ahead of the friendlies against USA and El Salvador in September. "The players who missed out have their importance but now we are taking the opportunity to observe a new generation."
Both of Brazil's squads since the World Cup have seen a number of new faces included. In the recent 1-0 win over Uruguay the midfield consisted of Arthur, Hannover's defensive midfielder Walace and Beijing Guoan's Renato Augusto, who was called up as cover for the injured Casemiro.
Tite has acknowledged the team will take time to gel, and he has time to continue to experiment before the Copa America next summer, which is being held in Brazil.
At the moment it seems likely that Arthur will be part of his plans, as he looks likely to be part of Barcelona's plans for many years to come, and maybe, just maybe, the new Xavi may well have been found.