Real Madrid-bound Brazilian youngster Vinicius Junior made headlines last week, celebrating a goal for Flamengo which upset rivals Botafogo, and prompted compatriot Neymar to come out in his defence.
The most expensive teenager in the world - who will join the Spanish giants on his 18th birthday on July 12, 2018 - has had a testing first year as a professional, but the coming months should see him grab attention for the right reasons.
World Football Index's South American correspondent Adam Brandon charts his progress…
When Vinicius agreed his staggering £38m switch to Real Madrid in May last year, plenty of questions were asked of the Spanish club's judgement.
At that point in time, Vinicius had not even made his competitive debut for Flamengo, Brazil's most popular club.
He had, though, been the star man and top scorer at the U17 South American Youth Championships in Chile, scoring seven goals. That was enough to persuade Real Madrid to part with a record fee for a teenager, a move which was possibly spurred on by their experience of missing out on Neymar to rivals Barcelona in 2013.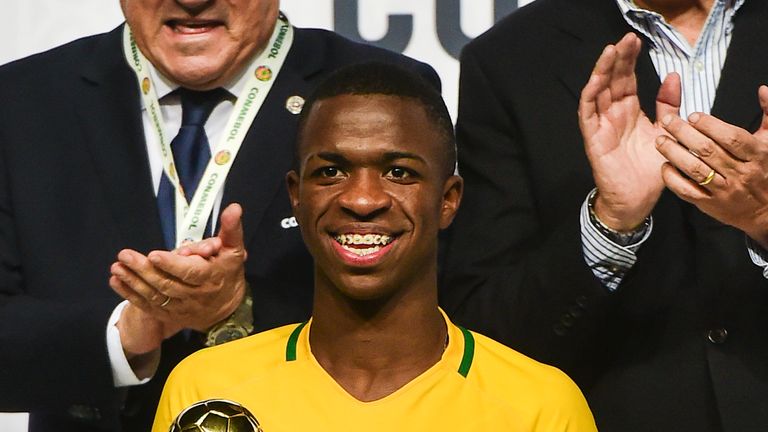 When Vinicius did eventually make his debut in May last year, all eyes were on the wiry, fleet-footed Brazilian at a packed Maracana, as Flamengo searched for a winner on the opening weekend of the season.
The then 16-year-old seemingly tried every trick and flick in his repertoire after coming off the bench to a hero's welcome with minutes to go. But none of them came off, and the match petered out to a draw. The crowd displayed their disapproval on the final whistle, by booing Vinicius and his team-mates off the park.
As dealing with expectation goes, Flamengo could prove the perfect environment for Vinicius to prepare himself for a move to Real Madrid. Although the Brazilian club rarely meet their objectives, the pressure to perform is always immense.
Despite being widely mocked after his debut, Vinicius had already shown in that late cameo that he has one attribute which could well take him far - fearlessness.
His bravery on the ball allowed the young star to showcase glimpses of his talent throughout 2017, even if meaningful impacts for much of the campaign were hard to come by.
Tellingly, his best performances came in two of the four matches he started, in which he was able to grab two goals and an assist.
However, by end of the year the talented youngster was starting to influence matches from the bench too, helping his side to vital triumphs.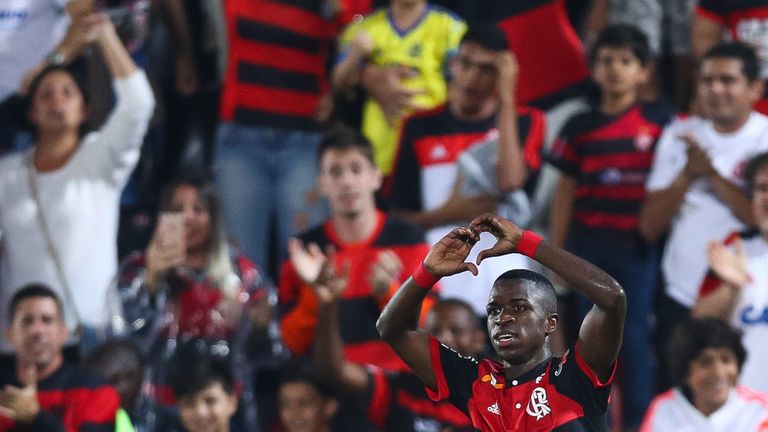 He entered the fray in a fierce Rio de Janeiro derby against Fluminense in December. This game had the added spice of being a Copa Sudamericana semi-final, this being the second leg of the tie with Flamengo needing two goals to qualify for the final.
Vinicius would prove to be the spark they needed.
Receiving the ball wide on the left, Vinicius played a pass with the outside of his right boot into Everton Ribeiro, whose exquisite flick played in 20-year-old Felipe Vizeu to finish.
Minutes later Flamengo grabbed an equaliser to go through 4-3 on aggregate. This time the packed Maracana showered the teenager and his team-mates in praise.
The youngster took that momentum into his next match, where he inspired a 2-1 win away to Vitoria which secured Flamengo's place in the group stages of the Copa Libertadores. Coming off the bench with 30 minutes to go, and his side a goal down, Vinicius played a part in both the goals with some impressive dribbling.
Nevertheless, for this to look like good business for Real Madrid, the 17-year-old will need to make more of this kind of impact, more often.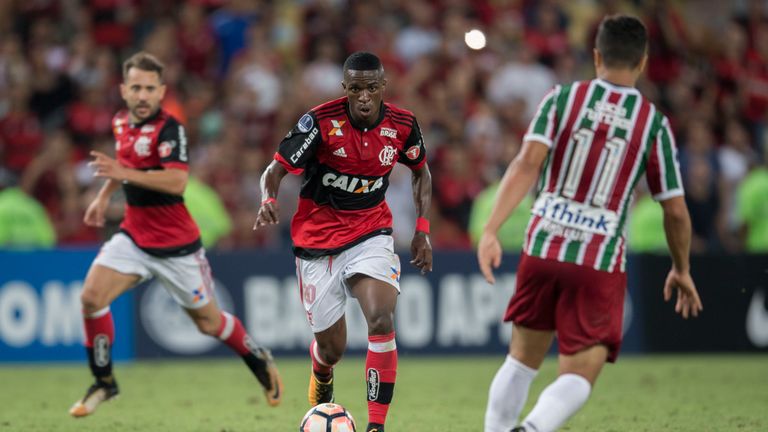 His weaknesses at present are clear for all to see. He regularly holds onto the ball for too long, trying one trick too many. Also, in an attempt to make an instant impression, he will sometimes try the most difficult pass when a simpler ball will do. His passing accuracy of 70.7 per cent was well below the average of his side last season.
An improvement in his decision making will surely come with experience and quality coaching, for he possesses plenty of raw talent.
His mental fortitude is also impressive as he rarely appears intimidated by the physical nature of the Brazilian league.
Given the type of player he is, he has attracted the attention of roughhouse defenders, which is said to be of concern to his parent club. However, more often than not the durable youngster bounces right back up or simply rides the challenges.
For South American players to succeed, they need to have the physical and mental toughness to go with their talent, and there are early signs that Vinicius has this in his locker.
Furthermore, those who know him like to speak of how grounded he has been despite already securing the lucrative contract so many dream of.
His former manager, Reinaldo Rueda, now national team manager of Chile, praised the youngster's attitude on Spanish radio show "Play Futbol" on Cadena Sur: "The most impressive thing about him is that despite his move to Real Madrid, his behaviour is still excellent. He shows a lot of respect and obedience and is very receptive [to instructions]. He does not cause any problems, remains very humble and talkative with his team-mates. He is on a very good path."
Vinicius certainly does not lack confidence and that should stand him in good stead as he makes his move across the Atlantic in the next year.
In an interview with Globoesporte at the end of 2017, the youngster spoke with maturity about his pending move to Real Madrid.
"I know my potential and how far I can go. I am going to work hard at Flamengo so as not to remain as a promise," he said, also revealing that he is already speaking with the Brazilian contingent at the Bernabeu.
"Marcelo texts me whenever I play well, I'm always waiting for that message."
At such a young age he may face challenges and temptations off the field that disrupt his progression on it, so the experience of compatriots Marcelo and Casemiro will be crucial to his development and transition over the next couple of years.
Early signs in the 2018 season have been promising. He grabbed an excellent goal against Botafogo and his cocky celebration which painted the opposition as cry-babies caused a stir. This was another demonstration of his growing confidence.
The goal was a curling effort from the edge of the box into the far corner, and helped his side reach a state cup final. Botafogo have responded, somewhat bitterly and ironically, by wanting him banned for it.
Looking ahead, this year will see him compete in South America's premier club competition, the Copa Libertadores, as well as more game time in the league.
If he shines he is likely to silence some of the doubters, but it is a hefty if at this stage, especially at a club with a talented cast that so often flatters to deceive.
It is still too soon to confidently predict which way Vinicius' career is heading, however, if he is given more time on the pitch this year, his courage on the ball could be of great benefit to Flamengo, and eventually to Real Madrid.