Santi Cazorla almost had to have his foot amputated during nearly two years of injury hell. Now, the former Arsenal midfielder is starring for Villarreal in Spain. Nick Wright examines his remarkable resurgence.
Six-hundred and thirty-six days.
That was how long Santi Cazorla went without playing a game of football. His injury nightmare began with an innocuous substitution in Arsenal's Champions League win over Ludogorets in October 2016, and it continued right up until July of last year, almost two years later, when he appeared in a Villarreal pre-season friendly against Hercules.
Arsene Wenger called it the worst injury he had ever seen, but the true horror of what Cazorla went through was not widely known until last September, when the stomach-churning details - the Achilles tendon ravaged by infection, the gaping wound that refused to heal, the threat of amputation - were revealed in an interview with The Guardian.
Cazorla was told he would be lucky to walk again, let alone play football, but fast forward to today and that is exactly what he is doing. He came through Villarreal's pre-season campaign unscathed, signing a one-year contract with his former club in August, just a few months after his release by Arsenal, and he has not looked back since.
On an individual level, it has exceeded any imaginable expectations. Villarreal are in a perilous position in La Liga, two points adrift of safety in 18th place, but Cazorla has made 31 appearances in all competitions, scoring six goals, providing six assists and, crucially, remaining injury-free. If Villarreal are to survive, it will owe a lot to his enduring genius.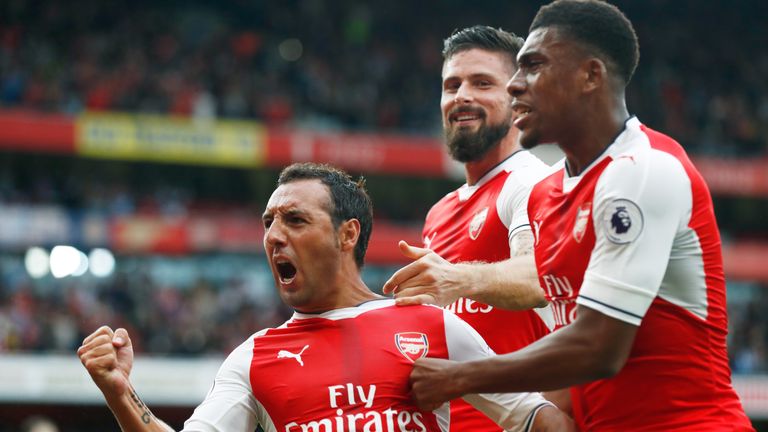 Because it is all still there. Cazorla is 34 now, but the touch and vision are unchanged. The feet are still deceptively quick and the moments of magic keep coming. In challenging circumstances, a season in which Villarreal have sacked their manager, hired a new one and then replaced him with the old one a few weeks later, Cazorla has been a ray of light.
"He has been the only good thing about this season," Javi Mata, a journalist for Radio Vila-real, tells Sky Sports. "If he was already loved a lot here, today he is loved more. He is an idol for the people. He makes them remember what this club was. He is a boy they have all seen grow up."
This is Cazorla's third stint at Villarreal. In the first two, which came either side of a season at Recreativo Huelva in 2006/07, he scored 35 goals in 248 appearances, helping them qualify for Europe on a regular basis and earning his place in an historically good Spain squad. Cazorla was a key figure for Villarreal then, but he is even more important now.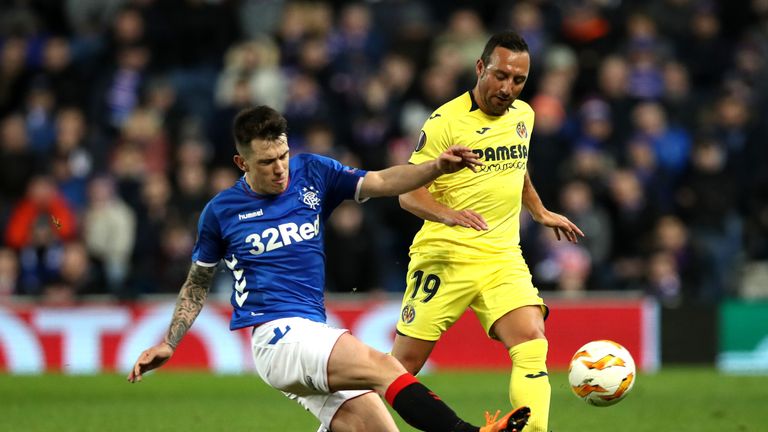 "The truth is that nobody expected what's happened, which is that Santi has become the best player in the team," says Mata. "I thought of him as someone who would be able to come on as a substitute and add a touch of quality. I didn't expect that the team would end up revolving around him.
"Right now, Santi is an example for the team. He is the player the ball always goes through. In a situation in which everyone else is scared to have the ball, he always asks for it. The rest are afraid, but he is always smiling and, most importantly, he always chooses the right pass. He's vital. His team-mates are always looking for him."
Live Renault Super Sunday


Those characteristics were evident in last month's Europa League last-32 win over Sporting Lisbon. Villarreal were nervously heading towards extra-time with 20 minutes remaining, but Cazorla's introduction from the bench changed the game. By the end, he had completed 34 out of 35 passes, including the one which allowed Karl Toko Ekambi to set up Pablo Fornals' winner.
"Cazorla came on and had an hypnotic effect on Sporting," wrote Javier Perez in El País. "Twenty minutes on the pitch were all he needed to solve Villarreal's problems."
Like in his final seasons at Arsenal, Cazorla has been primarily used in central midfield, where he is able to dictate the play, but it is a testament to his extraordinary physical recovery that he has also been deployed on the flanks. Indeed, it was from Villarreal's left that he scored twice in their memorable 2-2 draw with Real Madrid in January.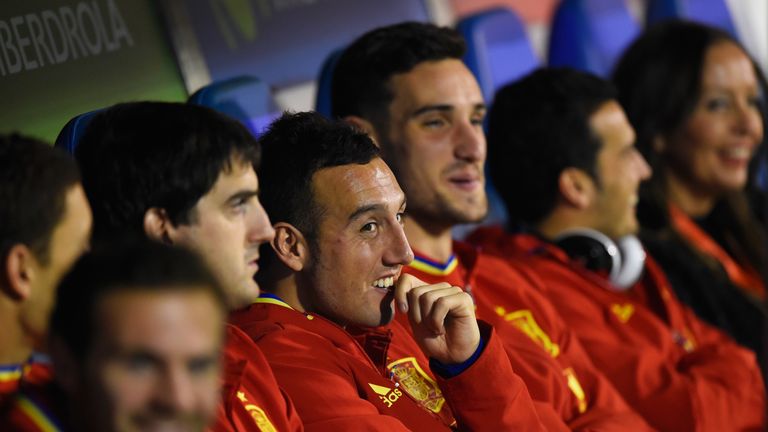 His first goal was a sublime, curling finish struck first-time from the corner of the box; his second a rare header as he ghosted between Sergio Ramos and Marcelo. Cazorla took home the man-of-the-match award afterwards.
That display, against a Madrid midfield containing Toni Kroos, Casemiro and Ballon d'Or winner Luka Modric, was the highlight of his season so far, but above all it has been a story of consistency. Cazorla has featured in all but three of Villarreal's 26 La Liga games. He has started their last 10.
His creative instincts remain as sharp as ever. According to Opta, Cazorla is creating 2.6 chances per 90 minutes in La Liga this season, putting him fifth in the division behind only Valencia's Daniel Parejo, Huesca's Alex Gallar, Real Sociedad's Ruben Pardo and Barcelona's Lionel Messi.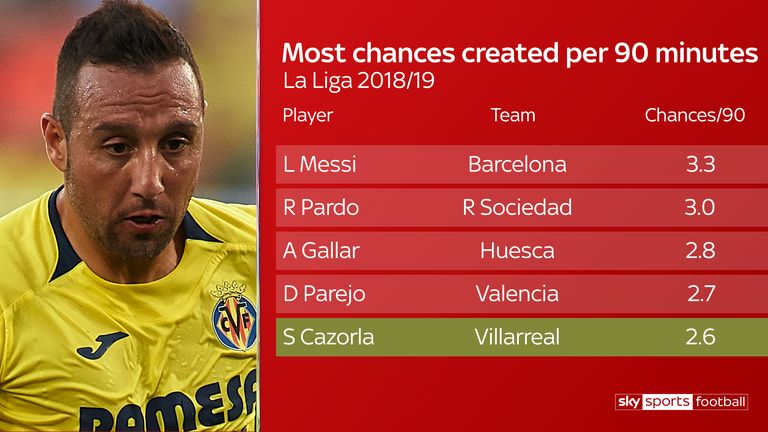 It is little wonder that Villarreal hope to extend his contract, and Arsenal supporters are entitled to wonder whether he could have been similarly productive in north London. Cazorla was a huge miss during his injury-hit final two seasons at the Emirates Stadium under Wenger, and it is fair to say midfield creativity has been an issue under Unai Emery, too.
The truth, though, is that the decision to let him go was a fair one at the time. No one - not even Cazorla himself - could have predicted this miraculous resurgence. No one could have known that after 636 days out - after the interminable months of rehabilitation and the constant fear that it might all be over - Santi Cazorla would be weaving his old magic again.