Mauro Icardi's future at Inter Milan appears to be in doubt after he was stripped of the captaincy and then left out of the squad for two matches in a row. James Walker-Roberts explores what's happened with the forward and what the future holds...
Luciano Spalletti is no stranger to dealing with big-name players and off-field issues.
The 59-year-old has managed in Italy for most of his 20-year career and oversaw the end of Francesco Totti's time at Roma. Spalletti even sent the club legend home after a disagreement over playing time, and later admitted: "In Rome, I had become the one that divided rather than united".
With that in mind, it is remarkable that Spalletti is now in a situation at Inter Milan that he says is even more difficult to handle.
"I have never seen anything like it. It's just frustrating that we keep having to get tied up in all this talk around Inter. I've had some situations in my career with a lot of attention, but never like this."
The 'situation' is Mauro Icardi.
The forward has scored at least 20 goals in three of the last four seasons for Inter and is their leading scorer in Serie A this campaign.
Icardi's importance to Inter
| | | | |
| --- | --- | --- | --- |
| Mauro Icardi | 109 | 23 | 22.7 |
| Ivan Perisic | 32 | 25 | 9.3 |
| Rodrigo Palacio | 27 | 19 | 15 |
| Marcelo Brozovic | 15 | 18 | 7.9 |
| Antonio Candreva | 7 | 18 | N/A |
However, his six years at the club have not been without incident.
In 2016 he was fined by Inter after writing in his autobiography that he had been "hailed as a hero" after confronting ultras following a defeat in 2015. Inter ultras said at the time that Icardi was "finished" and some supporters celebrated when he missed a penalty.
Unsurprisingly, the relationship has been uneasy since.
Icardi has regularly been linked with a move away from San Siro, but has stayed, and even remained as captain, which has not sat well with everyone.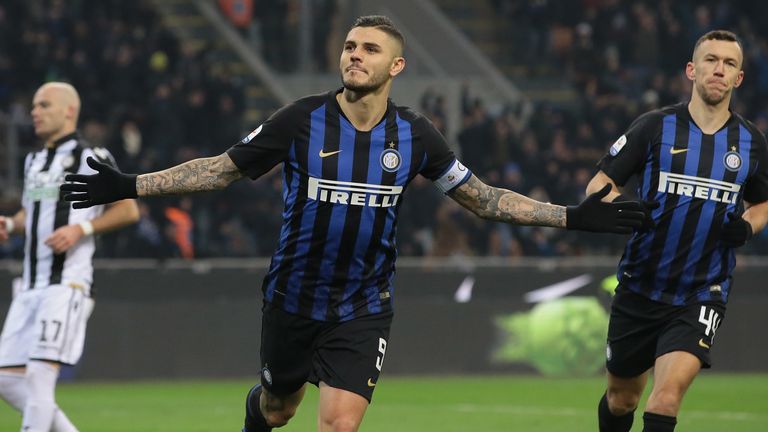 Former team-mate Felipe Melo said in 2017: "There have been too many things in the past. I don't see him as a real captain today. Maybe in a few years, because he's a champion, but right now he shouldn't wear the armband."
While his captaincy credentials can be debated, there is no denying Icardi's importance to Inter on the pitch. However, constant speculation over his future, fuelled by his wife, and agent, Wanda Nara, has not helped his relationship with supporters or team-mates.
"Wanda Nara speaks every week on TV about the situation of Mauro," says Sky in Italy's Matteo Barzaghi.
"And often she speaks about Inter, about Mauro's team-mates, and she talks about some aspects that players only know in their dressing room. So many players are angry with Mauro because he doesn't stop his wife from talking."
Many players are angry with Mauro because he doesn't stop his wife from talking
Icardi's sister, Ivana, is also not a fan of Nara.
Ivana has urged Icardi to find "someone who really has your interests at heart", calling Nara a "viper" and saying "I want my brother back".
Inter have reportedly asked Icardi to change agents, but he has said that Nara, who is the ex-wife of his former friend Maxi Lopez, will "take care of my and our interests until the end of my career".
Much of the information teased to the media by Nara has been about Icardi's contract, which runs until 2021, and whether he will renew or leave, perhaps to join Juventus.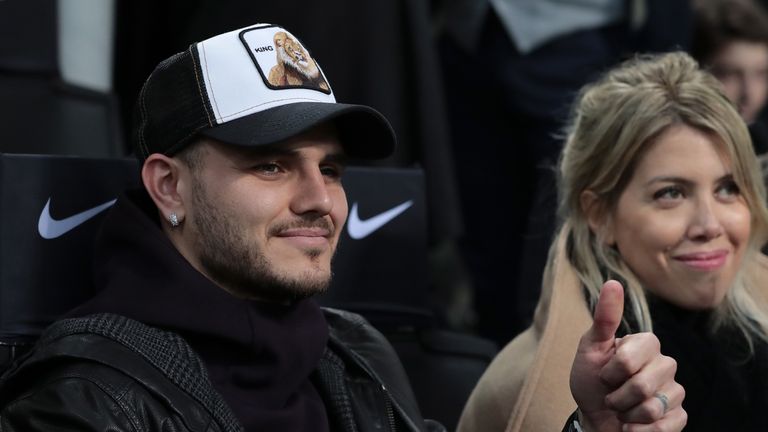 Inter chairman Steven Zhang said this week they would "never" sell Icardi to their Serie A rivals and they are negotiating a contract renewal, but his future is in major doubt.
Icardi was fined 100,000 euros for returning late from the winter break and was stripped of the Inter captaincy last week, with the armband handed to goalkeeper Samir Handanovic.
Inter chief executive Giuseppe Marotta said it was "not a disciplinary matter, but rather a change that we considered better for the team, club and Icardi himself."
He added: "Spalletti was heavily involved in the decision and it had more to do with the behaviour on a daily basis rather than any one-off incidents. It's a growth process and we decided to make this change to help everyone progress together as a group. Sometimes the head of the house has to take an unpopular decision for the good of the family."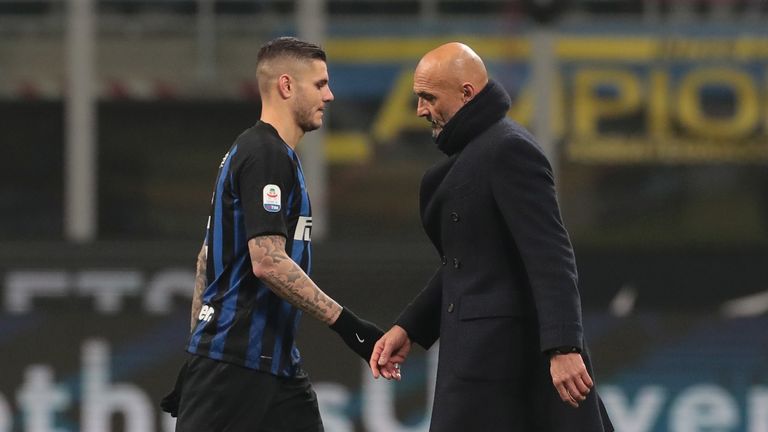 Following the announcement, Icardi did not travel with Inter's squad to face Rapid Vienna in the Europa League. He suggested on Instagram it was because of injury, but Spalletti said the forward had decided not to take part.
He was also not in the squad for the Serie A game against Sampdoria on Sunday, but did watch from the stands at San Siro.
"I really appreciated that he was in the stadium and I would've appreciated it even more if he had come to the dressing room to celebrate with us afterwards," said Spalletti. "Because it was a very important victory for the team and he is part of this group, so I imagine he was as happy with the win as we were.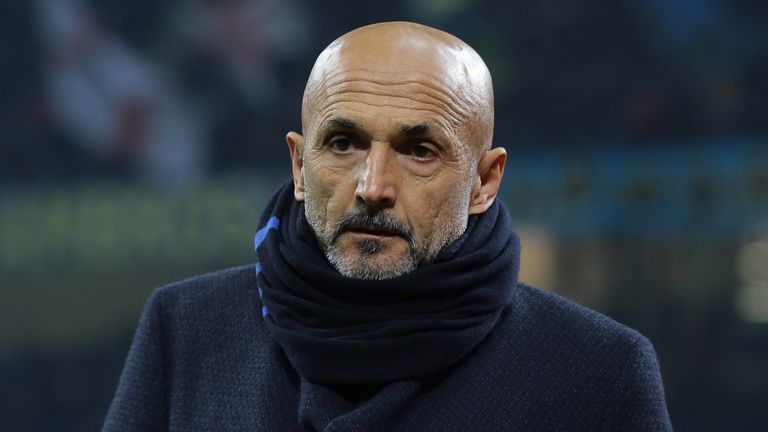 "We want a return to normality. In a team, in a dressing room, you all need to be working in the same direction."
Inter fans greeted the captaincy change by chanting "there is only one captain" to Handanovic after the match against Rapid Vienna. There was also a flyer distributed on Sunday that was clearly aimed at Icardi.
"Inter and its people do not deserve certain behaviours. They do not deserve players with questionable commitment to move heaven and earth every six months to not respect their contracts.
"Inter fans cannot accept that a player decides that this magnificent jersey is not enough for him anymore… We will never forget Zenga, Berti, Ince, Zamorano, Cruz, Simeone, Materazzi, Eto'o, Ranocchia... Not all champions, not all saints, but at least real men. Out with the mercenaries of Inter!"
Italian newspaper Corriere della Sera has reported that Icardi won't play for Inter again unless he is restored as captain. It also been claimed that Icardi wants an apology from Inter.
Former club captain Beppe Bergomi thinks that is unlikely to happen, saying: "If that is the case it means that nothing was understood."
What happens next appears to a fluid situation.
Inter legend Sandro Mazzola has suggested he would be tempted to give Icardi back the captain's armband to "end this situation". That, though, appears to be unlikely.
Spalletti has said everyone at the club is "in the same boat" and Sky in Italy's Matteo Barzaghi believes the tide is against Icardi.
"Inter ultras don't like him since he wrote his biography and the majority of normal fans are with the club and not with Icardi. Also, Inter have won their two games without Icardi, which shows the players are with Spalletti."
It is thought there is a clause in Icardi's contract that allows a foreign club to buy him for 110m euros.
However this current situation gets resolved - assuming it does - the story looks far from over.