Seven years after Dale Jennings made his dream move to Bayern Munich from Tranmere Rovers, he is trying to rebuild his career at non-league side Runcorn Town.
At 18, he joined the Bundesliga giants for £1.8m with the promise of rubbing shoulders with the likes of Arjen Robben and Franck Ribery.
"The first training session when I put the top on, I looked at the badge and sort of laughed at myself and thought how has this happened," he tells Sky Sports News.
But the wanderlust quickly faded.
He played 36 times for Munich's B team, alongside the likes of Juventus' Emre Can and Southampton's Pierre-Emile Hojbjerg, but struggled to adapt to life in Bavaria.
After two years without a first-team appearance, Jennings left just as Pep Guardiola arrived as manager.
Being only 18 I didn't understand how big it was really.
"Luck wasn't on my side," he says. "I had a couple of injuries, didn't realise how big a move it was at the time, I wasn't professional enough, I didn't do things right.
"I could have learned the language and took a bit more time to adapt to living in Munich. But I was a bit immature at the time. Being only 18 I didn't understand how big it was really."
Jennings returned to English football with Barnsley but failed to replicate the form that had Europe's top clubs chasing him as a teenager.
He carried the weight of expectation, mentally and physically, with coaches criticising his fitness and attitude.
Now 25, he played at North West Counties League side Runcorn Town this month in a match against Congleton Town. His first goal followed three days later in a win over Silsden.
"He was going to play for free to get himself back on the go with football and he will," says Runcorn manager Chris Herbert.
"His attitude is different class. That's what surprised me because you can read all you want and you see all the write-ups on him that he's done this wrong and he's done that wrong but you speak to the lad and there's a lot more to his story."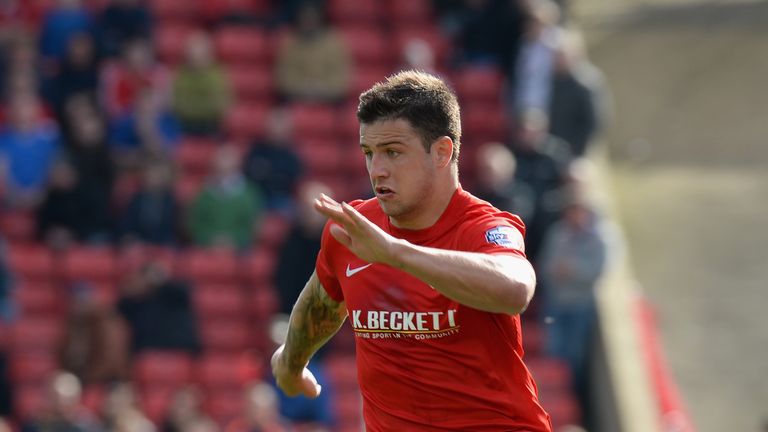 Jennings considered retirement after failing to find a Football League club but the strive to resurrect his career came from his family.
He has two young children, and the prospect of unemployment drove him to get back into shape.
"I struggled the past two years, mentally, trying to get myself back into football," he says.
"It was a tough time for me and my family. I felt at one stage 'this is it'. I thought my career can't be over already, surely, but my girlfriend was there with me, my kids, they pushed me and inspired me to be back out on the pitch today.
"If it wasn't for them I definitely wouldn't be here today.
"At 25 I've still got a couple of good years in me. With the right people in my corner, the right attitude, I think I can maybe do well again."