Hamburg's time running out in battle to avoid first Bundesliga relegation
Last Updated: 02/03/18 1:13pm
Time could soon be up on Hamburg's ever-present era in the Bundesliga. We look at what's gone wrong - and whether or not they can avoid relegation...
The clock keeps ticking but Hamburg SV know time is running out.
In the north-west corner of the Volksparkstadion, a large digital display offers a constant reminder of this club's glorious history and its unique place in German football as the only club never to be relegated from the Bundesliga.
Tick, tock. The clock records the time since August 24, 1963, when the Bundesliga was founded. When Hamburg took their place in the top tier. And how Der Dino - The Dinosaur - has relentlessly competed at the highest level of German football for 55 seasons, winning the title six times.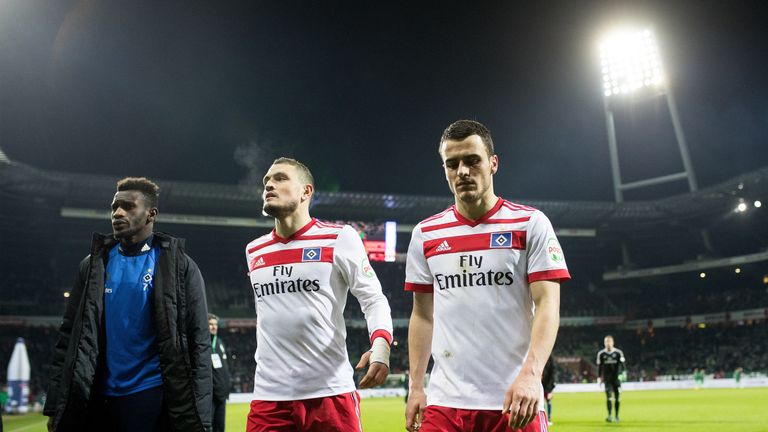 But that proud record could soon come to an end. A wretched campaign has left one of the country's most historic clubs on the verge of demotion to the second level. Hamburg are facing up to the prospect of playing their 100th year of their history in Bundesliga 2. Of stopping the clock.
The north German club have just 17 points from 24 games. They've scored a league low 18 goals. A change of manager hasn't delivered the desired boost and with 10 games to go there is a seven-point gap to the relative safety of a relegation play-off place. The odds are stacked against them.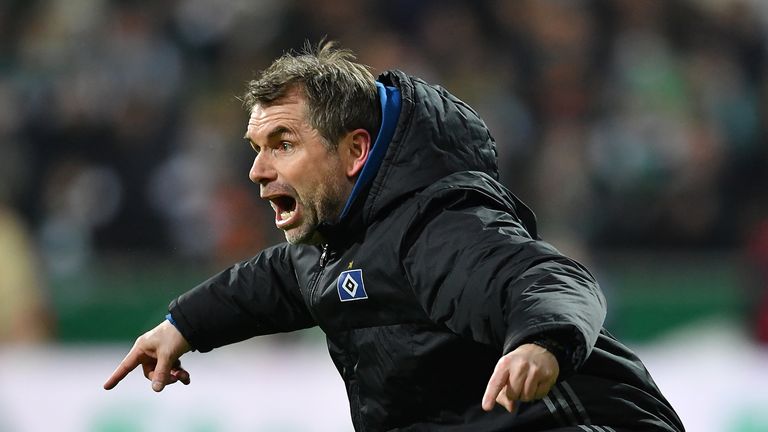 Last weekend, a 1-0 derby defeat to Werder Bremen sparked crowd trouble. Tensions are high. And Saturday brings a huge clash with Mainz, the team third from bottom, who currently hold the relegation play-off spot. If Hamburg win, they can revive their hopes of yet another escape.
If they don't, then after the play-off pardons of 2013/14 and 2014/15, and the final day reprieve of last season, Hamburg's top-flight era will be all but over.
To establish just what has gone wrong for the club, Sky Sports spoke to Sky Germany reporters Jurek Rohrberg and Sven Toellner, who both cover Hamburg…
What has gone wrong at Hamburg this season?
Jurek Rohrberg: I think the big problem was the combination of the squad. The team doesn't have any leaders and they only have one striker, Bobby Wood, who has scored one Bundesliga goal all season. Hamburg have changed managers a lot of times, they've had nine coaches in 10 years, so they haven't found an authentic philosophy.
That is seen in the offence. They don't have any plan to be a danger. The decision to loan Pierre-Michel Lasogga to Leeds was a big mistake. In my opinion, he is the typical striker they need.
Sven Toellner: There has been a lot of fluctuation in the key positions in the last couple of years and that meant they failed to establish a general guideline. New coaches, new directors - it was a new plan every single time. There has been no continuity at all. Before the ongoing season the board (boss Heribert Bruchhagen and director Jens Todt) totally misjudged the squad's quality and they don't have any money - they always have to beg for fresh cash from the club's benefactor (and shareholder) Klaus-Michael Kühne.
As for their tactics, former coach Gisdol stuck to a system with an accent on the wingers - but didn't have enough quality wingers. New coach Hollerbach tends to play a really compact defence with up to seven players thinking defensively. That means it's a long way to the opponents goal.
What mistakes did former manager Markus Gisdol make before he was sacked in January?
JR: Gisdol wanted to play a system which you can't use with this team. His plan was to put the other team under pressure. After getting the ball he wanted to start a fast counter. But the problem was Hamburg didn't get the ball back quickly enough and they were dominated by most of the other clubs.
ST: He wasn't ready to modify his system. They were chasing the ball way too deep into the opponent's half or playing long passes to the wings. And he failed to convince the board that the squad has to be improved. He tried - so this is actually not really a mistake. But it did cause problems.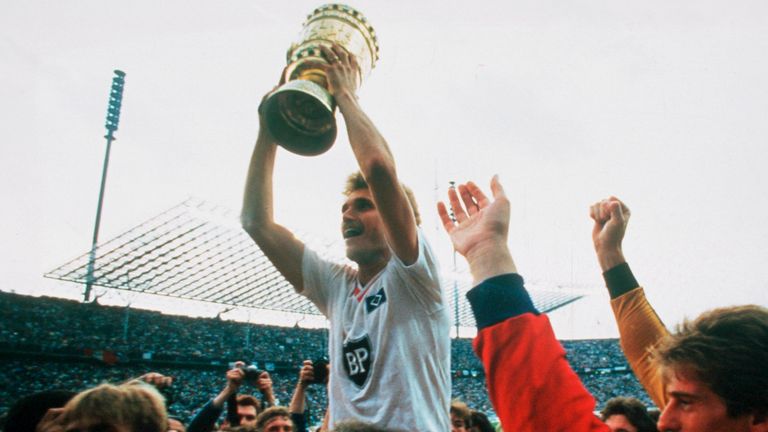 Why has new manager Bernd Hollerbach struggled to have an impact? What has he changed?
JR: He has built a better defence, he has organised a way of playing with control. But he has the same problems as Gisdol had. In the offence there is no idea. Unfortunately he doesn't have enough quality in the attack.
ST: There is more emphasis on the defence - but this is bad strategy if you desperately have to win games to make your way out of the relegation zone. At Würzburg (who are in Bundesliga 2) and at HSV he has now failed to win a single game from 22 attempts in a row - not really a winning attitude! He is a nice guy and was a Hamburg hero as a player. But he is tactically (and rhetorically) extremely limited.
Have Hamburg been in this position before?
ST: Oh yeah! For many years now. They were on a level with Bayern Munich in the 1980s and had a peak between 2000 and 2011. But the last title they won was in 1987 (the German Cup) and since 2011 they have more or less constantly fought relegation.
JR: They've been in this ranking before but with 10 games to the end of the season, it's never been as bad as this.
What has the reaction of the fans been to this season?
JR: The supporters of Hamburg know situations like this. But in the last years the whole city fought together against the relegation. This year most of the people are stressed out from this bad performance and they don't give their power to push the club.
ST: They've known this for years and they have kind of lost their energy to fight against relegation from the stands. In the last couple of weeks this agony turned into anger. So it is a mixture of lethargy and fury.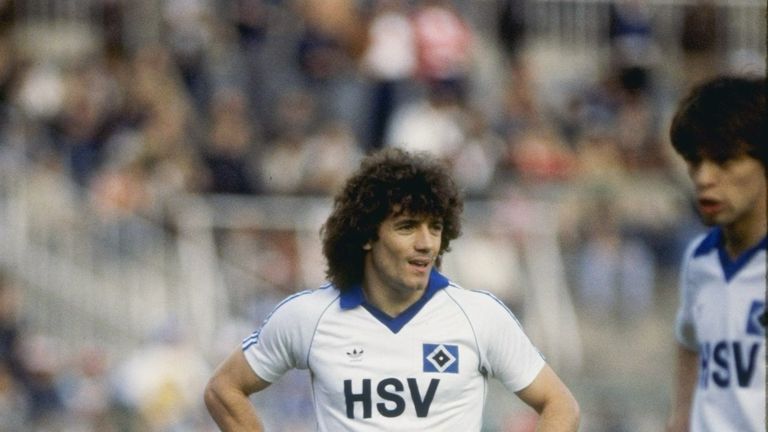 Have there been problems away from the pitch as well?
JR: Around the club there was a lot of struggle in the last few years. There have been new managers, new CEOs and financial problems. Sometimes there were some political decisions, too. Wounded vanity was the big problem. Hamburg is a big club but they don't have a good structure in the background. The new president, Bernd Hoffmann, plans to build a new club - with some job cuts.
ST: Hamburg have a huge tradition so everybody's got an opinion on the club. And a lot of people want to take a position in the club. So - as mentioned before - there have been a lot of changes. And every new guy thought (and some said it as well) that their predecessor has made the decisive mistakes... only to make new mistakes and make the situation even worse.
Jann-Fiete Arp seems to be the one ray of light. How good is the 18-year-old striker?
ST: He's a really good player, but really young. Too young to keep up to the high expectations. He would definitely play and develop in a better way if he would be part of a team that actually functions. Now people hope he can save the club - that is way too much pressure and responsibility. he will definitely leave in case of relegation (his contract expires in 2019). Big clubs are going after him (there are Bayern rumours).
JR: He is brilliant. But the pressure was too big. He is at school, taking his driver's licence and playing in the Bundesliga! I think he will leave in the summer - and that would be best for his development.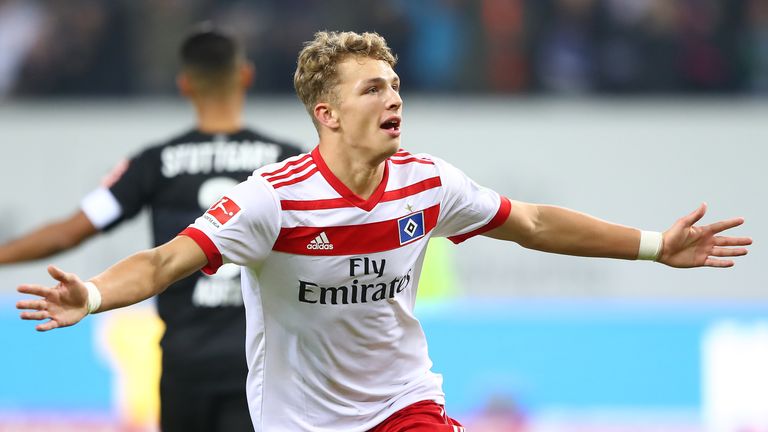 Do Hamburg have any chance of staying up?
JR: If they beat Mainz it could be possible that the team gets a boost to their mood - but I think this year they have to go down. In the offence everything is based on luck.
ST: If they don't beat Mainz the chances of staying up are really theoretical, but not realistic at all. Mainz are under performing as well but give the impression that they perform as a team (one for all, all for one). So of course HSV have a chance to beat Mainz, but they have to improve significantly - especially in the offence.
What will happen to the clock if they are relegated?
JR: Good question! I think they will put the clock in the museum. It's a big part of the history of the club.