Ajax show substance as well as style to underline Champions League credentials against Tottenham
The Dutch side, led by the 19-year-old Matthijs de Ligt and 21-year-old Frenkie de Jong, claimed a deserved 1-0 win over Tottenham
Last Updated: 01/05/19 12:21pm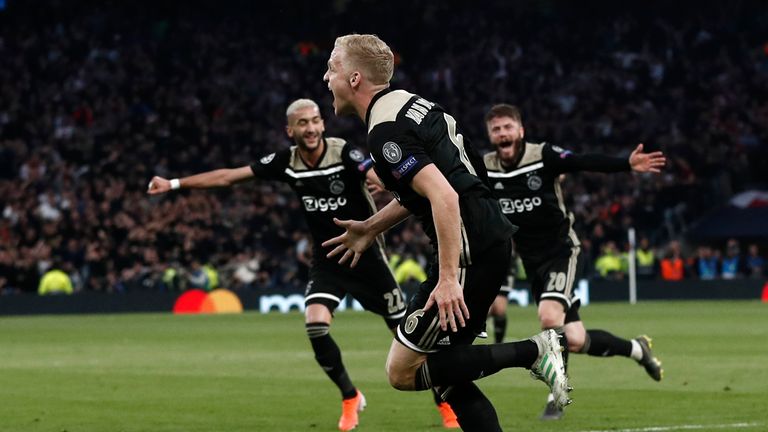 Having dismantled Real Madrid and Juventus already this season, Ajax subjected Tottenham to the same treatment in the first leg of their Champions League semi-final. Are there any limits for this brilliant young side? Nick Wright reports on their latest statement of intent.
In the 10 or so minutes before kick-off, when the PA system was switched off and the fans were left to create the noise on their own, the atmosphere inside the Tottenham Hotspur Stadium was electrifying. This was a historic night for the hosts and it certainly felt like it. Out on the pitch, though, it was Ajax, not Spurs, who had come to put on a show.
It did not take long for the deafening noise from the home supporters to subside, their optimism making way for angst as Ajax's fearless young side - the youngest to appear in a Champions League semi-final since 2013 - pushed them deeper and deeper into their own half with a mesmerising display of possession football which harked back to their glorious past.
We already knew what this Ajax team could do, of course. Their victories over Real Madrid and Juventus sent shockwaves around Europe and before that they went unbeaten in four group stage games against Bayern Munich and Benfica. But it was still extraordinary to see Spurs so comprehensively outplayed on their own turf in that opening half-hour.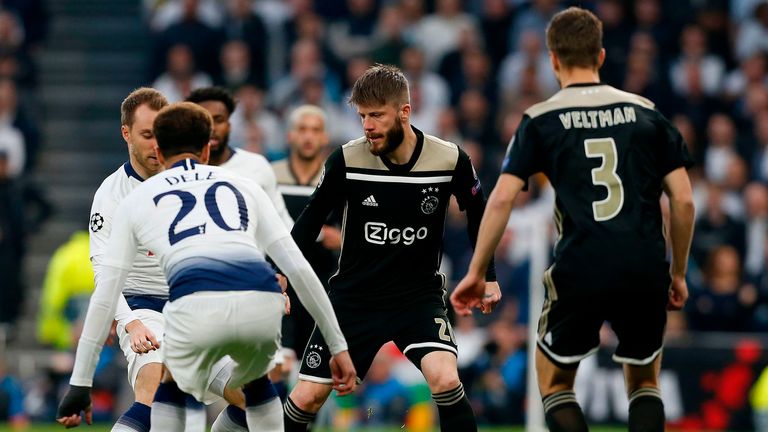 Ajax had close to 70 per cent of the possession in that period, making a mockery of their underdog status, and the dominance stemmed from midfield, where the trio of Frenkie De Jong, goalscorer Donny van De Beek and Lasse Schone completely overwhelmed their opponents. Victor Wanyama could not get close to them and neither could anyone else.
On the flanks, Hakim Ziyech and David Neres tore into Danny Rose and Kieran Trippier respectively, while in the false nine position Dusan Tadic's movement opened up huge gaps in Tottenham's stricken back three. At times, it seemed Toby Alderweireld, Davinson Sanchez and Jan Vertonghen did not know whether they were coming or going.
Ajax's attacking players all had brilliant individual moments but it is as a collective that this team is most impressive. The interplay was breathtaking in its intricacy. Their precise passing pulled Spurs apart in the build-up to Van de Beek's goal and it was not an isolated occurrence.
De Jong was at the heart of it, making more passes in the opposition half than any other player from the base of Ajax's midfield. The 21-year-old is brilliant to watch in possession, his composure remarkable, and on Wednesday night he was equally impressive out of it. Time and again, when Spurs attempted to break out in those early stages, he was there to snuff out the danger and get the visitors moving forwards again.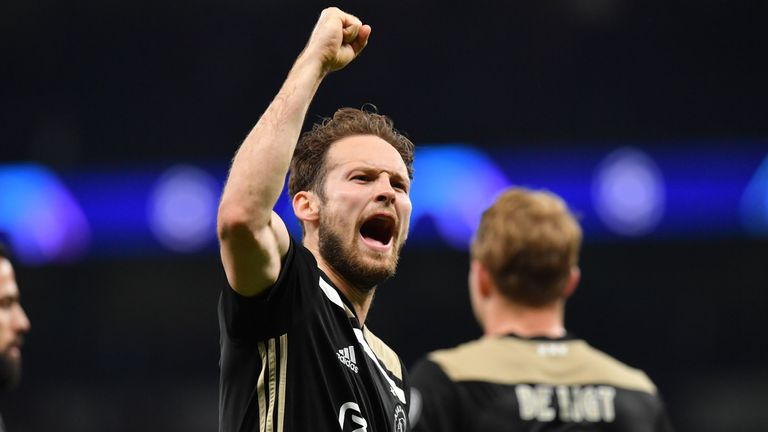 It is a measure of just how good Ajax were that Mauricio Pochettino was forced to completely abandon his game plan before the opening half-hour was out. Ajax were too quick and too clever. The back three became a back four, Moussa Sissoko was brought into the midfield in place of the dazed Vertonghen, and suddenly Spurs were able to get a grip on the game.
It became a different test for Ajax after that, but their response underlined their credentials even more strongly. It was then that they showed substance to complement their style.
Tottenham finished the first half with a period of heavy pressure and they picked up where they left off immediately after the break. A goal at that point would have changed the course of the tie and it seemed Spurs might get it when the ball fell to Dele Alli in a scoring position inside the first minute of the half, but there was Matthijs de Ligt, sliding in to make a heroic block.
It set the tone for the display of resilience to follow. The centre-back, captaining his side in a Champions League semi-final at the age of just 19, was outstanding alongside Daley Blind, but most crucial of all was that the entire team kept its discipline. The possession stats were flipped on their head but Ajax adapted, maintaining their defensive shape, showing remarkable maturity and limiting Tottenham to only one shot on target.
The patient probing of the first half was no more, with Spurs now the team on the front foot, but Ajax carried a new threat on the break. They were primed to pounce on every mistake and it was from one such counter-attack that Neres struck the post in the closing stages.
Ajax manager Erik ten Hag described it as an "amazing performance" in his post-match press conference, lauding their dominant start but also making a point of praising the grittier elements of the display.
"We had less possession in the second half but what was really good is that the players fought really hard," he said. "We have a team that works together really well and can play football in different styles. We can defend very well and we are very resilient. I think it's an excellent result for us."
Pochettino insisted the tie is still open and he is right about that. But Spurs will head to Amsterdam next week knowing an immense challenge awaits them. If Ajax can play with such personality and composure on a stage like this, then what is to stop them from completing the job at home? And what is to stop them from going all the way?
Will Tottenham recover? Watch their meeting with Bournemouth live on Sky Sports Premier League from 12pm on Sunday; Kick-off is 12.30pm