Cristiano Ronaldo's agent Jorge Mendes has slammed UEFA's decision to name Real Madrid's Luka Modric as Men's Player of the Year as "ridiculous".
Real Madrid players dominated the awards handed out at the Champions League group stage draw in Monaco, Modric also being named Champions League midfielder of the season.
Ronaldo had to make do with the best Champions League forward award, while his former Real team-mate Sergio Ramos was named defender of the year and Keylor Navas claimed goalkeeper honours.


Real beat Liverpool 3-1 to win the Champions League for the third season in a row and 13th time overall.
But Mendes was furious that Ronaldo, who signed for Juventus earlier this summer, did not beat out Modric for best player honours after scoring 15 goals and finishing as the competition's top scorer.
Modric received 313 points in the vote, which included 60 coaches and 55 journalists from across Europe, to beat Ronaldo by 90 points with Liverpool's Mo Salah finishing a distant third.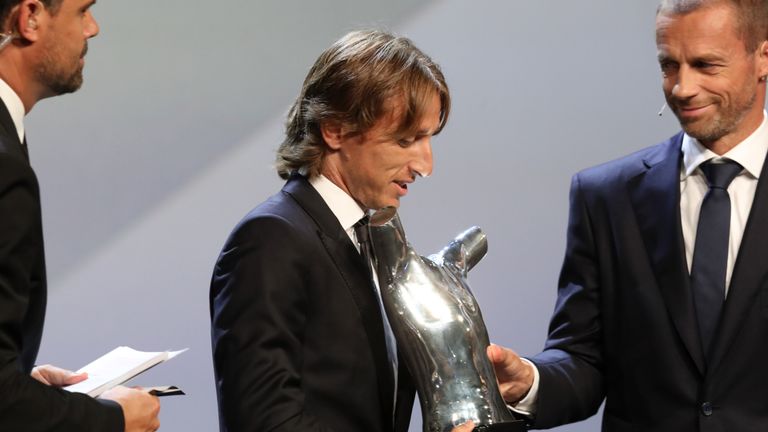 Speaking to Portuguese outlet Record, Mendes said: "Football is played on the field and that's where Cristiano won.
"He scored 15 goals, carried Real Madrid on his back and conquered the Champions League again.
"It's ridiculous, shameful. The winner is not in doubt, as Ronaldo is the best in his position."
Mendes' thoughts were echoed by Juventus chief executive Giuseppe Marotta, who brought Ronaldo to Turin in the summer's biggest transfer.
He said: "I take nothing away from the decision of journalists and coaches, but I would have voted for Cristiano Ronaldo and I say that as a football fan.
"It would be nice for us to count some players among those who were given awards, but football is a team sport and we will face this Champions League with great determination."