The decision to allocate barely 50 per cent of tickets to Liverpool and Tottenham fans for the Champions League final has been described as "outrageous" by the chair of a Liverpool supporters' group.
Joe Blott of 'Spirit of Shankly', like many other supporters, is unhappy that corporate sponsors will receive such a large allocation of tickets for the game at Atletico Madrid's Wanda Metropolitano stadium on June 1.
An allocation of just under 17,000 tickets has been given to the two clubs, with the rest going to the 'UEFA Family', something Blott feels is not in the spirit of the game.
"I'm devastated for our fanbase, particularly given this stadium holds 68,000," he told Sky Sports News.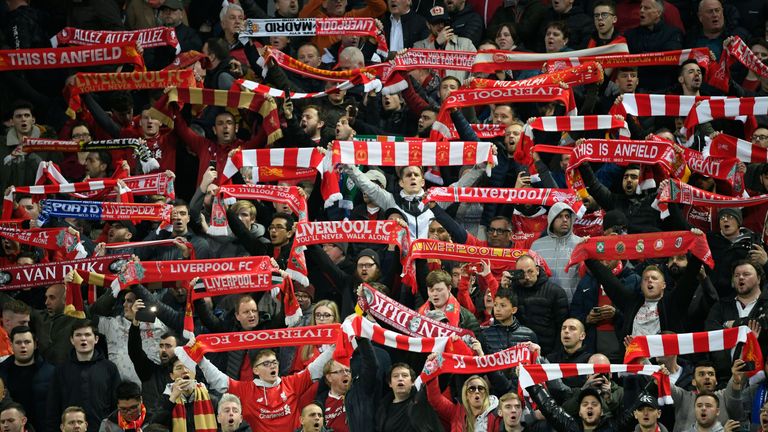 "When we found out Liverpool and Tottenham fans were only going to get a share of 33,000, it felt terrible to think over 50 per cent had been allocated to the UEFA family.
"We knew from day one that as soon as that happened, fans would be in such a panic to get a ticket.
"You don't know your allocation as soon as you get through, so people were booking flights and accommodation in advance of getting a ticket and yet here we are with only 16,600 tickets each.
"It's outrageous that the football fan is being squeezed out by the corporate hospitality."
Blott has urged sponsors to "do the right thing" and return some tickets to Liverpool and Spurs to allow more genuine fans to attend the game.
"There's no reason why the philanthropic arrangements of these corporations can't think, 'there's a point, these fans have travelled far and wide already in this competition to get to this stage'," he added.
"So why can't they be benevolent and give back some of those tickets? I am not looking for them for free, I am more than happy to pay for them at the value they should be.
"Those tickets may well not end up in the hands of corporate people but somewhere else.
"So what we are saying is, if you are going to do that, do the right thing and give them back to the football clubs and the proper fans."