Ahead of their first Europa League semi-final, James Walker-Roberts looks at the rise of Red Bull Salzburg, how a change of approach has helped in recent years, their head coach who has learnt under Jurgen Klopp and Thomas Tuchel, and how they plan to take the "next step"...
The last decade has been one of incredible transformation for Red BUll Salzburg.
A takeover by Red Bull in 2005 has seen the club change its name - Austria Salzburg into RB Salzburg - its colours - traditional purple and white to the red and white colours of the energy drink - its badge - now a Red Bull logo - and also its history, from a club that had won three Austrian Bundesliga titles in their history to one that would win eight in the next decade or so. This season, they are also on course for their fifth straight double.
The takeover by the Austrian company caused friction and division. Just like a year earlier with Wimbledon and MK Dons, a breakaway club formed. SV Austria Salzburg set about keeping the "history" of the club alive at the bottom of the Austrian pyramid as Red Bull declared they had set up a "a new club with no history".
Money was spent on signings, bringing in high-profile managers like Giovanni Trapattoni and Lothar Matthaus, while the stadium was named the Red Bull Arena. Numerous titles and cups have been won since, but RB Salzburg have struggled to win hearts and minds.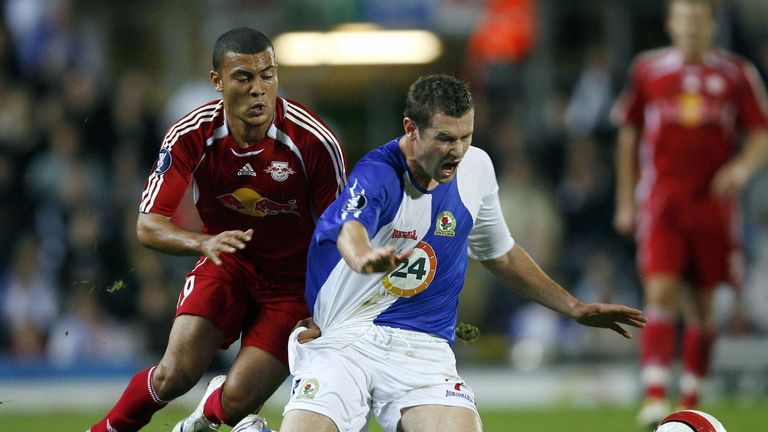 They did make headlines earlier this season as both Salzburg and Red Bull Leipzig, who are both owned by Red Bull, attempted to enter the Champions League. UEFA prohibits two clubs with strong links from playing in Europe in the same season, but, after an investigation and some changes, they were both approved admission. The changes at Salzburg included restructuring that saw Red Bull being removed as owners and becoming only a sponsor of the club.
Salzburg would not progress far enough in the Champions League to potentially face Leipzig, but they did make impressive progress in the Europa League, where further headlines followed as Borussia Dortmund fans boycotted the second leg of their last-16 tie and instead chose to donate money to SV Austria Salzburg. "We can and will not accept test-tube clubs like those from Salzburg or Leipzig, as they trample on all the values for which the popular sport of football stands in our eyes and should still stand," read a statement from fan group Sudtribune Dortmund.
Those fans that did not attend the second leg of the tie in Salzburg missed a goalless draw that saw the hosts become the first Austrian side to reach the quarter-finals of the Europa League. Salzburg were runners-up in the UEFA Cup in the 1993/94, but this was new ground for the 'new' club. It would be followed by a remarkable 6-5 aggregate quarter-final win over Lazio, helped by three goals in under five minutes in the second leg.
"It was crazy," RB Salzburg defender Andre Ramalho tells Sky Sports. "On the field you have no idea how fast it is. I thought it was 10-15 minutes between the goals and then I saw it was four minutes and 20 seconds. It was really crazy, but that's football. Anything is possible."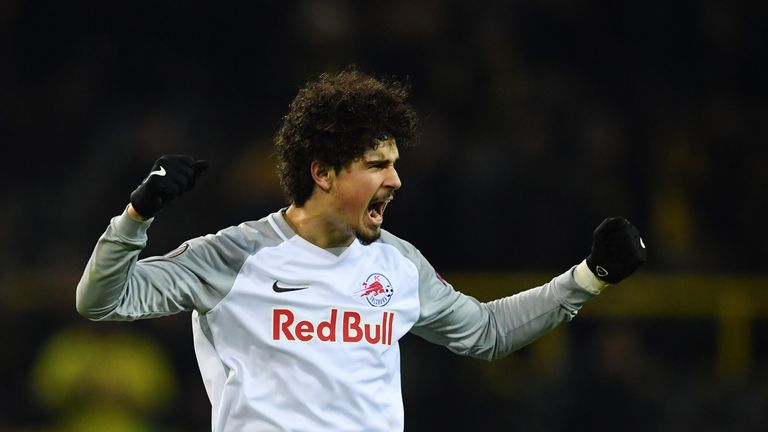 Ramalho is in his second spell with RB Salzburg, having left to join Bayer Leverkusen in 2015 and then returning earlier this year. He says reaching the semi-finals of the Europa League, where they face Marseille in the first leg on Thursday, is a "dream come true".
"It's really great at this moment," Ramalho adds. "For sure it was difficult for us to get to the semi-finals because you play big clubs and it's not easy. It's a difficult competition and we have played teams with a lot of experience.
"We always say we want to go as far as possible and we are making history because we have never reached this phase. It's incredible what is happening."
RB Salzburg's path to the semis
| | | |
| --- | --- | --- |
| Round | Opponent | Score |
| Play-offs | Viitorul Constanta | 7-1 (agg) |
| Group stage | Marseille | 1-0 and 0-0 |
| | Vitoria SC | 3-0 and 1-1 |
| | Konyaspor | 0-0 and 2-0 |
| Last 32 | Real Sociedad | 4-3 (agg) |
| Last 16 | Borussia Dortmund | 2-1 (agg) |
| Quarter-finals | Lazio | 6-5 (agg) |
Salzburg's success since the takeover has come at a cost as they have seen several key players depart, including Sadio Mane and Naby Keita, with the latter leaving for RB Leipzig in 2016 after being named the Austrian Bundesliga Player of the Year.
However, their approach since the takeover has also shifted, seemingly for the better. While initially there was an influx of players from abroad, in recent years there has been more of a focus of bringing up players from their improving youth sides and their feeder club, FC Liefering.
"They have changed," journalist Christian Hackl, who writes for Austrian daily newspaper Der Standard, told Sky Sports. "When they started they brought in top stars but now fans can identify with this team.
"They have very good youth teams and they develop players. Many years ago they bought players but now they earn money from selling players."
They have changed. When they started they brought in top stars but now fans can identify with this team.
The development of players, coupled with a strong scouting system, has enabled Salzburg to build a squad that is dominating Austrian football.
Among the success stories this season have been Mali internationals Amadou Haidara and Diadie Samassekou - both signed by the club as youngsters - and Austrian Xaver Schlager, who joined the academy in 2011. Schlager gained experience with FC Liefering before breaking into the first team, as did Croatian 21-year-old Duje Caleta-Car, who has played the fifth-most amount of minutes for the club in the Austrian Bundesliga this season.
It's a similar story with Salzburg's manager, 41-year-old Marco Rose, who has risen up through the youth ranks at the club to take charge of the first team. Rose took over from Oscar Garcia this season to become the 10th Salzburg manager in the Red Bull era. He enjoyed great success with the youth teams at Salzburg, including winning the Europa Youth League title in 2017 after beating Manchester City, Atletico Madrid and Barcelona en route to the final.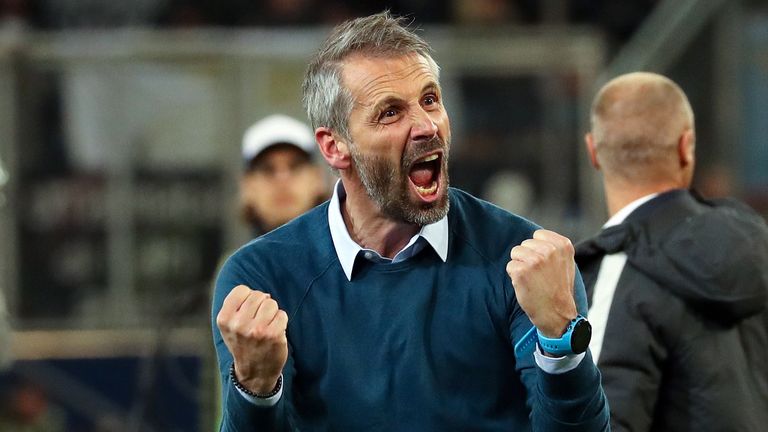 Rose's preferred formation is a 4-4-2 with a diamond midfield, a compact defence and a high and organised press. The approach - particularly the gegenpress - has been likened to Jurgen Klopp's style, which might not be a surprise as Rose was coached by both Klopp and Thomas Tuchel when he was a player at Mainz.
"It's a great way to play football," says Ramalho. "Because there are a lot of teams with so much quality and if you don't pressure them then it is easier for them to play because they have time to think and make the best choices. With a lot of pressure it makes it more difficult for them to find the best solution.
"You have to be prepared for this and we try to make it more difficult for the opponent by pressing and not giving them too much time to think. We can also play with the ball and we have a mix of everything. We have good tactics, a good team and we can pressure."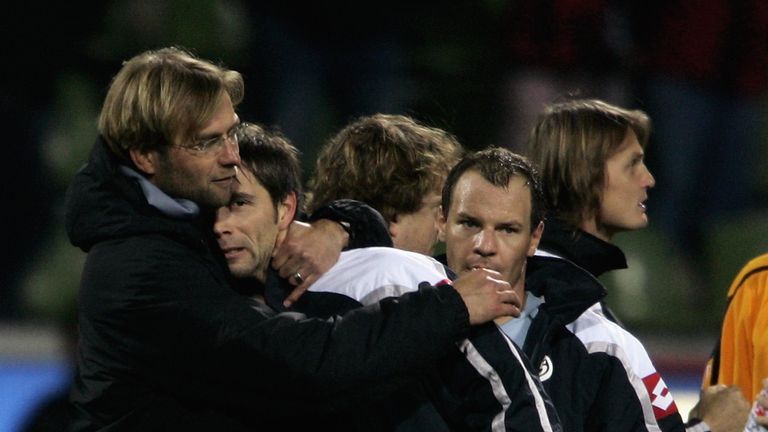 Asked about Rose's impact in particular, the Brazilian adds: "It's not just him but the whole staff. They are doing a really good job. They give chances for everyone to play and that is not so easy.
"We have three competitions which we want to win and sometimes it is difficult to change and put in new players and they always do this. That is why we have gone so far. They also make new tactics, new methods for us to play, and that helps us a lot because we are flexible and can play with more options and that helps us to improve. They are doing a great job."
Rose's work with RB Salzburg is unlikely to have gone unnoticed. The Red Bulls are closing on their fifth straight Austrian Bundesliga title and are also in the final of the Austrian Cup, where they will play Sturm Graz. There have been reports that Rose's next job will be at RB Leipzig.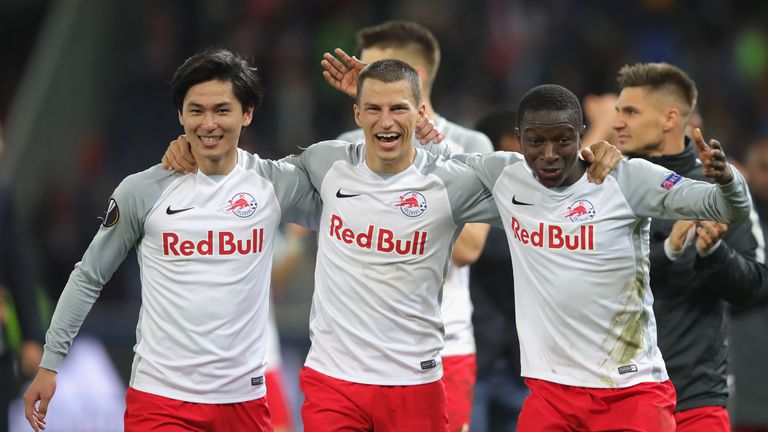 For now, though, Rose and his side must have reason to believe their run in the Europa League could continue, having beaten and drawn with semi-final opponents Marseille in the group stages this season.
If they do reach the final against either Arsenal or Atletico Madrid, they would be 90 minutes away from qualifying for the Champions League group stages for the first time since the takeover - yet another step on their rapid rise.
"That's our next step," says Ramalho. "Last year we didn't get into it but that's our goal, that's our dream. The club deserves it for everything they are doing in the last few seasons and the team and staff here. We are doing our best to reach it."