Bryan Swanson
Chief Reporter, Sky Sports News
FIFA denies heated balls claim at World Cup draw in Russia
Last Updated: 29/11/17 3:41pm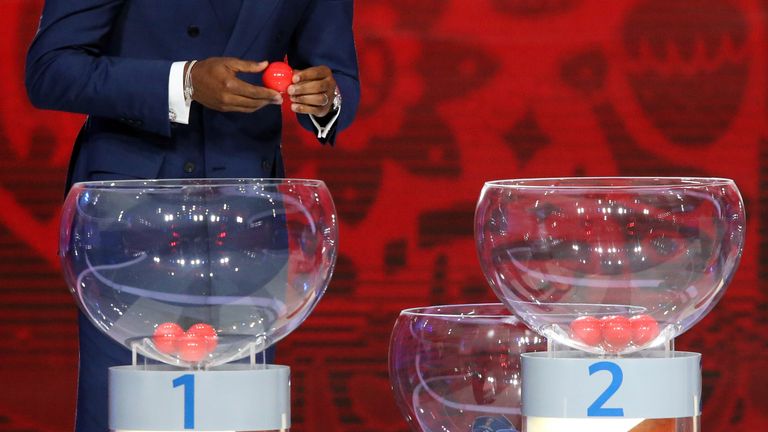 FIFA has moved to reassure football fans it will not manipulate the World Cup draw on Friday to favour certain teams.
Former FIFA president Sepp Blatter claimed last year that some European football draws have been fixed in the past with the use of hot and cold balls.
UEFA called the claims "completely absurd" and Blatter stressed heated balls "didn't exist" at FIFA draws.
Russia was drawn against Peru in the only rehearsal filmed before the media on Wednesday.
"There's no truth to that," said Chris Unger, FIFA director of competitions, in response to a question about heated balls.
"They're all the same; they don't feel any different, they don't look any different with the exception of the red balls, which are there for a purpose. It's entirely random and by chance how the groups get formed at the end."
FIFA's hour-long show, around the World Cup draw, comes amid further criticism over racism in Russia and an anti-LGBT culture.
"In terms of this week, we are looking to show Russia as a modern society," said Paul Redman, head of FIFA Films. "It's a celebration. The subject of the conversation for the last 12 months [has been] about an opportunity for Russia to go out to 200 territories [broadcasting the draw] to be able to see a little of Russia and its culture. It will put football at the centre."
Former Manchester United striker Diego Forlan, who will help draw the groups, also attended a rehearsal.
"South American teams are very strong," said Forlan, who was capped more than 100 times for Uruguay. "Every team is tough. I think it's going to be like previous World Cups. I hope Uruguay can win!"