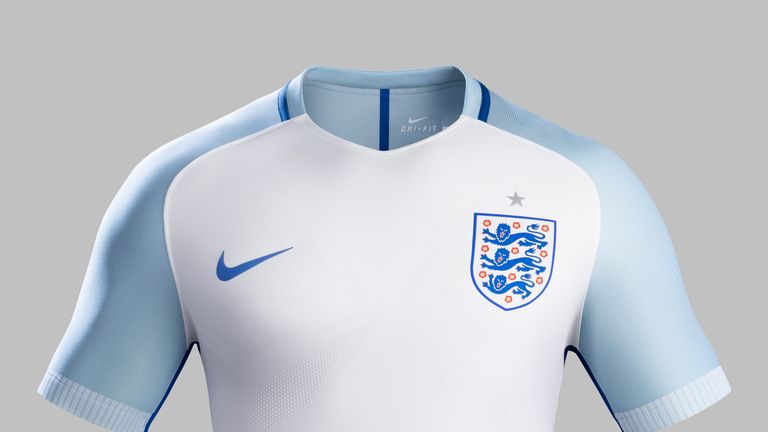 The kit that England will wear at Euro 2016 has been revealed.
The design of the home shirt deviates from the traditional all-white and features light blue sleeves, complemented by white shorts and red socks.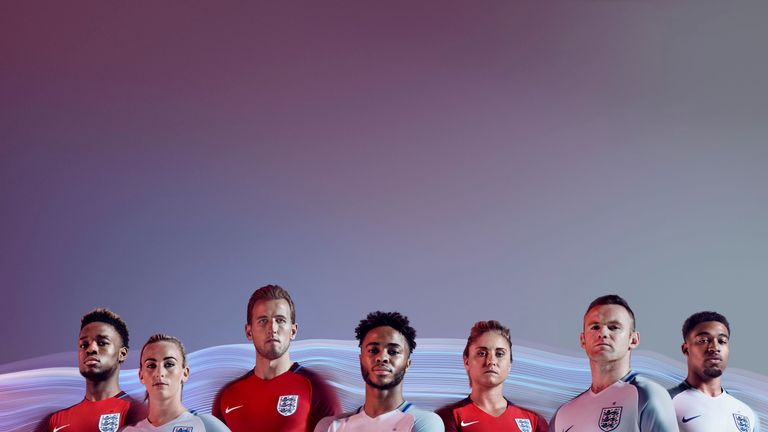 The away kit features a red shirt with dark sleeves plus red shorts and blue socks.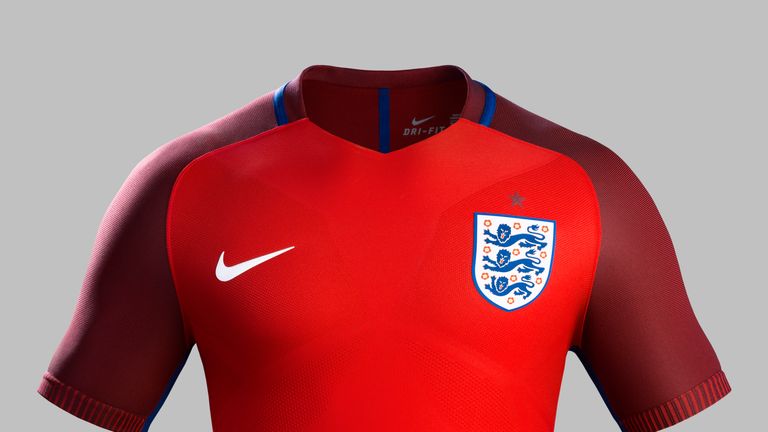 Use our interactive tool to compare the Euro 2016 kit to strips that England players have worn in European Championships of years gone by.
You can tweet your views on the kit to @SkyFootball - or if you're reading on skysports.com, then leave a comment at the bottom of the page.
Here's a look at what you've been saying...
@RafaIsAGeordie: Almost as bad as the team.
@JamesBigg: I like those. The red in particular.
Gemma Patterson Is it just me that thinks these are disgusting? Looks like a bad P.E kit when you forgot to bring socks, so they made you borrow the ones left in lost & found.
Adam Reggae Reygate: "They are disgusting!!! Where is there blue on the St George flag??.Our kit should be the same colours as that.You don't see Wales having blue on their kit!
@AshTagBrown: Worst kit I've seen in a long time! Ditch the grey!
@KieronBeddoe: Blue socks with the white top would have been much nicer.
Andrew Kinsella: I think they look decent, not much you can do with an England kit, it's pretty much same old same old, so nice to see a little change.
Graham Porter: Why have we got blue in our home kit? Won't be buying. How hard id it to keep to the flag?? Red and white..
@AndrewRoy: Why red socks?! Makes no sense and just makes the kit look ridiculous.
Tom Cashmore: We've got enough problems with our team, a shocking kit is the last thing we needed...
Eliot Norman: Looks like something from "This Is Football 2003" on PS2
@Yaanuzaj: Gonna be the kit Rooney lifts the trophy in.
Lee Halcox: The red socks wouldn't look so out of place if the trim on the home kit was red! as it is it looks like each kit has the wrong socks.
Keiran Ferry: The away shirt is just about alright, the home one looks awful, and i havent a clue why theyve put the blue socks on the red kit, and the red socks on the blue and white kit...
Daniel Lilley: Why can't England have a big St George cross on the shirt.
Ian Crimp: Can anyone tell me why we have blue on the kits ?
Tony Campanelle: Up until England started wearing an all white kit around 15 years ago, England old kits consisted of white top, navy shorts and red socks.