Jamie Vardy can play alongside Harry Kane for England, says Claude Puel
By Husmukh Kerai
Last Updated: 13/05/18 11:05pm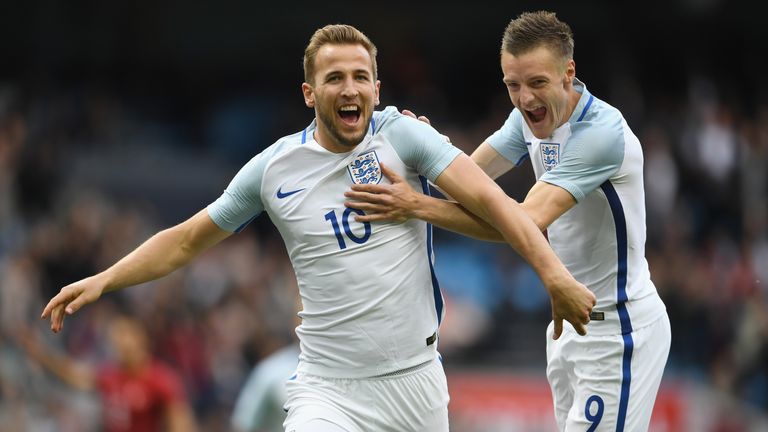 Leicester manager Claude Puel has backed Jamie Vardy and Harry Kane to forge a World Cup strike force for England.
Vardy scored twice to end the season with 20 league goals as Leicester lost an eventful clash 5-4 against Tottenham at Wembley.
Spurs forward Kane also scored twice to reach 30 Premier League goals for the season, with both strikers now turning their attention to England's summer World Cup campaign in Russia.
Leicester manager Puel believes the pair could easily link up as a duo for Gareth Southgate's men.
"I think sometimes, of course, these two players can play together," said Puel.
"They can play between the lines, play with their team-mates and combine, to move between the defences and midfield.
"And Jamie, with good possibility, good moves, good solutions, perhaps it would be a good balance."
Puel ignored speculation over his future at the King Power Stadium after the defeat to Spurs, but hinted he could stay when discussing his plans to get the even more out of Vardy next season.
"I am happy about his work of course, about his mentality, because he doesn't just score goals, but he gives the boost with the team with his pressing, his character," said Puel.
"And after Jamie needs good service, and with good play we can give him good chances.
"It's not just long balls and just battles with centre-backs.
"It's good, it's important because he's always available between the lines, behind the defenders, he has good movement behind.
"He's a goalscorer and of course it's a good feeling to finish with 20 goals with his quality, and I hope in the future we can continue to give him good service and he can score a lot of goals."