John Stones says Colombia are the 'dirtiest' team he has ever faced
By Husmukh Kerai
Last Updated: 06/07/18 6:13am
England defender John Stones has described Colombia as the dirtiest team he has ever faced.
Gareth Southgate's England side beat Colombia 4-3 on penalties on Tuesday evening after an ill-tempered 1-1 draw in Moscow to set up a quarter-final clash with Sweden.
Wilmar Barrios appeared to bump his head into Jordan Henderson's chin inside the box as England prepared for a free-kick in the first half, but American referee Mark Geiger brandished only a yellow card.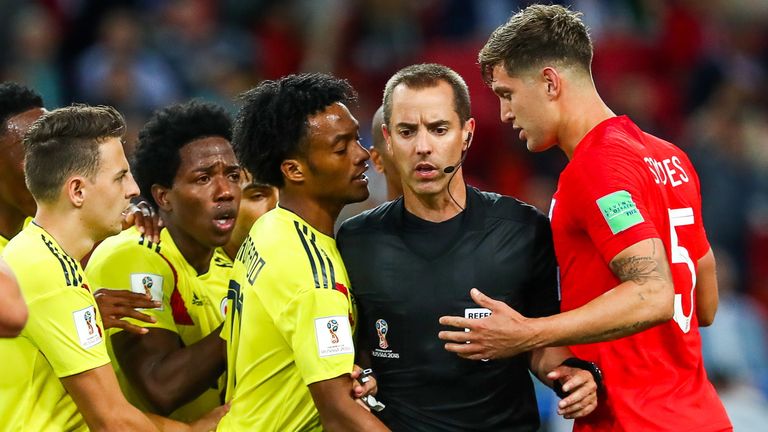 A number of flashpoints followed with Raheem Sterling involved in an altercation with Colombian fitness coach Julio Urtasu, while Harry Kane had to wait several minutes to take a penalty in the second half amid Colombian protests while several players appeared to scuff up the penalty spot with Radamel Falcao and Jefferson Lerma among them.
Stones said: "The game was so strange. Probably the dirtiest team I have ever come up against. In the respect of when we won a penalty - they were surrounding the referee, even pushing the referee. The headbutt I'm sure you've all seen. Scuffing the penalty spot. A lot of off the ball stuff that I'm sure you have not heard about.
"All the sort of things you don't really hear in a football match. On our behalf, it showed massive character to keep a cool head and not get sucked into their game. When you play a team that want to fight and disturb your momentum, you can sometimes get dragged into it. That's what they want.
"We stuck to our plan and kept playing our way of football. It's a great sign for a team to have that sort of quality, to have tunnel vision of what we want out of the game plan. It was a difficult situation to be in, but one we overcame and can be proud of."
Colombia manager Jose Pekerman has expressed his anger at England's players, accusing them of diving in their World Cup last-16 clash.