England's matchday plan for World Cup semi-final against Croatia
By James Dale
Last Updated: 11/07/18 7:08pm
England are counting down to their first World Cup semi-final in 28 years by focusing on how to beat Croatia through set-pieces.
Harry Kane and co. were throwing around a rubber chicken in their last full training session on Tuesday, but with less than 24 hours to kick-off the focus has turned to fine-tuning England's most effective tactic.
The tournament in Russia has already been dubbed the 'set-piece World Cup', and of England's 11 goals en route to the final four, eight of them have been from dead-ball situations.
Croatia v England build-up LIVE!
The team have practised them every day at their training base in Repino but they even do some extra practice on game-day.
England's match-day routine
Breakfast at team hotel - around 8am local time
Tactical session at local training ground - late morning
Lunch back at team hotel & final game preparations
Leave for Luzhniki Stadium two hours before kick-off
After meeting for breakfast at the squad's Moscow hotel around 8am local time on Wednesday morning the players head to a training ground close to the Luzhniki Stadium where they will walk through their set-piece routine once more.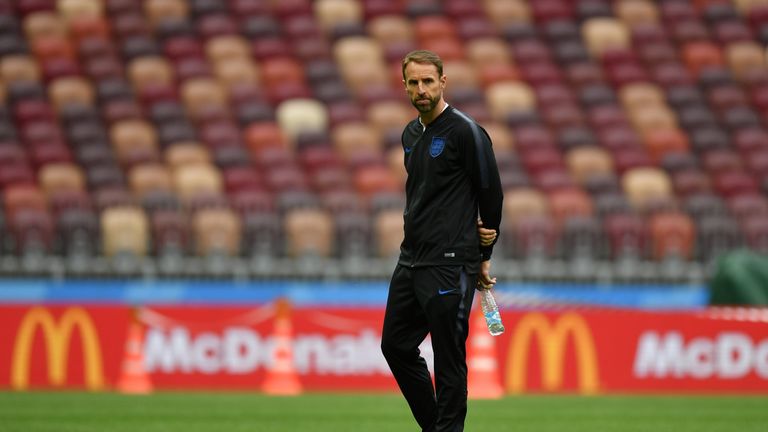 England manager Gareth Southgate will reiterate to his players where each of them should be when attacking Croatia's penalty area, but they will also work once more on how to operate in defensive situations.
Croatia and Juventus striker Marko Mandzukic has been identified as a particular threat from Croatia's dead-ball opportunities.
Corner-ing Croatia
Of England's 30 corners at this year's World Cup, they have scored four goals and won two converted penalties.
Southgate likes to run through who his players will be marking again just hours before kick-off in order to make sure it is fresh in their minds when the match begins.
After this final tactical session the players return to have lunch before finishing their preparations at the team hotel. They will leave for the stadium around two hours before kick-off.
Southgate is expected to stick with the starting XI that saw off Sweden in the quarter-finals, with Jordan Henderson holding in midfield behind Dele Alli and Jesse Lingard, and Raheem Sterling partnering Harry Kane up front.