Gareth Southgate highlighted England's poor record against top sides - is he right to worry?
Last Updated: 15/10/18 9:20am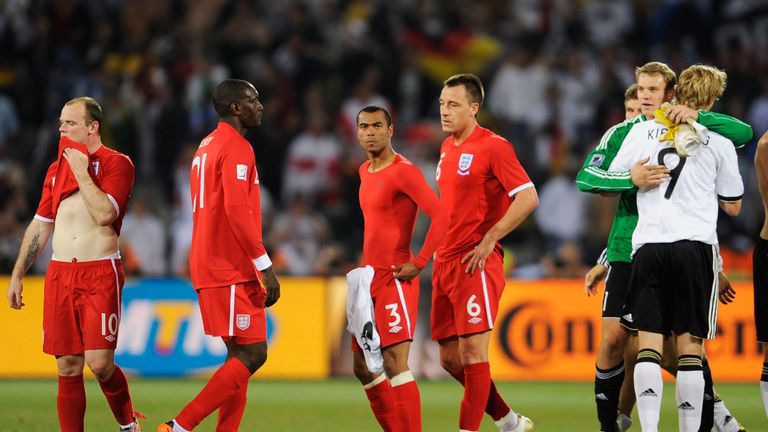 England have made giant strides under Gareth Southgate, but ahead of their UEFA Nations League trip to Spain, improving on a record of eight competitive wins against traditional international heavyweights in almost half a century will be high on the agenda.
There is no doubt England are making progress under Southgate - a first World Cup semi-final appearance in 28 years in the summer is testament to that.
However, Southgate, who has signed a new four-year contract, is fully aware there is still much work to be done, and the England coach pointed to one area of concern that needs addressing.
"Our record against top teams in competitive games is non-existent, it is not impressive, bar Argentina in 2002 [World Cup finals in Sapporo]," Southgate said. "It is very rare since 1970 we have beaten those top teams."
Is Southgate right? Is England's record really that bad post-1970? To put it simply, it could not be much worse.
England fans often recount that famous 5-1 victory over Germany in Munich in 2001, when the Netherlands were put to the sword amid Euro 96 euphoria at Wembley, or David Beckham almost tearing his shirt off when celebrating the winner against Argentina in 2002.
However, apart from these high-points, several generations of England fans have witnessed their side fail time and again against tougher opposition, especially when it comes to competitive fixtures.
England have never beaten Brazil in a competitive match, ever, while Italy have only tasted defeat once in eight competitive matches against England since 1970, way back in 1977. That famous 4-1 success against the Netherlands in 1996 is the only time England have beaten the Oranje in a competitive match, ever, and the 5-1 win in Munich and a 1-0 victory at Euro 2000 are England's only competitive victories over Germany since 1966.
Overall record not much better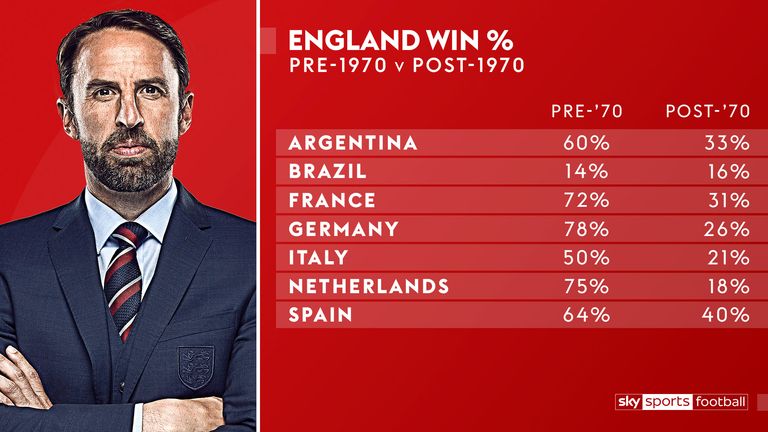 Before 1970, Brazil aside, England regularly got the better of international football's traditional heavyweights. England won 10 of their first 11 clashes with France, eight of the first nine contests with Germany - up to and including the 1966 World Cup final - lost only once to Argentina before 1986, and once to the Netherlands up until just 20 years ago.
However, since then, as Southgate rightly points out, the tables have well and truly been turned. When you include friendlies, England have beaten Germany just six times in 23 clashes, Italy four times out of 19, Brazil three out of 19, and the Netherlands three out of 17.
The only traditional heavyweight England have beaten more times than they have been defeated is Argentina, but even that record is not something Southgate will look to for inspiration, with England having won only three of nine matches.
What is Southgate changing to turn things around?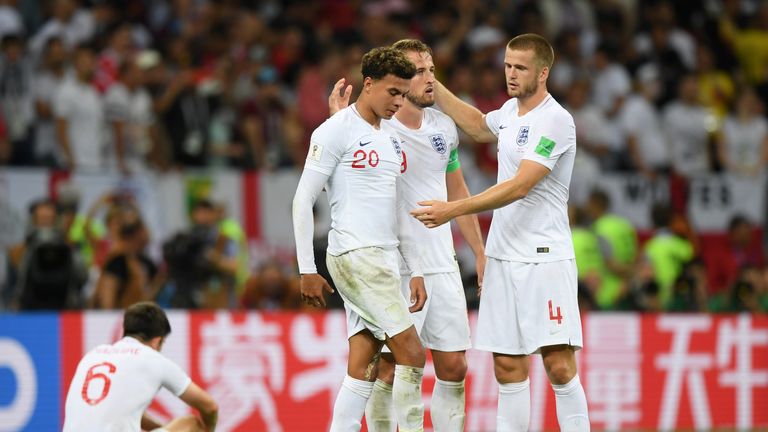 The World Cup was a good measure of the progress England have made under Southgate. A fourth-placed finish was deserving of much of the praise thrown Southgate and his young side's way, but it has to be put in perspective.
The highest-ranked team England beat at the World Cup were Colombia, rated as the 16th-best team in the world in the FIFA Rankings at the time, four places below England.
England lost twice against Belgium - the only side they faced who were ranked higher at the time in Russia. Against high-calibre opposition in Croatia, England started well, but ultimately fell short, as their lack of a midfield creator was exposed as Luka Modric took control in Moscow.
Southgate has taken action, and handed a first call-up to Borussia Dortmund's Jadon Sancho. He may not be thrown straight into the team, but his selection can be seen as the first step in initiating Sancho into the senior international set-up.
"Jadon Sancho will be a key player for England by 2022, of that there can be no doubt," Daily Mirror chief sports writer Andy Dunn said on the Sunday Supplement. "Why not get him in there now and get him acclimatised to the senior set-up? If they are good enough, get them in now, and get them used to things."
And Sancho is winning admirers aplenty for his exploits in the Bundesliga. Despite starting just once in the league for Dortmund, he has registered six assists - no player has more in Europe's top six leagues, and it is a player who can unlock the opposition that Southgate and England could well be missing.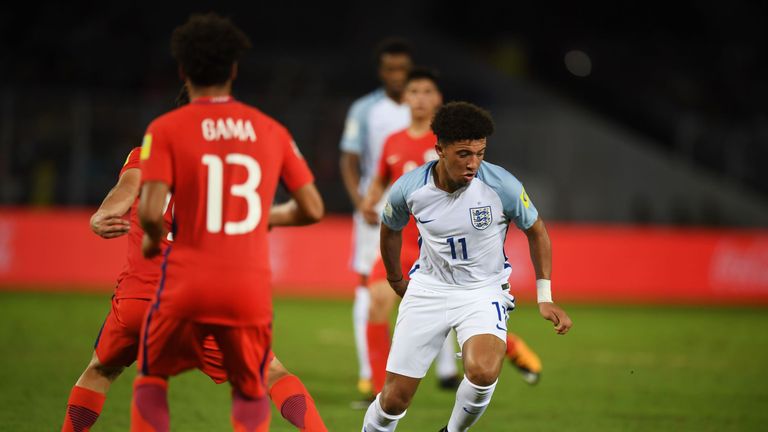 "The only one in my lifetime is (Paul) Gascoigne," Southgate said when asked which England players could have been classed as world class in the last 50 years. "And I'm not sure he was developed, I think he was a consequence of a unique talent, one capable and willing to have the ball against any opposition."
Sancho may not be that man, and is certainly very raw, but his mere inclusion, alongside highly-rated Leicester youngster James Maddison, could at least indicate Southgate is willing to try something new, and give that creative livewire a chance to make a difference.
And, should Sancho or Maddison reach anything like the level of Gascoigne, an already well-organised and disciplined England could at least start to fair slightly better against the world's elite nations.