Scotland manager Alex McLeish wants his team to bring fans back to Hampden
By Shona Duthie
Last Updated: 10/10/18 10:28pm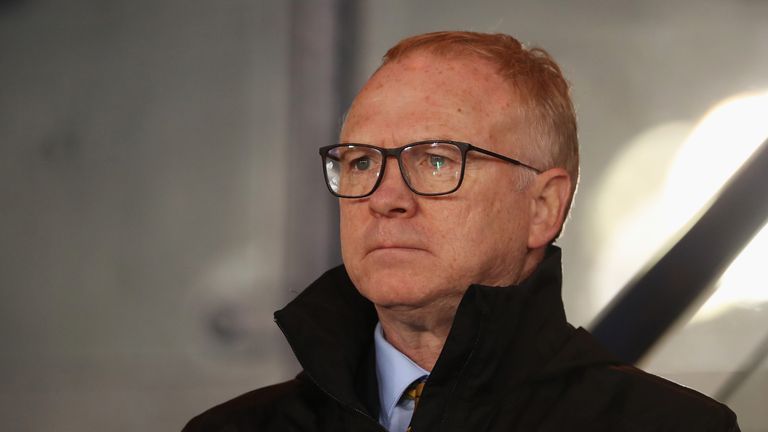 Scotland manager Alex McLeish wants his team to entice the fans back to Hampden Park.
McLeish's side face Israel in Haifa on Thursday evening in the UEFA Nations League, live on Sky Sports Football, and the visitors will have plenty of support behind them.
Scotland will have more fans in the Haifa International Stadium than home supporters - something that McLeish was happy to hear.
He said: "It is great to hear that we have Scottish fans coming to the game because we know we would like to fill our own stadium.
"We don't want to bring a Brazil, a Belgium or Portugal to Hampden to bring the crowd back.
"We want a Scotland team to bring the crowds back and we want to excite the fans and of course the bottom line is to win football matches. That is my aim and I am sure that is what the Israel coach is trying to strive for."
Scotland currently sit top of Group C1 after last month's 2-0 win over Albania. If they win the group they will be promoted to Group B.
If they fail to qualify for UEFA Euro 2020 through the qualifiers and they are ranked in the Nations League top four they will enter a play-off in March 2020 with one finals space on offer.
Scotland last qualified for a major tournament in 1998 and the management team are hoping they can change that.
"It is a very long time. That's the plan, that's my ambition [on qualifying for a major tournament]," added McLeish. "I am determined. I have always been a determined person and I hope I can put that across to the players.
"I believe I do have a determined group of players in the dressing room. It's about eliminating errors but also playing to their top performance level.
"At international level there is no hiding place. Sometimes you make a mistake and it is more devastating than making a mistake at club level as sometimes you get a second chance.
"We want the defence to be on top form and we also want the players who can make things happen to be on top form."