Michael O'Neill: Northern Ireland denied 'clear' penalty in Bosnia loss
Last Updated: 08/09/18 4:56pm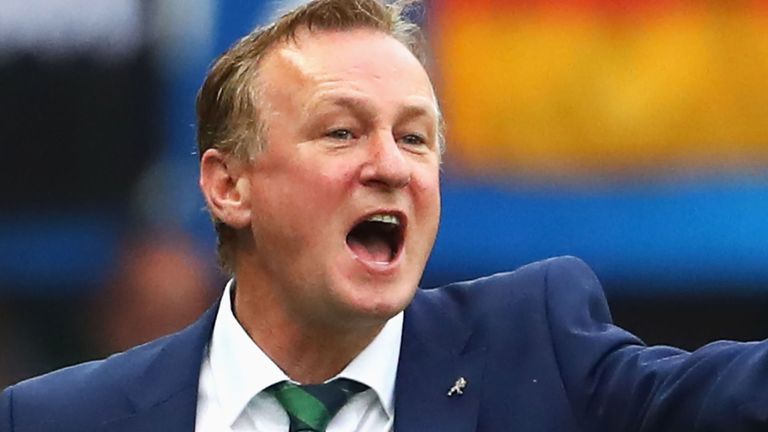 Michael O'Neill thought Northern Ireland should have been awarded a "clear" penalty as were beaten 2-1 at home by Bosnia and Herzegovina in their UEFA Nations League opener on Saturday.
Northern Ireland dominated the Group B3 game at Windsor Park but were made to pay for not taking their chances.
They could have had a penalty inside the opening minute when George Saville appeared to be tripped in the box, but the referee did not point to the spot.
"We should have had a penalty early in the game, it's pretty clear," O'Neill told Sky Sports. "Maybe it's early in the game so it's difficult to give. If we had scored the penalty, if it was given, then it would have put a different slant on the game."
Saville agreed with O'Neill's view on the penalty, but said it was not the defining factor in the game.
"There was contact there and I think it is a penalty, that changes the game, but we have to take chances and we paid the price a bit. We can't blame it [defeat] on that decision. We shot ourselves in the foot today.
"It was massively disappointing for us, considering we controlled the game for most of 90 minutes. It was two sloppy errors from us, which we paid for."
Bosnia scored twice in each half and the hosts only managed to grab a late consolation in injury-time through Will Grigg.
O'Neill added: "I was delighted with the performance. I thought we dominated the game.
"It was a great performance in the first half, then a disappointing goal to concede when we should have stopped the cross. Second half we were well on top and then the second goal was disappointing as well.
"The spirit was fantastic, they kept going to the final whistle, got a goal back and could have got ourselves level. All in all, there were a lot more positives and negatives.
"The only real thing we could have done a bit better was our final ball and final attempt at goal…but those are all things we can work on."
Watch the Nations League live on Sky and get two football channels for one great price. Get Sky Sports Premier League and Sky Sports Football in HD - now £18 a month.