Alvaro Morata has been axed but Valencia's late bloomer Rodrigo Moreno is heading to his first World Cup after a stellar season. It has been a long road for the one-time Bolton loanee...
The first goal after three years away came on the very night of his return but it was in Dusseldorf where any doubts dissolved. Andreas Iniesta, that familiar source, swivelled as he took a ball to feet and spotted the run. Rodrigo Moreno did the rest, not breaking stride as he found the roof of the net with a ruthless swipe. Five minutes in, Germany 0-1 Spain.
Live International Football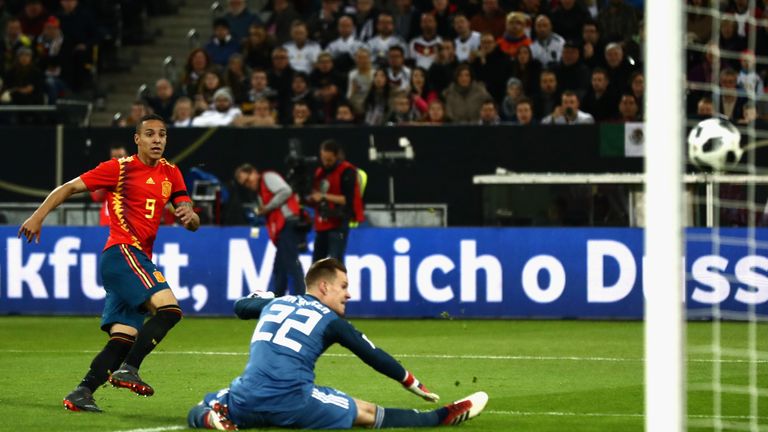 Julen Lopetegui, a man long aware of the forward's talents, had watched him thump an opener against Albania on his recall but, with Alvaro Morata left at home and just three months until the tournament, this - the hard graft as well as another goal - felt significant.
Morata has been cast adrift again, this time for a summer, after what turned out to be a season of toil at Chelsea. Rodrigo, after the campaign of his life, is off to Russia. Two young partners in attack back in 2013 when Lopetegui's U21s won the European Championship, two career trajectories crossing at a crucial moment.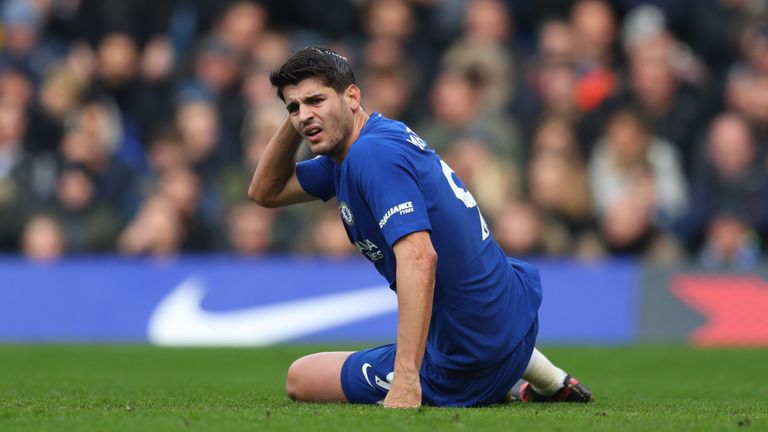 Rodrigo's renaissance is there in the numbers. His 16 league goals have fired Valencia back to the Champions League. The haul - 19 in total - represents the best return of his career. Tottenham have watched him, Sky Sports understands, while Atletico Madrid are considering him a potential replacement for Antoine Griezmann.
But behind the stats is the story of a tough and - via Benfica and Bolton, curious - path to prominence. As the 27-year-old himself hinted to Marca: "You take the good and the bad... but you don't just forget how to play football."
Rodrigo Moreno - league stats by season
| | | | |
| --- | --- | --- | --- |
| 2010/11 | Bolton | 17 | 1 |
| 2011/12 | Benfica | 22 | 9 |
| 2012/13 | Benfica | 20 | 7 |
| 2013/14 | Benfica | 26 | 11 |
| 2014/15 | Valencia | 31 | 3 |
| 2015/16 | Valencia | 25 | 2 |
| 2016/17 | Valencia | 19 | 5 |
| 2017/18 | Valencia | 37 | 16 |
He was taught how to play by his father - an accomplished left-back for Flamengo before injury struck - and schooled at Celta Vigo's academy when sporting ambition took the family from Rio de Janeiro to Galicia. Real Madrid came sniffing in 2009 and the 18-year-old Rodrigo occasionally trained with Cristiano Ronaldo. But Real's Castilla side was the ceiling and a year later they cashed in, the teenager used a makeweight to lure Angel di Maria from Benfica.
Lisbon was suddenly in Lancashire. Owen Coyle and assistant Sandy Stewart utilised contacts forged through the transfers of Fernando Hierro and Ivan Campo to the Reebok Stadium and Benfica boss Jorge Jesus, already swamped with talent, wanted Rodrigo to bulk up. Bolton, having watched him in Madrid and for Spain's U19s, were eager minders. "He's quick and exciting - he can make things happen," Stewart, at the time, told The Bolton News.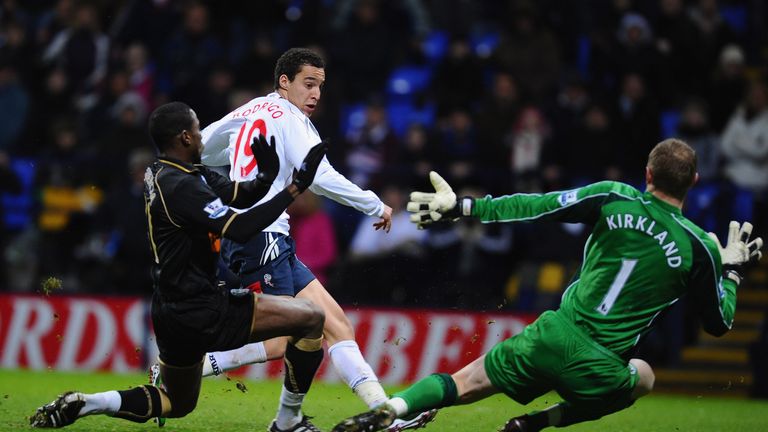 There were flashes of real quality and a goal to cap a vibrant display against Wigan but, misused on the left, a second failed to follow in the 17-game spell. Bolton chairman Phil Gartside had seen enough to assert that Rodrigo would, in a few years, become "a global star". Rodrigo, after a first season as a senior pro, said: "I'll always be grateful to Owen Coyle."
And so, despite Gartside's best efforts, it was back to Benfica, where the prospect emerged as a player. He won four titles - three in 2013/14 - and Jesus was fielding questions about interest from Liverpool. Rodrigo had to be patient - competition was fierce - but his versatility and mobility saw him oust Oscar Cardozo and led Jesus to predict that while he was still "evolving," he could become "one of Europe's leading spearheads."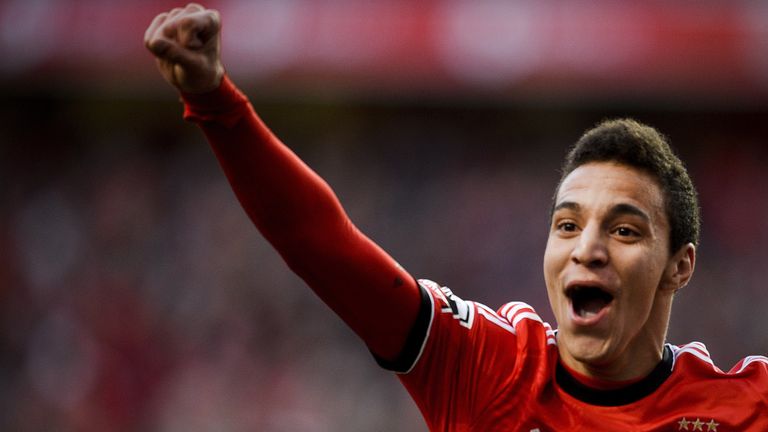 There were others convinced of the potential. Guided by the Portugese mega-agent Jorge Mendes, Singapore billionaire Peter Lim - via his Meriton Capital company - bought Rodrigo's rights and loaned him to Valencia as part of a protracted takeover of the crisis club in 2014. Lim was hailed as a saviour, while the arrival of a flourishing player who had trialled for Los Che at 13 before settling for Celta felt satisfyingly circular. But it would not work out that way, for a while at least.
"He was slammed quite regularly during his first three seasons," journalist Paco Polit of Valencia radio station 99.9 tells Sky Sports. "And it's tough to fault the fans because he was under-performing. His attitude and professionalism were never questioned, he simply wasn't scoring."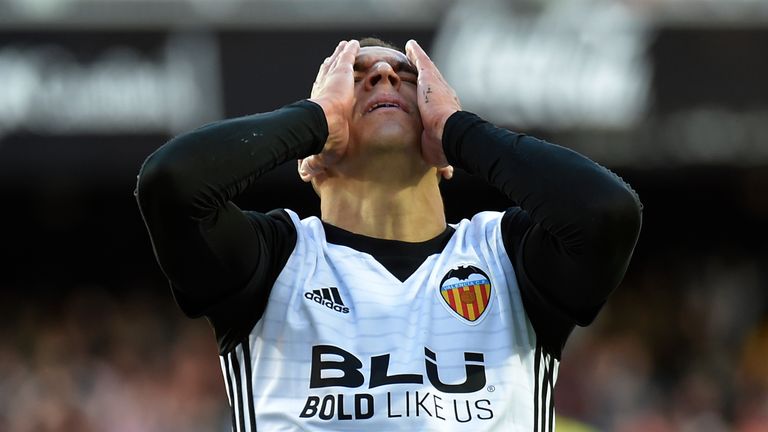 Others found the net more regularly as Nuno Espirito Santo rotated his way to fourth place but Champions League football gave way to prolonged chaos. Nuno was sacked, Gary Neville and Pako Ayestaran followed and Cesare Prandelli resigned. There were whistles inside the Mestalla, mass protests outside it - 'Lim, go home!' read the banners - and Rodrigo had cruciate ligament and ankle injuries to contend with as well as unconvinced Valencianistas.
The summer of July 2017 brought yet more change, except this time it was finally the right sort. Mateu Alemany arrived as director general, determined to end the mismanagement, and the meticulous Marcelino Garcia Toral was tasked with restoring order on the pitch. "I like discipline and commitment," he told reporters when he arrived and so it transpired. There were three training sessions a day in pre-season, frequent blood tests and strict dietary plans. The playmaker Dani Parejo revealed he had lost more than five kilos and Rodrigo was another who became leaner.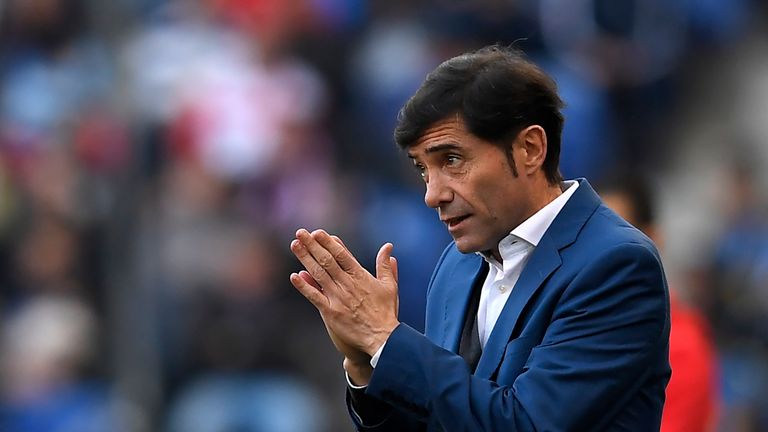 "Marcelino is crazy for every little physical detail," Polit says. "Every day the players are weighed and their fat percentage measured. When things go off the rails - even just slightly - they're fined. The fact that Rodrigo has always been a total pro meant that he found it easier to adapt."
In the dark days through insult, injury and uncertainty, Rodrigo maintained he would prove his worth and now, deployed primarily as a second striker, he was proving it. There were goals - plenty of them - but also threaded through-balls, flicks into Simone Zaza, passes laid out wide. In a compact 4-4-2 that prized rapid counter-attacks, Rodrigo was a key component, dropping deep, linking the play, making smart runs in behind.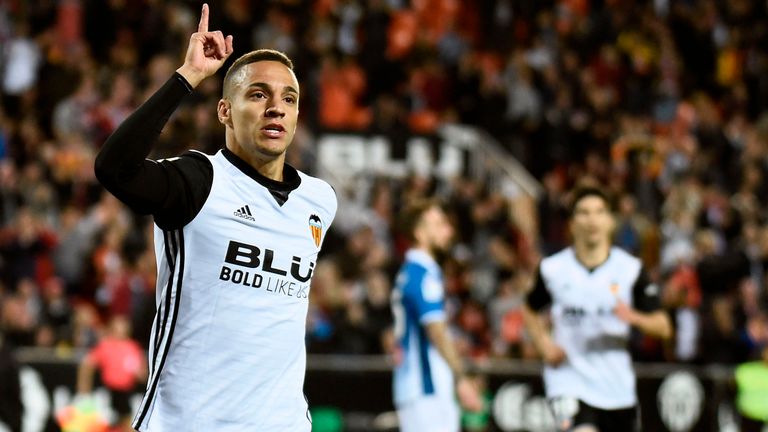 "He's gone from zero to hero," Polit says. "As soon as the goals started to come, he gathered a loyal following. He's down to earth, humble, always looking out for his team-mates.
"Being played in his real best position has had a lot to do with it - generating disorder, creating gaps in the opposition defence as that second striker. The new coach, the new system, new people in charge - Alemany especially - have generated this confidence that has propelled him to being the team's best player this year."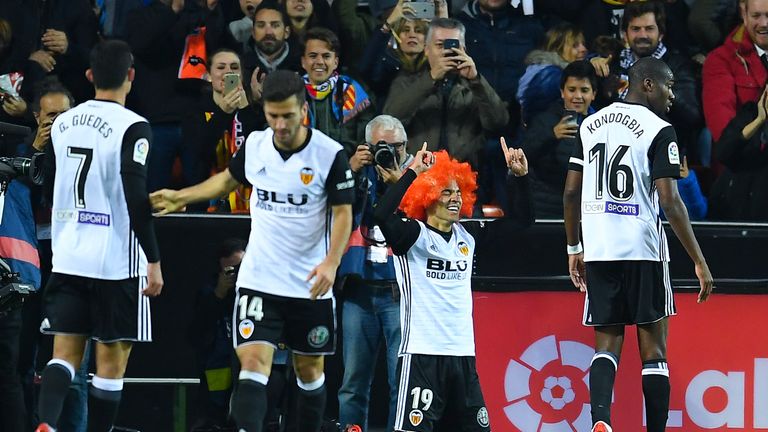 Marcelino has described him as the forward who "runs the most, participates the most, helps the team the most" and Ayestaran, in his own ill-fated spell, appreciated a work ethic that never waned even as the side's fortunes slipped. "The balance is different now; he's been surrounded by the right players and playing with two strikers really benefits him," he tells Sky Sports.
"But the hunger is crucial in any player - it's why he's finally got to where he is. Those who have the drive to improve, who come to the training ground with the ambition of breaking barriers and taking something from each session - he is one of them."
How Rodrigo compares (league, 2017/18)
| | | | | |
| --- | --- | --- | --- | --- |
| Player | Rodrigo | Costa | Aspas | Morata |
| Apps | 37 | 15 | 34 | 31 |
| Starts | 31 | 13 | 33 | 24 |
| Mins played | 2695 | 1048 | 2937 | 2067 |
| Goals | 16 | 3 | 22 | 11 |
| Assists | 4 | 3 | 5 | 6 |
| Expected goals | 13.58 | 3.56 | 17.33 | 12.98 |
Now Rodrigo - capped only once before 2017 - is one of Lopetegui's World Cup forwards alongside Diego Costa and Iago Aspas, others who have defied adversity and their advancing years to be rewarded for fine domestic form.
Spain, unstoppable for years before demoralising exits at the last two major tournaments, are remodelled, unbeaten under Vicente del Bosque's successor and fancied again, even if a selection dilemma in attack remains.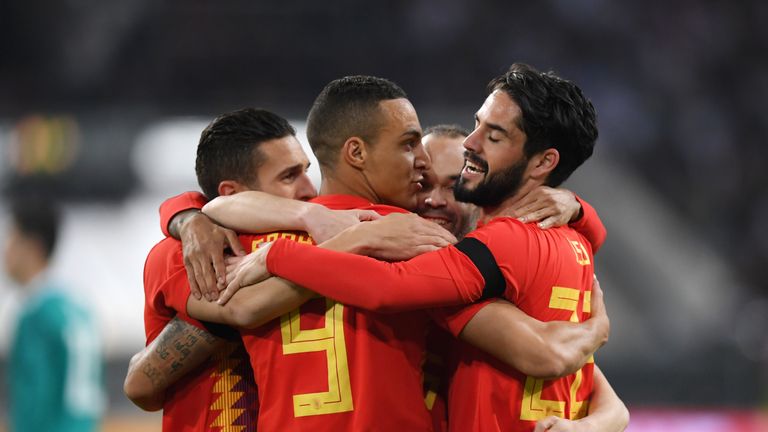 "The easy way out for Lopetegui would have been to call up Morata - he has huge support among the national media outlets in Madrid. But this time, he's called for the three strikers who deserve to be there," Polit says.
"Rodrigo has got the smart movement to open doors and windows. He has that all-rounder quality; he can associate with a big reference point like Costa or stir trouble with a similar player like Aspas. That's the best thing you can say about him - in the Spain cocktail, he mixes well with everything and everyone."
If Lopetegui can find the right blend, Spain, like Rodrigo Moreno, could rise again.