Lautaro Martinez: Can Racing striker secure Argentina World Cup spot?
By Tom Robinson
Last Updated: 28/03/18 8:22am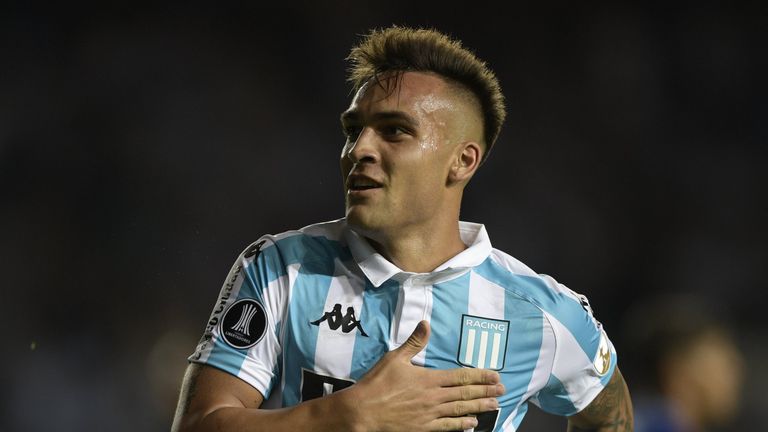 With the World Cup fast approaching, time is running out for Jorge Sampaoli to finalise his Argentina squad, writes Tom Robinson of World Football Index.
Tuesday's friendly against Spain, live on Sky Sports, will therefore serve as a golden opportunity for various players to stake a late claim for a place on the plane to Russia.
Chief among those is Racing's strike sensation Lautaro Martinez, who looks likely to make his national team debut in Madrid.
Compared to Sergio Aguero and set to make a big-money move to Inter Milan this summer, could Martinez be a dark horse to snatch a spot in Sampaoli's World Cup squad?
In theory, it seems a big ask to get into a team with such an abundance of attacking talent. However, Gonzalo Higuain has not always delivered in big games, Mauro Icardi failed to impress during qualifiers, and Paulo Dybala is seen as more of an understudy to Lionel Messi.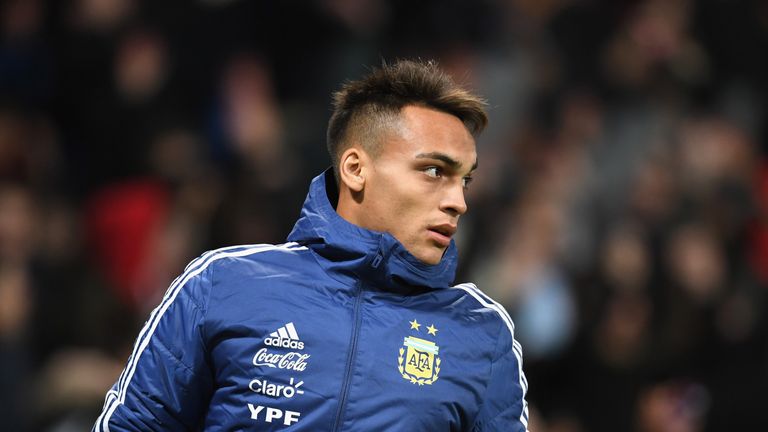 Throw in Martinez's recent form of 13 goals in his last 16 games and, with the momentum and public backing behind him, it suddenly doesn't look out of the question.
All in all, it has been quite a meteoric rise for the 20-year-old from Bahia Blanca.
Martinez grew up next to the Villa Mitre stadium and was a talented basketball player, but at 15 made the decision to follow in his father's footsteps and concentrate on a career in football.
It proved to be a wise decision. In 2014, Racing Club coach Fabio Radaelli noticed him in a training session and brought him to the capital to sign for the Buenos Aires giants.
Martinez scored 26 goals in as many games for Racing U17s and was fast-tracked to the reserves. He continued to impress and in October 2015 he made his senior league debut, symbolically coming off the bench to replace club legend Diego Milito.
His reputation continued to grow after being named player of the 2016 COTIF tournament in L'Acudia, which saw him attract attention from Real Madrid and Arsenal.
However, it was 2017 that proved to be Martinez's real breakthrough year. At the U20 Sudamericano, he almost single-handedly dragged Argentina to qualification for the U20 World Cup, scoring five goals and finishing as the competition's joint-top scorer.
At club level, an injury to Lisandro Lopez opened the door for a run of games in the first team and Martinez duly bagged himself nine goals in 23 league appearances.
A fractured metatarsal ended his season prematurely, but in the space of six months Martinez had announced himself as the most exciting prospect in Argentinian football.
Lautaro Martinez's talent has been plain to see ever since he first broke through to the Racing first team. What really stands out, though, is his incredible mental strength
Buenos Aires-based journalist Dan Edwards
Martinez bounced back strongly from his four month lay-off and has been in sensational form this season with 10 goals in 14 league games, including a hat-trick against Huracan with Sampaoli watching from the stands.
Sampaoli is already looking like something of a good luck charm as the national team boss was also present to witness Martinez score another hat-trick, this time on his Copa Libertadores debut against Cruzeiro. The Argentina manager will be hoping this form can translate to the national team.
Nicknamed El Toro (the Bull), Martinez is a mobile centre forward with a potent mix of power and pace. His finishing is clinical both inside and outside the box. He finds space expertly, dribbles well, and even boasts surprisingly good heading ability. In short, he is the perfect all-round modern striker.
Former Racing manager and ex-Fulham striker Facundo Sava echoed these sentiments: "He has goals on his mind and not everyone has that. That comes from birth. He is a beast, he has a physique and force that blows you away."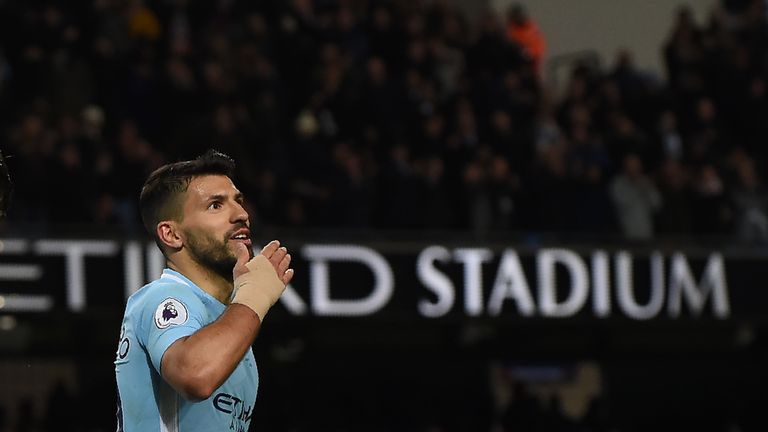 Inevitably, these skills have drawn comparisons to Aguero - a product of bitter rivals Independiente - but in an interview with El Grafico last year, Martinez named Luis Suarez and Radamel Falcao as other inspirations.
Certainly Martinez possesses some of the physicality and needle that characterises his Uruguayan counterpart Suarez. His red card in the U20 World Cup against England shows that his combative style can occasionally bubble over but, when channelled correctly, is a useful weapon as he presses from the front.
Others have seen similarities with Argentina all-time second highest scorer Gabriel Batistuta, including Sampaoli, who says that he is constantly comparing the two. Martinez has a long way to go to match Batigol's achievements, but these compliments show just how highly he's regarded in his homeland.
Perhaps the quality that truly sets Martinez apart from his peers is his mentality. A model professional off the field, he has that relentless drive and dedication needed to make it at the highest level.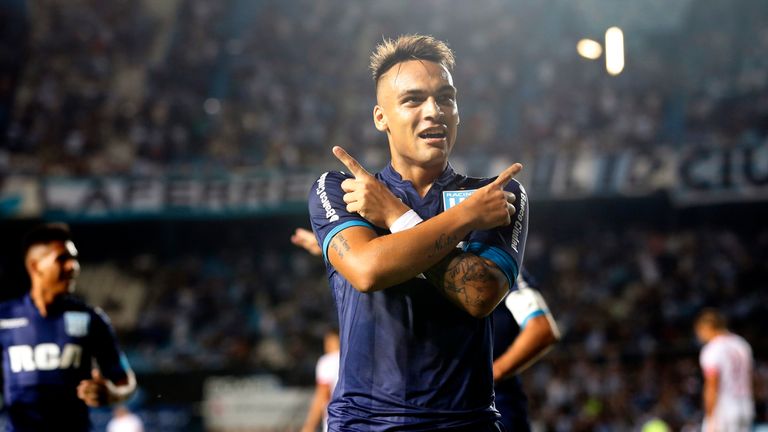 Buenos Aires-based journalist Dan Edwards has watched Martinez for many years and highlighted this same trait: "Lautaro Martinez's talent has been plain to see ever since he first broke through to the Racing first team. What really stands out, though, is the 20-year-old's incredible mental strength.
"For Lautaro there are no tell-tale signs of resignation, slumped shoulders and eyes pinned to the floor, when a good chance goes awry. He fumes, he pouts, he berates himself, he jumps straight back up, doubly determined to hit the net next time - a single-mindedness that instantly recalls a certain Real Madrid striker.
"While Martinez is of course far from reaching those kind of levels, his hunger to score and, even more importantly, keep improving game on game gives him a mental edge which is extremely rare in a kid of his age with the world at his feet."
He has goals on his mind and not everyone has that. That comes from birth. He is a beast, he has a physique and force that blows you away.
Former Racing manager and ex-Fulham striker Facundo Sava
An example of this came after his hat-trick against Cruzeiro when he complained of having missed other opportunities: "I didn't like the game I played. I'm happy about the victory but I'm annoyed about my performance. I missed some chances that were easy. I have to keep improving."
Far from being a self-indulgent diva, those who know Martinez describe him as a polite, well-liked, and level-headed individual. Such is the influence and respect he already commands that he has already captained Racing before his 21st birthday.
Diego Milito, now director of football at Racing, also heaped praise on Martinez's character: "He is fantastic. Even as young as he is, he's got a winning mentality and a professionalism that could be decisive"
Another aspect of his mental strength comes in the form of his razor-sharp concentration levels.
Racing's psychologist Cecilia Contarino revealed that Martinez scored the highest in concentration tests in the entire club and this ability to maintain focus until the very last minute goes some way to explaining the number of important late goals Martinez scores, such as vital last-gasp strikes in the Sudamericano against Peru, Colombia, and Brazil.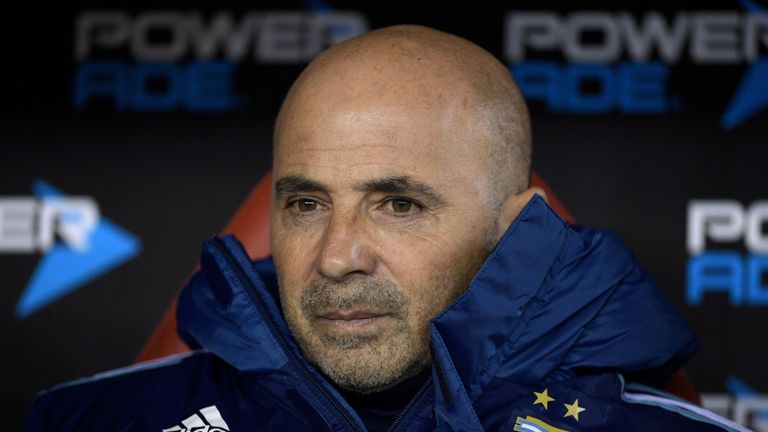 This perfectionism, hunger, and dedication to his craft, is why many believe Martinez has what it takes to become one of the best strikers in world football.
Looking forward, Martinez has confirmed that his future lies with Inter Milan after months of speculation and strong interest from both Atletico Madrid and Borussia Dortmund. Whether it will be to reinforce or replace countryman Icardi, is yet to be seen, but his arrival should excite the Nerazzurri faithful.
In the meantime, the friendly against Spain will give Martinez the opportunity to prove he can make a difference in Russia.
"With Messi, I'd get tired of scoring goals," said Martinez recently. Now is the chance to prove it.
Written by Tom Robinson of World Football Index
Watch Spain v Argentina live on Sky Sports Football from 8.25pm on Tuesday