Football Commentator & Columnist
Martin Tyler's stats: Signs of hope for Arsenal and August red cards
Last Updated: 29/08/17 9:26am
Martin Tyler is back with the best stats and facts from the weekend's action in the Premier League.
Despite a poor start in the Premier League, could there be hope for Arsenal of a top-four finish? And after Kasper Schmeichel's superb penalty save at Old Trafford on Saturday, how many other goalkeepers have stopped a Premier League spot kick at the ground?
Was Raheem Sterling's red card the latest in the Premier League and has anyone else ever both scored and been sent off in injury time?
Read on for the answers and don't forget to try to answer Martin's tricky teaser: Name four Englishmen with double-barrelled surnames who've played in more Premier League games than Alex Oxlade-Chamberlain.
Martin's starting stat
I was at Anfield on Sunday where I was impressed with Liverpool's front three.
Sadio Mane has scored in four consecutive Premier League games - and becomes the third player to score in the first three games of a season for Liverpool after Robbie Fowler and Daniel Sturridge. He has scored in all three of his games for Liverpool against Arsenal, including his debut at the Emirates last August.
Roberto Firmino scored four in his last four appearances against Arsenal and has scored more goals under Jurgen Klopp than any other Liverpool player. He has three goals and three assists in five appearances this season. He has scored 23 and assisted 16 in the Premier League since August 2015, more than any other Liverpool player in that period.
Mo Salah's very first Premier League goal was as a Chelsea substitute in a 6-0 win over Arsenal in March 2014. He has now scored three in five Liverpool appearances and 10 in his last 14 appearances for Liverpool and Roma.
When they don't get you, Daniel Sturridge does! He now has 99 club career goals and has scored four goals against Arsenal for three different clubs.
Gunners' slow start
Has a team ever lost two of their first three games and still finished in the top four? (Alex, London)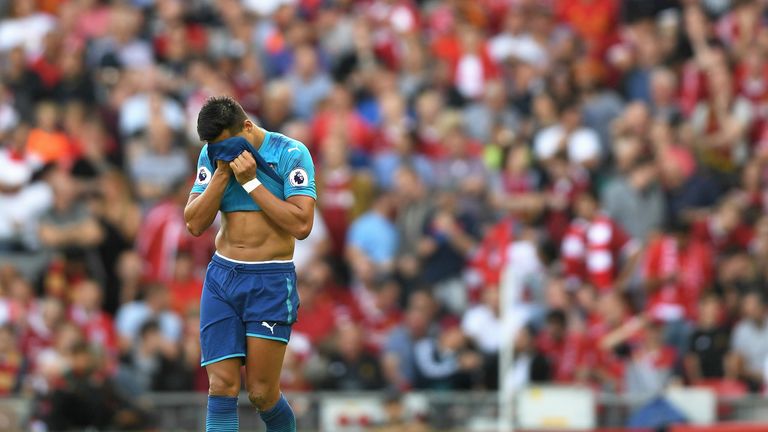 MARTIN SAYS: I assume this question is in relation to Arsenal's defeats to Stoke and Liverpool in their opening three fixtures.
The good news for Arsenal fans is there have been seven instances where teams have finished in the top four of the Premier League after losing two of their first three.
Indeed, Arsenal themselves did it in the 2011/12 season when they lost their second game 2-0 at home to Liverpool and were thrashed 8-2 by Man Utd in their next game, but still finished third. Tottenham also finished fourth that season after losing two of their first three.
Liverpool did this in the 1999/00 and 2001/02 seasons when they finished fourth and second respectively after losing two of their opening three Premier League games, and Newcastle also ended in third and second in the 1993/94 and 1996/97 seasons respectively.
And remarkably, Manchester United won the Premier League in 1992/93 after losing their opening two matches against Sheffield United and Everton - so there is still hope for Arsenal fans.
Teams who have lost 2/3 opening PL games and finished in the top four
| | | | | | |
| --- | --- | --- | --- | --- | --- |
| Season | Team | Wins | Draws | Losses | Final position |
| 1992/93 | Man Utd | 0 | 1 | 2 | 1st |
| 1993/94 | Newcastle | 0 | 1 | 2 | 3rd |
| 1996/07 | Newcastle | 1 | 0 | 2 | 2nd |
| 1999/00 | Liverpool | 1 | 0 | 2 | 4th |
| 2001/02 | Liverpool | 1 | 0 | 2 | 2nd |
| 2011/12 | Spurs | 1 | 0 | 2 | 4th |
| 2011/12 | Arsenal | 0 | 1 | 2 | 3rd |
Old Trafford saves
I like the stat that Kasper Schmeichel has now saved more penalties at Old Trafford than his dad. Which goalie has saved the most at that ground? (Oli, Plymouth)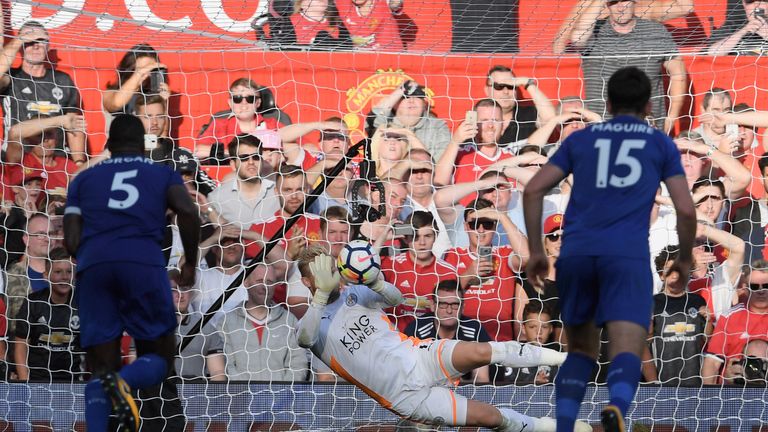 MARTIN SAYS: You are right. Peter Schmeichel never saved a Premier League penalty at Old Trafford.
According to our friends at Opta, 18 goalkeepers have saved Premier League penalties at Old Trafford, with Kasper becoming the 14th away stopper to do so when he denied Romelu Lukaku on Saturday, although no visiting 'keeper has managed to save more than one United spot kick.
Away goalkeepers to save penalties at Old Trafford
| Date | Goalkeeper | Club |
| --- | --- | --- |
| 01/05/99 | Michael Oakes | Aston Villa |
| 11/03/00 | Mart Poom | Derby |
| 01/04/00 | Craig Forrest | West Ham |
| 16/08/03 | Jussi Jääskeläinen | Bolton |
| 08/05/04 | Carlo Cudicini | Chelsea |
| 18/12/04 | Gabor Kiraly | Crystal Palace |
| 01/05/06 | Brad Jones | Middlesbrough |
| 26/12/06 | Chris Kirkland | Wigan |
| 21/03/10 | Jose Reina | Liverpool |
| 14/01/12 | Adam Bogdan | Bolton |
| 15/09/12 | Ali Al Habsi | Wigan |
| 02/05/15 | Boaz Myhill | West Brom |
| 04/03/17 | Artur Boruc | Bournemouth |
| 26/08/17 | Kasper Schmeichel | Leicester |
Interestingly, just four Manchester United goalkeepers have saved a Premier League penalty on home turf with Mark Bosnich, Fabien Barthez, Tomasz Kuszczak and David de Gea all doing so.
Man Utd goalkeepers to save penalties at Old Trafford
| Date | Goalkeeper | Opponent |
| --- | --- | --- |
| 29/01/00 | Mark Bosnich | Middlesbrough |
| 17/11/01 | Fabien Barthez | Leicester |
| 17/09/06 | Tomasz Kuszczak | Arsenal |
| 28/08/11 | David de Gea | Arsenal |
| 05/10/14 | David de Gea | Everton |
Indeed, current United No 1 De Gea is the only goalkeeper who has saved more than one Premier League penalty at Old Trafford.
His first came against Arsenal in August 2011 during that famous 8-2 victory, stopping Robin Van Persie's effort, and the second was in October 2014 against Everton where he denied Leighton Baines from the spot (the Everton man's first Premier League penalty failure).
Hero to zero
Raheem Sterling was sent off in the 99th minute. Has the Premier League seen a later red card? (Nick, Croydon)
MARTIN SAYS: We asked our friends at Opta about this, but they only have exact times for cards since 2006/07.
What we can tell you is that in the last decade, Sterling's dismissal is indeed the latest to occur in the Premier League, timed at 98 minutes and 34 seconds.
He just beats Michael Dawson's straight red card for Tottenham against Stoke in October 2008 after his tackle on Mamady Sidibe, which was timed at 98 minutes and 7 seconds.
It was late in the match, but early in the weekend, coming before 3pm on Saturday!
A late goal and a late red
Is Raheem Sterling the first Premier League player to score a goal and be sent off in injury time? (Louise, Brighton)
MARTIN SAYS: Raheem Sterling scored in the 97th minute and was sent off in the 99th minute against Bournemouth on Saturday, but it's not the first time this has happened.
It has happened to two other players - Younes Kaboul for Portsmouth in December 2009 and Ivan Klasnic for Bolton in October 2010.
Kaboul was also dismissed for two bookable offences with the second yellow for his goal celebration. He had just scored a late equalising goal for struggling Pompey as they drew 1-1 with Sunderland, and took his shirt off. It resulted in the defender receiving a second booking and a sending off by referee Steve Bennett.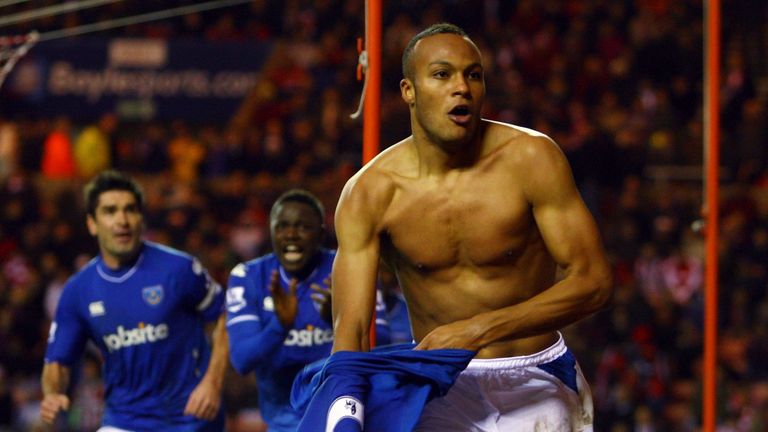 It was slightly different circumstances for Klasnic, who scored the eventual late winner for Bolton during a 2-1 win against Stoke in 2010. But rather than being booked for a celebration, he instead received two quickfire yellow cards in two minutes after scoring. The first was for an altercation with Dean Whitehead and another for a foul on Robert Huth - which resulted in his sending off.
Seeing red
Has this August seen the most red cards out of all the Premier League seasons? #TylersTeasers (@MattJamesMac)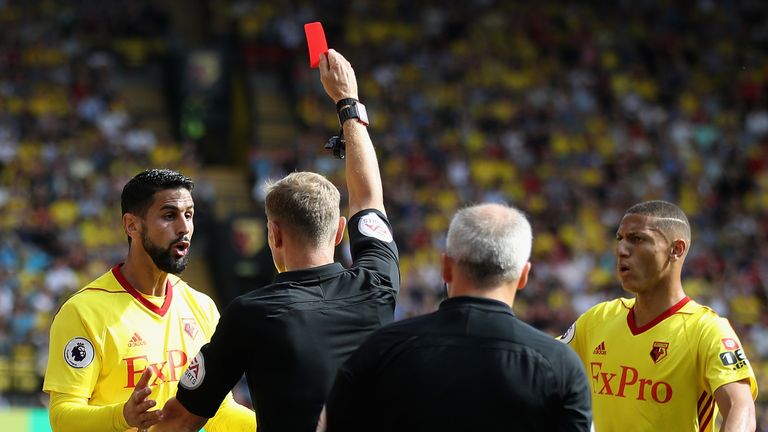 MARTIN SAYS: We have seen nine red cards so far, which seems like a high number compared to last season when only two players were sent off in August
But this season is not a record, as two Premier League seasons have seen 11 dismissals in August.
In the 2001/02 term, there were 11 red cards in the first three rounds of matches including two Leeds players (Danny Mills and Lee Bowyer), two Tottenham players (Gus Poyet and Gary Doherty) and two Arsenal players (Patrick Vieira and Ray Parlour).
The 2015/16 campaign also saw 11 reds in August - but they came over four rounds of games. A whopping six red cards were shown on the final weekend of the month when Philippe Coutinho, Charlie Adam and Mark Noble were among the players dismissed.
The 2003/04 Premier League season also hit double figures in August with 10 red cards over three rounds, while the 1994/95 and 1999/00 campaigns also featured nine red cards in August.
If you are using skysports.com you can ask Martin Tyler a question below, but please adhere to our House Rules. If you wish to report any comment, simply click on the down arrow next to the offending comment and click 'Report'.