Football Commentator & Columnist
Martin Tyler's stats: Arsenal's top-six record, Leicester's penalty awards
Last Updated: 19/09/17 1:21pm
Which team wins more penalties than Leicester? What's Arsenal's record against top-six clubs?
Martin Tyler answers those questions and more in his latest stats and facts column, plus hit the video at the top of the page to answer his tricky teaser on famous Martins who've played in the Premier League!
Got a question for Martin? Put it in the comments box below or Tweet @SkySportsPL with #TylersTeasers.
Martin's starting stats
I was at Stamford Bridge on Sunday, where Chelsea failed to score at home for the first time since a 3-0 home defeat by Man City in April 2016 and it was their first home draw in any competition since May 2016 against Leicester. So it was the first experience of both for Antonio Conte. It's only the fourth time in 54 games they have failed to score under his management (and the second time against Arsenal).
David Luiz was sent off for the first time in his European football career. During his two spells with Chelsea he has had 50 yellow cards in 187 games. It was Chelsea's third consecutive red card against Arsenal.
Arsenal picked up their first point at Stamford Bridge after five consecutive defeats in the league there. It was only their fourth point in their last nine visits.
Having lost at Stoke and Liverpool, they avoided losing the first three away games in a row in the league. They haven't done that in the league since 1954 when they lost to Everton, West Brom and Man City - Chelsea went on to win the league for the first time in their history at the end of that campaign.
Arsenal have also lost their five away games against last season's top six. Their last point before this was a 1-1 draw with Manchester United in November 2016 and that leads on to our first question…
Arsenal's top-six struggles
I can't remember the last time Arsenal won away at one of the top six clubs. What's their record? Des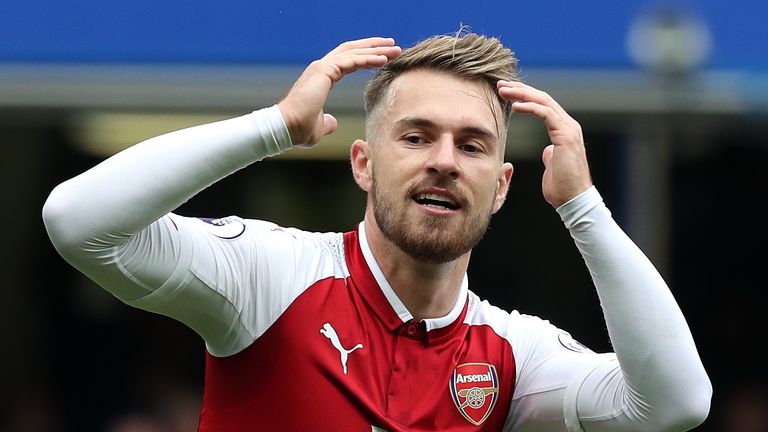 MARTIN SAYS: It's certainly been a while. Arsenal haven't won away against one of last season's top six in the Premier League since January 2015, a 2-0 win at Manchester City - 973 days before Sunday's match. It was arguably their best away performance against a top-six team since then!
They've lost eight and drawn six of their 14 matches on the road against Tottenham, Chelsea, Man City, Man Utd and Liverpool in that time, picking up just six points from a possible 42 at a rate of 0.42 points per game.
In that same period, Liverpool are the most successful against the top six clubs away from home since January 2015 with 1.38 points per game, followed by Chelsea (1.16), Crystal Palace (1.06), Southampton and Manchester United (1).
Interestingly, of teams that have played away more than 10 times against top-six opposition since January 2015, 12 have been more successful than Arsenal.
Those clubs are Man City (0.85), West Ham (0.82), Swansea (0.8), Leicester (0.5), Tottenham (0.666), Burnley (0.58) and West Brom (0.46).
Sunderland have the worst record of any side to have played more than 10 games away from home against top-six clubs, earning just two points from 15 games at 0.133 per game.
Everton's road slips
Everton haven't won away in the PL for 11 games. Is that their worst ever run? Elliott, Preston
MARTIN SAYS: Not quite, but it is their worst for a while in the Premier League. Everton are winless in their last 11 away top-flight games, drawing five and losing six. Their last away win was 1-0 at Crystal Palace on January 21.
That's their worst run since May 2004, which was also 11 in a row without a victory.
Ronald Koeman's side must win one of their next eight games on the road to avoid equalling an unwanted record of 19 away games in a row without victory in the Premier League between December 1996 and December 1997, under managers Joe Royle and then Howard Kendall.
Their overall top-flight winless away run is a staggering 35 games, between October 1970 (when they were defending champions) and April 1972.
Everton have also failed to score in four consecutive matches in all competitions for the first time since April 2006. Their overall record is six games, which occurred three times - in 1951, 1973 and 1993-94.
Penalty Fox
Have Leicester won more penalties than any other side since they were promoted? Harry Jordans
MARTIN SAYS: Jamie Vardy's penalty in Leicester's 1-1 draw with Huddersfield on Saturday was the 25th they've been awarded since the start of 2014/15, but that's just one shy of Manchester City's 26.
Leicester have converted 19 of their 25 spot-kicks, while City have scored 20 of their 26.
Leicester and Man City do clearly lead the way in the penalty stakes over the past three seasons; Tottenham have been handed 19 (scored 15), Crystal Palace 18 (scored 13) and Liverpool 17 (scored 15) in that time.
Of teams to have been in the Premier League throughout those three-and-a-bit seasons, Swansea and West Ham have been awarded the fewest (10 each), while West Brom (6 goals out of 11) have scored the fewest.
A Serge of trebles
Another hat-trick for Aguero... who has the record for most PL hat-tricks? Steven T
MARTIN SAYS: Sergio Aguero's hat-trick in Man City's 6-0 win over Watford on Saturday prompted Pep Guardiola to describe the Argentine as a legend, and he is among some Premier League greats in the hat-trick charts.
That's his sixth hat-trick, taking him level with Wayne Rooney, Luis Suarez and Harry Kane to joint fifth on the all-time Premier League list.
But he still has some way to go to reach all-time Premier League top goalscorer Alan Shearer's 11 trebles.
Robbie Fowler scored nine, Michael Owen and Thierry Henry eight, while Dimitar Berbatov, Ian Wright, Ruud van Nistelrooy, Robin van Persie and Andrew Cole all scored five.